Building an outcome-based product roadmap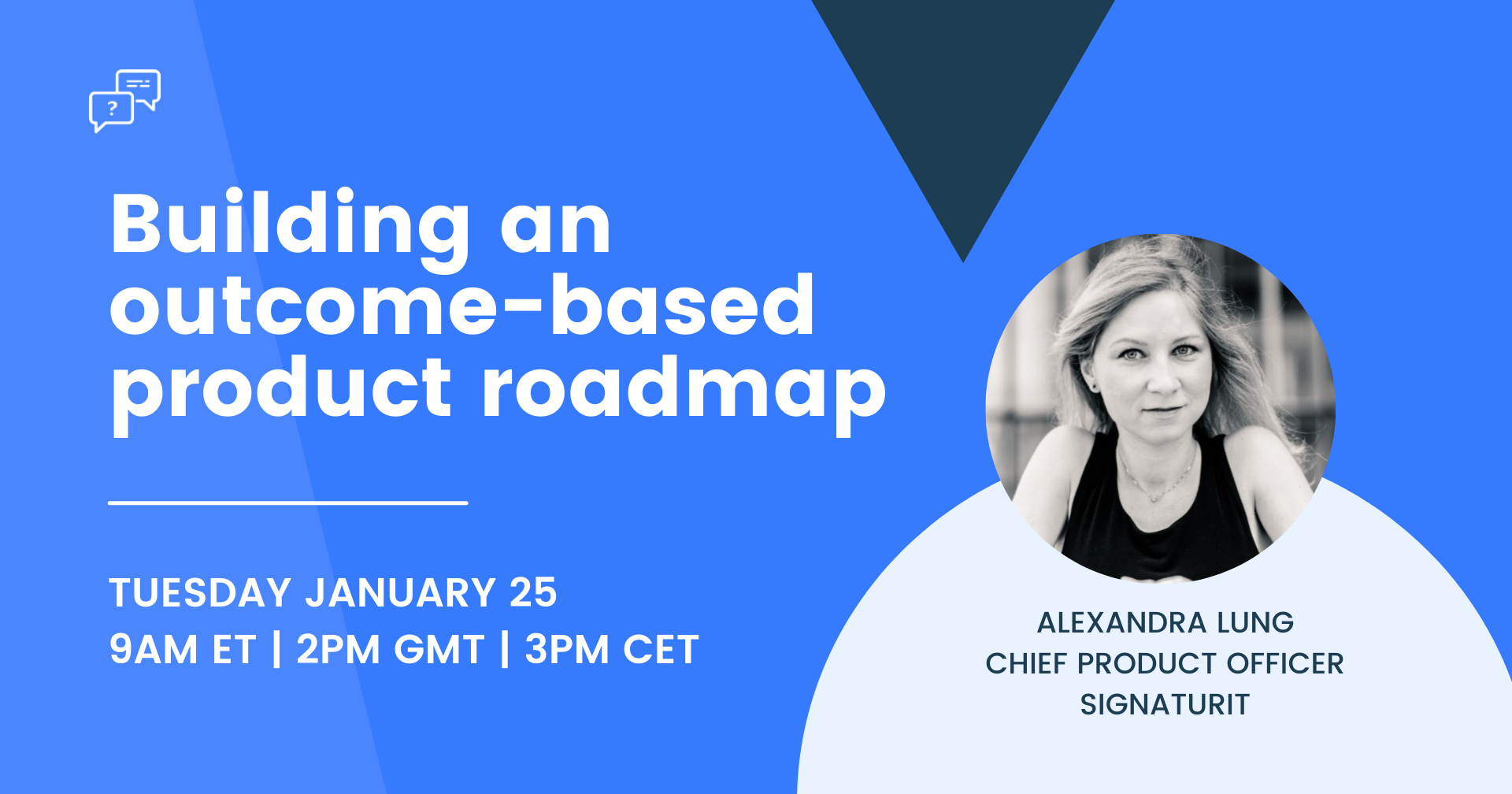 January 25th, 9am EST | 2pm GMT | 3pm CET

Get your ticket
Outcome-driven roadmaps are at the heart of successful product strategies, yet many product teams still struggle with tough demands to tackle lists of predefined features and deadlines.
Not anymore. This workshop will arm you with the tools you need to build a user-centric vision that solves actual customer and business problems. Come away with more wins 🙌 and less feature flops. 👎
Ask yourself
Have you been struggling to define the product strategy into a clear roadmap?
Have you ever been tasked with putting together a feature list for the next 12 months?
Do your stakeholders give you a deadline for those features to be shipped?
Have you had friends and foes ask you to add new 'super important' features to your roadmap?
You're not alone! And that's why you need to join us:
🗓 When: January 25th, 2022
⏳ Duration: 3 hours
⏰ Time: 9am EST | 2PM GMT | 3pm CET
👨🏼‍💻 Where: Online
💰 How much: $400
Get your ticket
(Heads up, if you're a PLA member, you get a sweet discount!)
Why you should attend
If you answered yes to any of the opening questions, and want to:
Sharpen a key area of your product management toolkit
Get a full break down of the roadmapping process
Be shown how to build roadmaps focused on user needs & outcomes
Learn how to drive business value
Receive best practices on how to build and iterate an outcome-driven product roadmap while keeping focus on implementing the vision
Become a pro at overcoming challenges, and saying NO effectively
Then this workshop is exactly what you need.
What you'll learn
By the end of this epic three-hour workshop you'll know how to:
Articulate an inspiring vision for your product
Ensure a user-centered approach to decision making
Gain alignment within the team and with stakeholders
Prioritize ruthlessly and manage difficult conversations
Our instructor Alexandra will also share her greatest tips and tricks on how to manage difficult conversations over roadmapping and prioritization.
Upon completion, you will be able to effectively define an outcome-driven product roadmap.
Get your ticket
Here's what you can expect on the day
📚 Tons of practical and actionable theory, tips, and case studies
👐 Proper hands-on exercises with your product-led peers
❓ Plenty of time for Q&As throughout the three-hour session
🔥 Access to the slide deck for future reference
About the instructor
Alexandra Lung is currently Chief Product Officer at Signaturit, and was listed as one of our top 25 Product-Led Influencers for 2021.
Here's a bit from the legend herself:
"I'm a product leader and a digital transformation expert who's been in the game for more than 10 years. I'm passionate about building great products that have a positive impact and I am always looking for ways to grow and to empower the people around me to grow.
"I'm a results-driven expert with extensive knowledge in finding product-market fit and gathering a deep understanding of the user and of the business in order to build successful products.
"I am listed in the Top Women in Product in Europe 2018 and the Elite businesswomen to follow in 2019. I love sharing my know-how and stories through talks and workshops all over the world and I mentor and coach product professionals."