Having the right tools to analyze your product's performance and asking the right questions from them can be the difference between success and failure.
We chatted with Ross Walker, Sr. Solutions Consultant and EMEA Team Lead at Mixpanel, before his session at the Product-Led Festival to talk all things analytics and why putting your product strategy under the microscope can enhance your business performance.
Q: Why are product analytics key to innovation and growth?
A: Customer expectations for seamless experiences and products that anticipate their every move will only increase as product-led companies continue to set the bar ever higher.
Product analytics helps cross-functional product teams answer questions about user behavior in seconds, without the need for deep analytics expertise. With detailed, real-time insight into how people interact with products, they can harness the power of data to make faster and smarter decisions to fuel new product innovations.
In this competitive landscape, the advantage will go to brands that use product analytics to increase innovation and empower everyone in the organization to make smarter and faster decisions.
Q: What are the common goals/outcomes that organisations seek to achieve with the help of product analytics?
A: We've partnered closely with hundreds of companies on their analytics strategies, and have found there is simply no single set of metrics that works for everyone. Businesses and products are all unique and have different goals based on stage and ambitions.
While the metrics they're trying to move may differ, today's best products do have one thing in common: they aim to deliver value to their users, and product analytics is at the heart of their ability to do so.
At Mixpanel, we've built a framework for defining the product metrics that are most important for your product and business. Read more about it in our Guide To Product Metrics here.
Q: In your talk, you'll be discussing product maturity… what is this and why is it important to measure?
A: Product analytics is not just setting up a tool, any tool. It's a discipline that requires the right tool and limitless curiosity. It lets you answer key questions about your product and users — but you can't answer the most essential questions if you're unsure of your product analytics capabilities.
Product analytics maturity refers to where a company stands in the product analytics lifecycle.
In our maturity model, there are five separate levels — ranging from non-existent to expert. Businesses that fall within the same stages have shared characteristics, limits to the questions they can or can't answer, and the ability to derive value out of their data.
Product analytics maturity matters because it can help you build the right things, empower teams to move faster, and measure the metrics that matter most to your business. By understanding where your organization falls on the maturity scale, you'll be able to uncover what's required to progress to the next stage. And we'll help you do just that when you attend our talk.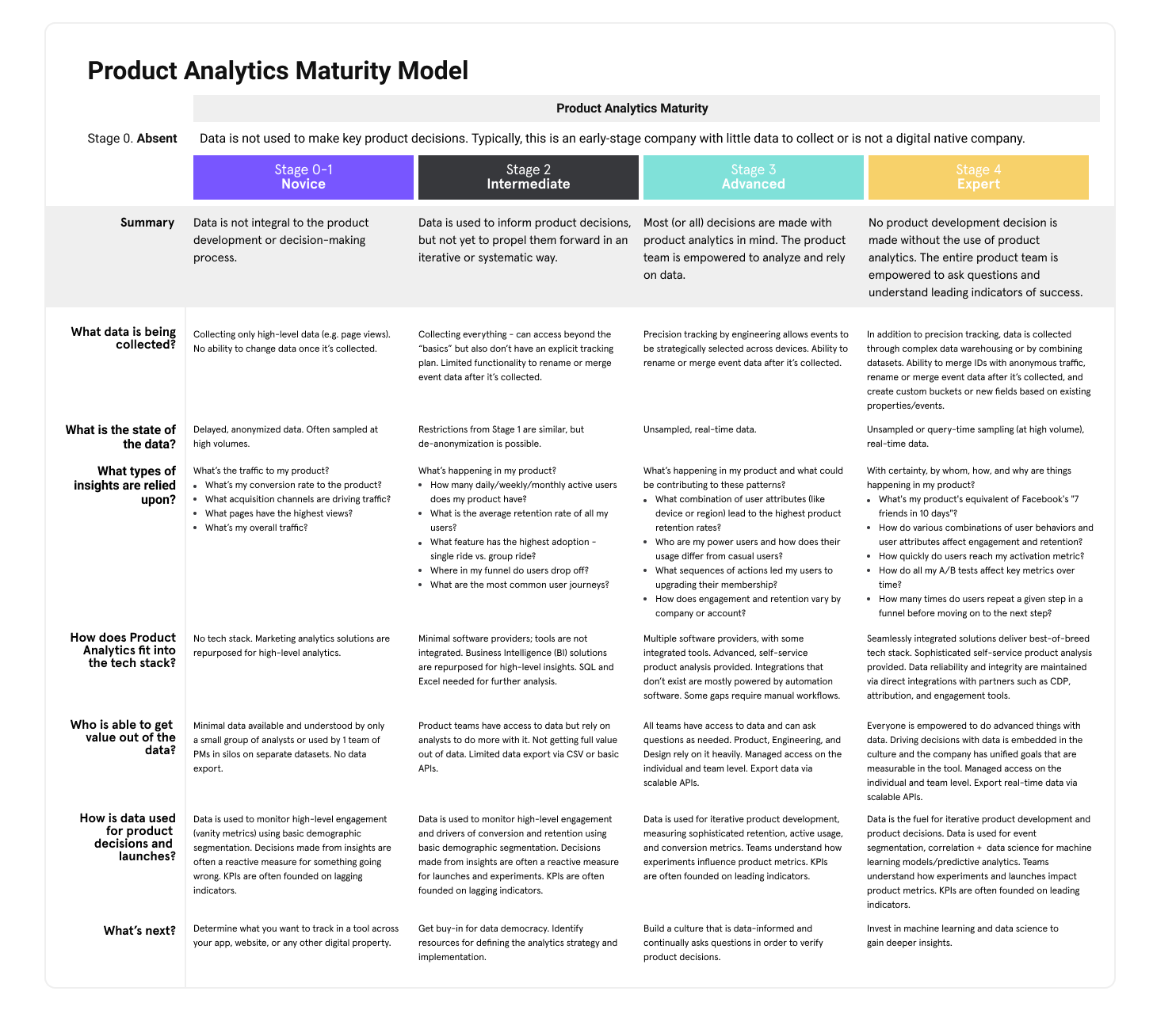 Q: When selecting a product analytics vendor, what are the key things to consider?
A: The product analytics maturity model gives your business a framework for understanding the limits of your data right now and identifying areas for growth. Understanding the questions you want to answer will help you identify the nuances between the different stages—and help you identify where you must be in order to get value from your tools, teams, and processes.
Knowing your stage of product analytics maturity can guide your choice of a product analytics platform that's right for your current and future needs.
So our first piece of advice is to understand your current and desired future stages of product analytics maturity.
Q: What product management trends are you forecasting for 2021?
A: The only thing that's certain about 2021 is that trends in consumer behaviour will continue to shift, as we've seen them do in response to COVID. If it wasn't already, product analytics will become critical to any brand's ability to anticipate these changes and ultimately survive.
Beyond in-product experience, customers will expect every touchpoint with a brand to be consistent and seamless. Without a clear understanding of product usage trends there's simply no way that a company can deliver on this expectation.
2021 will be the year of product analytics, or fail.
Q: We're delighted you'll be joining us at the Festival - What are you most looking forward to about the event?
A: One of our favorite things about the product community is the shared enthusiasm for creating products that customers love, and we've missed seeing everyone at events. Even though there's still a screen between us, we're excited for the chance to connect, ask questions, and share stories with the Product-Led Alliance community at the Festival.
Also, there's an awesome lineup of speakers at the Festival that we're looking forward to hearing from ourselves.
Check out Mixpanel's session at the Product-Led Festival, coming to you November 10-12.