My name's Alexandra Ciobotaru and in this article, I will share a bit about my journey at Novoresume and what it means to have a product role in a startup.
This is a personal journey so I'm not trying to tell you this is the best option for you. We've been having ups and downs ourselves as well, trying to integrate different ideas and different processes in our company.
This is going to be more or less an overview of what worked for us and also how we decided to change things in order to make them work even better.
What is the product-led approach?
To begin with, I want to say that the product-led approach is definitely the main part of the article. So what does it mean to have a product-led approach?
Essentially, it means to have the product experience as the central focus of your organization. Where your org aims to deliver your value proposition to your customers, solely or primarily through your product.
What does Novorésumé do?
We are a resume building platform and cover letter building platform, which means that you go into a web app, and you create an account and you build inside the editor, those documents. It looks like this.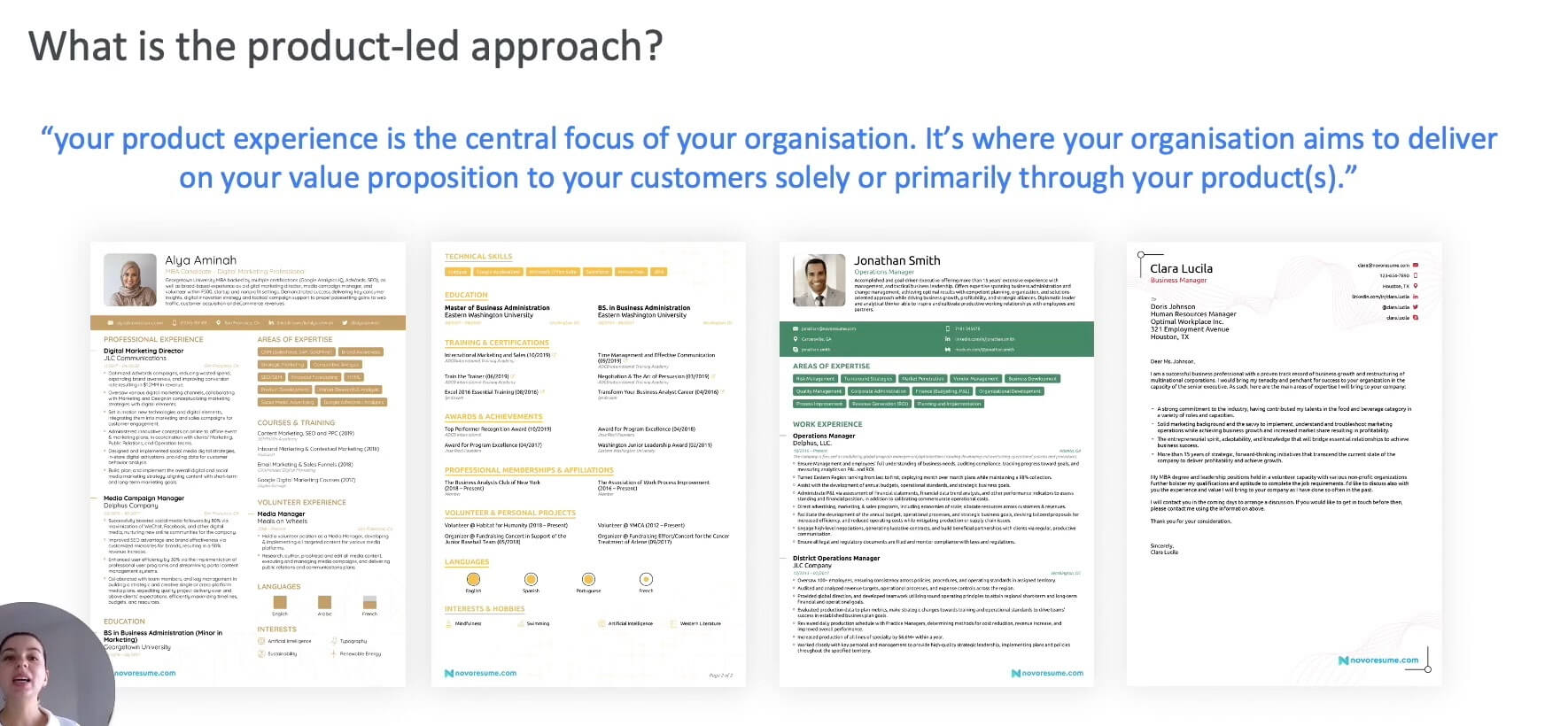 We have a couple of nice-looking templates. The company itself really values design so one of our strong suits is the fact we have very nice templates. This is one of our key selling points.
We offer a free version of our one-page resume so anybody can create an account and build a one-page resume. We also have a premium account, meaning that you can upgrade and use premium features and cover letter building.
It's very interesting to work in a B2C company because of course, it's very important to listen to our customers. One of our big development projects has been to revamp the editor and enhance it with new features, and technically make it more available for the users to understand.
We've been working with UX and web development for the last year to make that revamp possible. That happened in 2020 and now we are moving forward with other projects. I'm not going to go into details of each project but I'm going to tell you how we organize ourselves as a startup.
What does a team of 12 do?
Disclaimer here, we are 12 since November/December 2020. When I joined, we were eight in total and since then we have more development colleagues and more support on-site.
And actually customer support as well, we have one new colleague that started in December and that really helped our customer support team be more efficient.
Before that, we were sharing marketing and customer support together and that was a bit hard. But we managed to do that. It's very important to understand that Novorésumé is a bootstrap company, we do not have any investment.
In the five years that we celebrated a month ago, we managed to get to 5.5 million accounts and we have a steady conversion rate. We also have a steady increase month over month.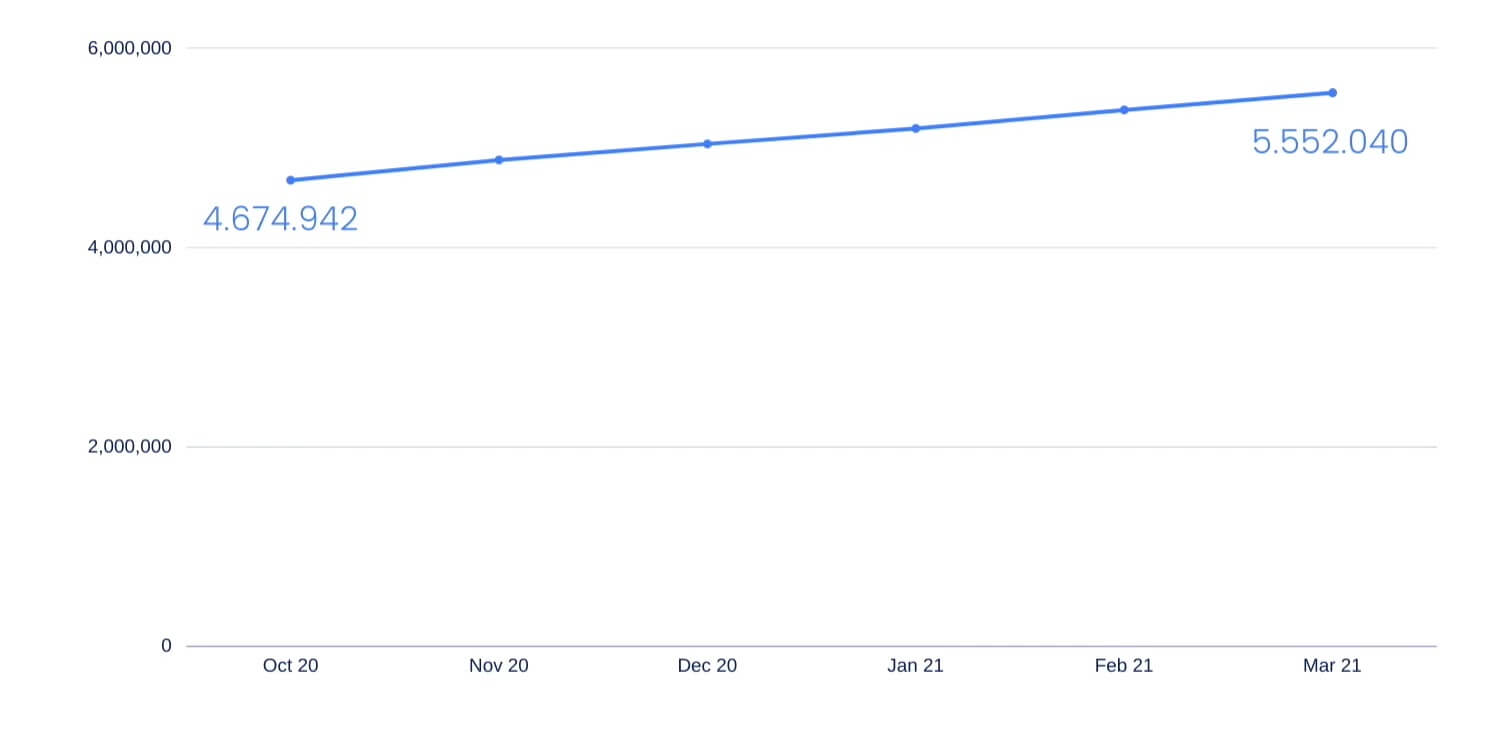 So if you see here from October to March, we've increased with almost 1 million new accounts. We have a very strong market in the US, Canada, and English speaking countries but also we have a lot of users from India, Pakistan, and the rest of Europe.
We make strategies based on countries so we've decided to move on with focusing on country tiers in order to help establish more enhanced user bases in certain countries.
I'm not gonna go into the details of growth necessarily, but it's important to understand that out of a team of 12, we have:
Development - five people,
Product - myself,
Design and UX - three colleagues,
Marketing and communication - two colleagues, and
Support - one colleague.
We also work with external consultants on different issues. We are trying to use the resources we have in-house for our main organizational development, but we use help when we need to.
What does a role in a start-up mean?
Product manager
My role includes a couple of things. I'm going to go through some of the examples, and I hope it will resonate with some of you working in smaller companies.
Prioritize backlog
My role now includes prioritizing the backlog. Obviously, this is something that I started with, it's important to mention that I started as a product owner, and then I was promoted to project manager within six months because we realized we needed a bit more overview of the strategy and focus more on the roadmap rather than on the day to day activity.
I'm saying that because at the time, we were four people, and we were having the sale sprint meetings, so we've decided it's time to move on to being a bit more operational and more strategic about our focus.
So I still prioritize the backlog. We work in squads, which is quite important to mention because ever since I started, we've also handed over the PO, product owner responsibility to some of our colleagues who are not product trained, but they are the leader of that squad.
We're working with colleagues that have prioritized their own projects based on their skills and also interests. We're trying to also train in-house our colleagues to focus on leading those projects.
Sprint meetings
We have a couple of squads where we have sprint meetings, we don't have sprint meetings for everything. I think that's very important to note because we are not capable of having sprint meetings for each of our projects.
We have sprint meetings for complex development projects. For a project where we have one colleague in development focusing on that task, we have weekly meetings.
Roadmap
Every four to six months I do a full review of the roadmap to see if there's anything we need to update. Things change very fast in a startup, so we need to test every time we plan a project to see if we're truly heading in the right direction, or if we need to pivot.
Strategy
Especially in the last six months, I focused on operational strategy, but also on the long-term strategy for our innovation projects, try to get the right ideas in the right place, and test as fast as possible.
In another article, I was talking about the experimentation framework and this is really valuable to consider. Of course, I'm not using it every day but it's something I'm thinking about how to be better.
OKRs
Objectives and key results, this is our way of measuring success. So we use OKRs per quarter and we also focus on annual business planning. We have monthly update meetings where we look at how we are proceeding in terms of OKRs and if we are getting closer to the goal.
Innovation projects
As I've said, we have a couple of other business streams that we're trying to tackle.
Experiments
The experimentation framework that I just mentioned, we try to validate our assumptions by having a cycle of validating that idea.
Growth
That includes a few marketing tasks, I work with two very smart colleagues in marketing that focus on some of the tasks there, communication as well. I look overall at growth and the conversion rate.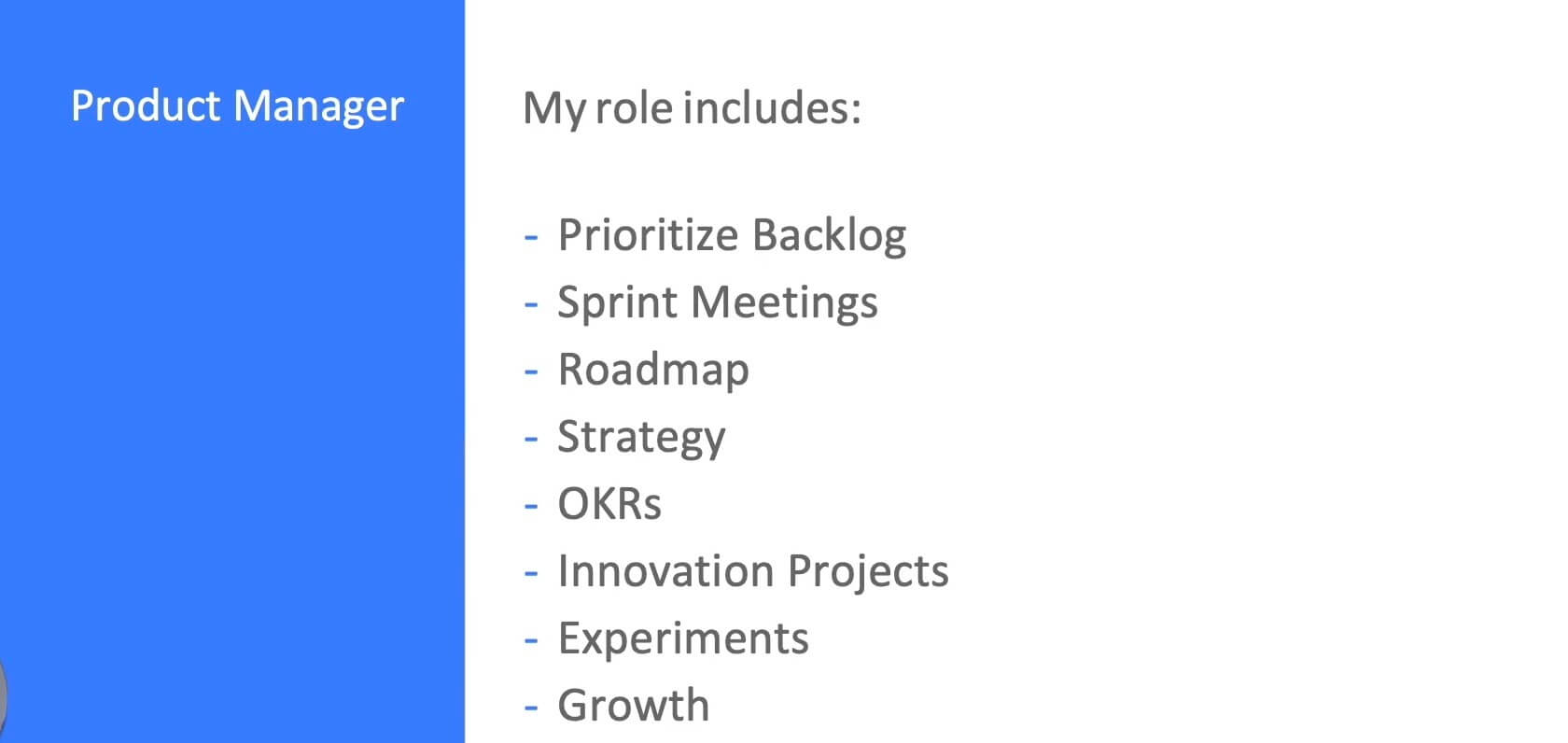 Start-up journey
What does it mean to be in a startup? It means something you start planning at the end of one year, might look really different in a year's time. The last year in particular is quite interesting because of the pandemic.
That changed our plans completely.
End of 2019
When I started in Novorésumé, I started with a background in business development and I studied business so I was quite focused on growth and numbers.
Even though I started by planning the backlog prioritizing working in sprints, I made the business plan for the next year and we really focused on how to grow.
Beginning of 2020
The beginning of 2020 was very hard on us as well because we panicked. As I said, we are a bootstrap company so we have to be very sure that we are going to be able to support the company as it is.
For that purpose we've had some managerial decisions being made, nobody was fired, everybody had a job but we had to cut down on some other perks we were doing.
Within the summer of 2020, four to five months later, we actually resumed and we had a normal, so to speak, trajectory of growth. Of course, because we missed the first few months of the year, it didn't look like we wanted but we still had growth in 2020 and we still had increasing revenue as we were planning.
At the beginning of 2020, after the panic part, we worked on prioritized backlog issues. So we, of course, decided to be a bit more specific on what we are going to focus on now. We started working on innovation projects, and looking at what is it that we wanted to prioritize and why, considering the situation.
2020
Then, throughout the 2020 year, we made experiments, we built a couple of MVPs to solve new problems and we, as I said, continued to prioritize the innovation backlog. Most importantly, we relaunched the editor, which is a very important part of our business, the core part of our business, which is the application that you can use to create your resume.
We revamped that and that was a huge success for the team and of course, for the users as well.
End of 2020
At the end of 2020, we reached our milestone of 5 million users worldwide. That was one of our OKRs and it was one of our goals for 2020. We launched three MVP innovation projects that mean we tried to test new ideas in different stages, and we pivoted one of those ideas, reframed the scope, and decided the direction we were planning to go will not work.
Beginning of 2021
At the beginning of 2021, I implemented an operational strategy and we worked on prioritized squads, I will explain very soon what that means.
Present
Now I'm working on the problem framing validation. It's a collaboration that I have with a consultant where we're trying to look more at the strategy, and how to validate those new problems we're trying to solve. And at the same time focusing a bit more on innovation projects.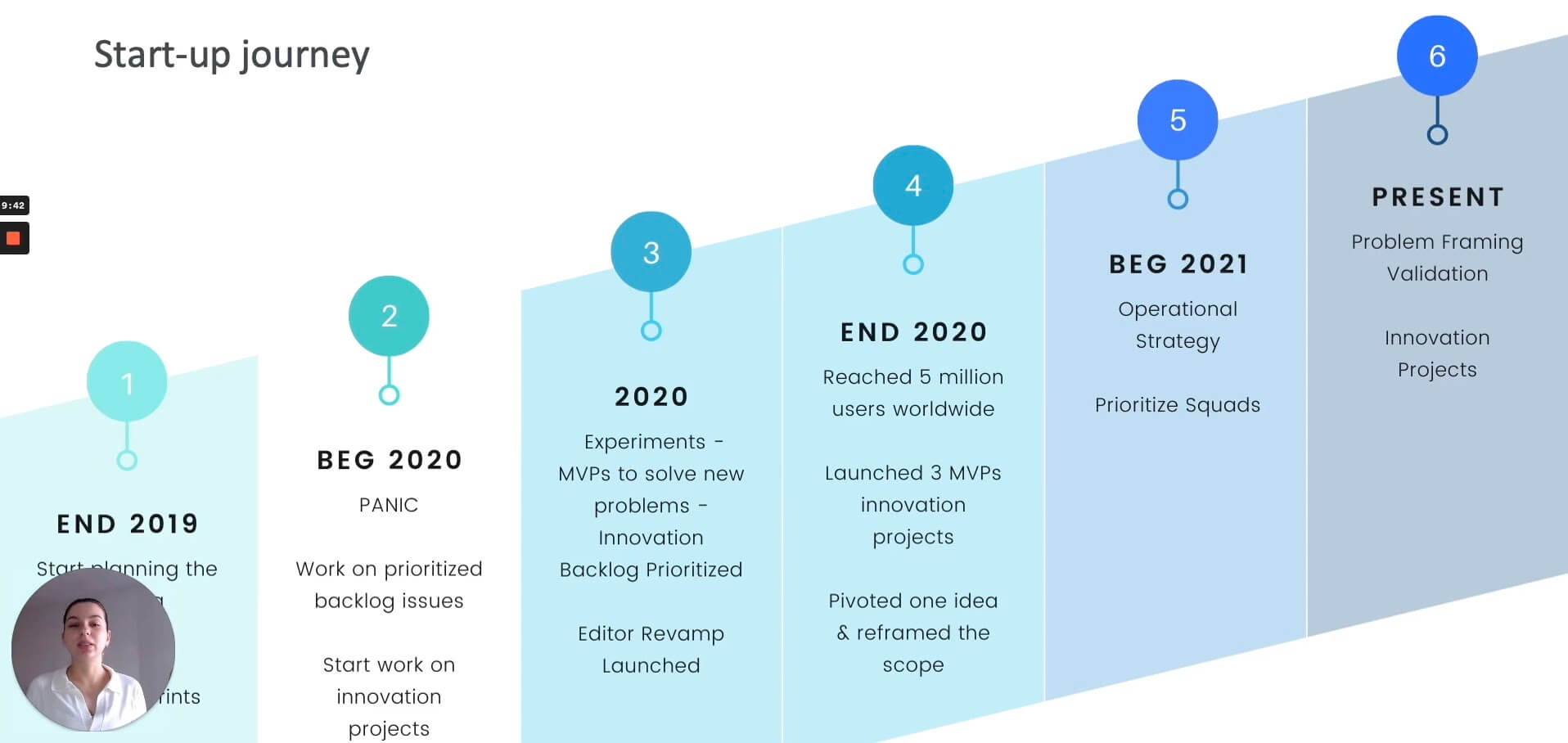 Operational strategy
We follow the Spotify model but it's not 100% the Spotify model because we are 12 people in total so everything is cut down. We work in squads, chapters, and we use guilds as well.
It's important to know that people join multiple squads, which I know might not be the norm in some other companies. But when you work with five developers for many projects where we don't need that much commitment to complex tasks, then we are able to shift focus weekly or monthly depending on the type of project and we are using all of the resources we can in different ways.
We know this adds complexity but it's a way to account for the roles of each team member across projects.
How do we work every day?
Yearly business goals
We always have the yearly business goal in mind. Why are we trying to achieve this purpose? What is the goal?
OKRs per quarter
We look at the OKRs per quarter, so we always have new OKRs per quarter and we always think, how is this going to help our OKRs?
Squads focus on helping drive OKRs
The squad focuses on helping drive those OKRs meaning we have different squads for each outcome, where we are focusing on driving the OKRs that are quite linked together.
Then we also have ninja squads that are the support squads. For example, we have colleagues in marketing that help different outcome squads get there and test some ideas with them.
How do we prioritize?
Squads
So each week we meet, we also talk about what's going to be happening next week. If anything changes, we also have a quick wins round, in case there is any quick fix or help you can give to another squad, this is the time to ask for help.
We share priorities for the next week in sync with the OKRs. So in that week we meet, we also talk about what's going to be next week, if anything changes and we have also a quick wins round where, in case there is any quick fix or help you can give to another squad, this is the time to ask for help.
Chapters
We work in chapters so we have monthly chapter lead meetings. And each chapter lead is also the personal manager of the chapter members; development, design, and so on. We share priorities for the next month and quarterly focus based on the OKRs again, and the chapter lead updates on each team member.
If there's anything that needs to be specified, it will be specified then. Obviously, we're a small team so if anything happens in the meantime, we always update each other. But this is also a more official setup where we can discuss maybe something that's not so urgent but should be discussed.
Product manager
As a product manager, it's important that I have an overview of the squads so I know a lot of things and I'm trying my best to organize all of that information.
We have product owner training and support and I'm invested in keeping track of the OKRs set up every month. So I have a monthly update meeting where I tell everybody how we're doing and I'm connected with each squad to make sure we are aiming for those OKRs as we have planned.
And if things don't happen the way we imagine every month, we try to find a solution or we look at where the problem is, and then try to see how we go around that.

Lessons from my start-up journey
Now, lessons from my startup journey, this is the part that I think is the most interesting because it's quite important to understand that some days can look very chaotic.
Even though we make the best plans, it doesn't always happen like that. I know we are all striving to be perfect in what we do but my experience is that it doesn't work like that. I have many colleagues that have different tasks in different squads so I'm trying to help them prioritize.
We are also very ambitious so sometimes we take half an hour to meditate together and be like, what is our focus here? Let's not try to do everything because it will not happen, it's just the reality.
Always ask: Why is this a priority?
We always ask, why is this a priority? Especially if you have a situation where you have two POs that really want to move forward, or set up a task, an issue, they want to tackle a specific subject, we need to have a dialogue, we always need to be mindful of the other person's opinion.
And we need to understand:
Why is this a priority?
How is this going to help us?
How is this going to help the company?
We're always having to sort of dialogue and so far, it's working quite well.
Data-informed versus data-driven
Data shows us what we should pay attention to but it's also important to test all of the assumptions and follow your instincts.
Especially in a startup, you have the luxury of changing your mind quite fast. We might do some tests, we might get some data, and then we might try to change a bit of the setup of the test and we get new data.
Then we have to decide, how are we going to go around this? For us, we are more data-informed because we need to also do those updates that we can with the resources that we have, and test all the assumptions before we do that because it's a complex setup for 12 people to handle. We are very mindful of that.
So we experiment. I, myself did a couple of tests, my preferred one is Wizard of Oz, we tried to create a setup where it looks like everything is perfectly put together. But actually, we do a lot of manual work just to test our assumptions and we always try to talk to clients to find the real problem.
We focus on outcomes, not solutions. This is something that we always have in mind.
Nothing beats a good review
I decided to share that as my lesson because we have a B2C product and whenever we have a good review, we see an overall increase in conversion rate for a specific user group from a specific country. It really happens.
We get a lot of good reviews also, not only through official review platforms, but also we have a lot of shout-outs on LinkedIn, on Facebook, on Instagram. That is really important for us.
So when we have a bad review, we are also trying to find out why and we are really trying to form a dialogue with our customers and see what happened.
People above process is not a joke
In the HR Manifesto, we talk about individuals and interactions over processes and tools. It is important to note that because if your team feels like they are overworked or that the setup is too complex, or you simply don't listen, they will not be motivated to do their best.
We really take that seriously. If there's anything I learned by working in a startup it's that if a colleague of yours tells you they are tired, you send them home and let them rest. That's it.
This is something that is really key for a small team, we really need to support each other so that's why every year we have team-building events. A year ago before the pandemic, we went to Morocco to celebrate our four-year anniversary of Novorésumé.
This year, we went for a summer house setup where we moved office for a week outside the capital region of Denmark so we could spend some quality time together but still have the setup at work. However, it was a very nice interaction and get to know your colleagues more and so on.
It was a very tough year for everybody and mental health is also not a joke. I think supporting each other is extremely important nowadays and the more you can, if you have the capabilities, if you have the resources, it will only help you in the future if you support your team.
Choose whatever setup works for your team
What I've shown you doesn't fit into any specific frame, because this was my experience. This is something I've tried to implement throughout the last year and a half, and it worked.
It's not perfect and I'm not trying to tell you this will be forever perfect. You choose whatever setup works for your team. But it's also very important to note that, for example, having dailies simply didn't work for us.
My recommendation if you work in a small team is to see what works and choose that setup for you. The moment you start growing, implement more and more processes as you need them.
You could be doing everything
Lastly, in the startup, I want to just pay attention to the fact you could be doing everything. So make sure you are aware of the fact that sometimes it's good to say this is too much for me and I don't want to go in that direction.
Because otherwise, you might be the only person that could help with that setup.
Limited resources: prioritize
I recommend people to feel comfortable enough to say that they don't want to do everything and that you want to focus on one setup, and always prioritize what is important for you, and how you can really move forward with that project.
Don't try to do everything because you could be ending up doing everything and nothing will come out of it. Really pay attention to that. You have limited resources, again, prioritize.
So say, "If you want me to work on the innovation projects, I can do one innovation project for the next quarter or so, I cannot do five", just be very clear on that.
Teamwork and psychological safety is vital
Of course, you always want to have the setup of psychological safety meaning that people are not worried about their job. Be transparent, tell them what's happening, tell them how the company is doing and you will also see that people will be more motivated based on the fact you have this transparency set up in your company.
I hope this was interesting. Of course, this is just a journey I had to share from one startup. It's something I've developed in the last year and a half. I'm sure that there are other presentations and articles out there where you can learn a lot, but I hope you found this interesting.
Thank you.