Join the PLA Slack community
Fancy connecting with product-pros and pioneers all over the world? Exchanging ideas? Pushing each other to do great things? Course you do! Then join the world's fastest-growing community focused on product-led growth.
Our members come from around the world, from Bangalore to Boston, San Francisco to Seoul, London to Lima, we're bringing together passionate product professionals to help each other achieve one key goal: growth.
Why join?
It would be quicker to list the reasons not to (really, there's no reason not to…) but the benefits include:
🗞 Access and share fresh PLG content in our #plg-recommended-reading channel.
🤓 Pick the brains of your peers and share your expertise in #plg-questions.
👩‍💻 Find your next opportunity, or your next product rockstar in #product-jobs.
🎤 Be the first to know about awesome conferences, webinars and interactive sessions in #upcoming-events.
👫 Make new product pals from all over the world. You can meet and greet publicly or chat behind closed doors.
🥳 It's fun! Our members are passionate about what they do, but there's a good deal of product banter too...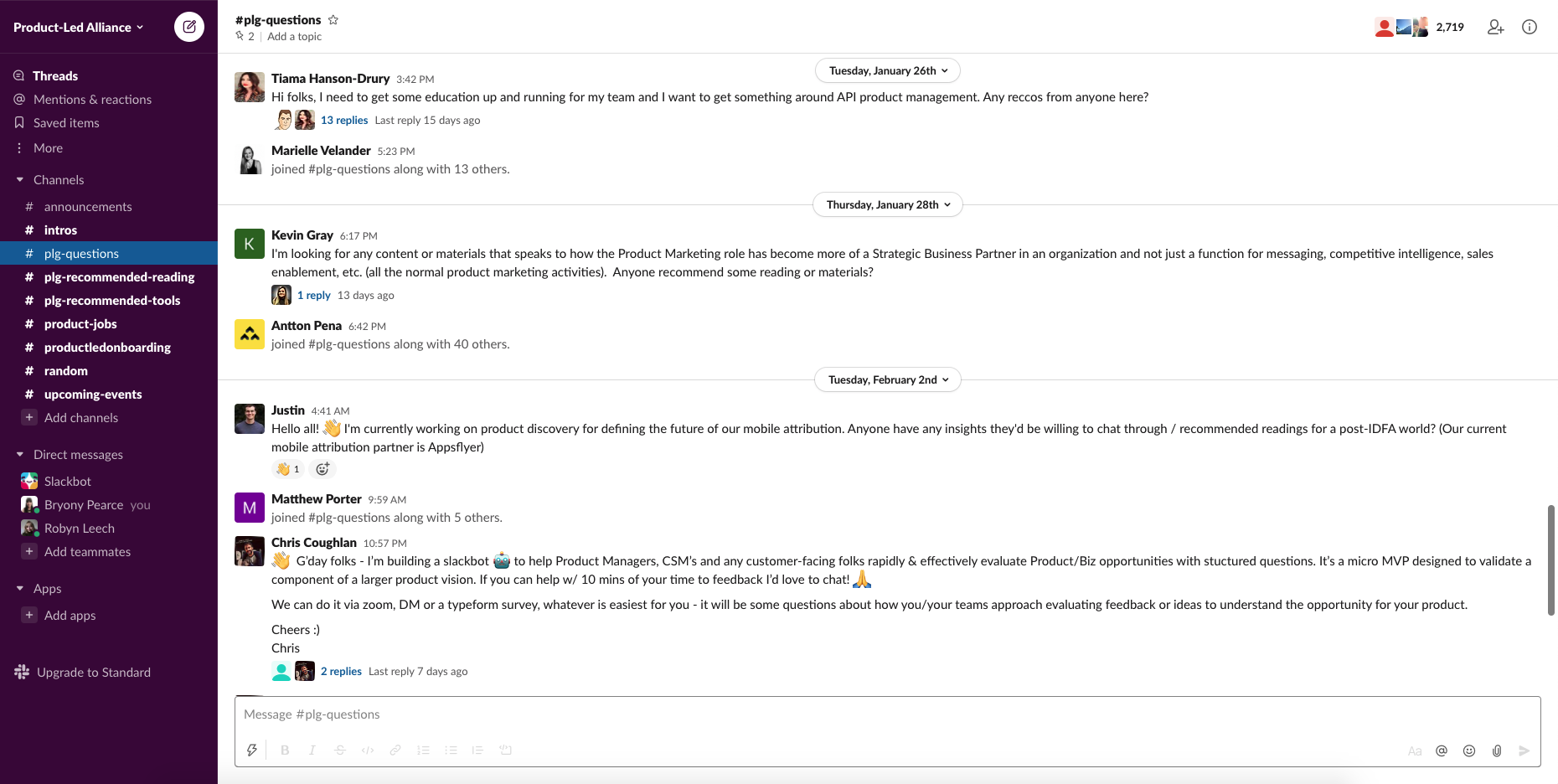 Keen to join? It's simple:
Sign-up using the form at the top of the page 👆
Introduce yourself in our #intros channel 👋
Explore and join our awesome channels 🧭
Get involved! Ask questions, share content, read, learn, digest, interact… the floor's yours 🚀
Don't believe how awesome we are?
Logos don't lie. We've got members from all these awesome companies:

FAQs
Q: Is there a fee to join?
A: Nope! And there never will be. Slack doesn't charge for a free account so neither do we.
Q: Can I promote my company's products?
A: Hmmm, no. Our community is an independent haven for product pros and we are eager to keep it free from pure sales content. If it's part of a relevant discussion, we won't stop you mentioning your product just as long as you're transparent about your relationship with it. What we don't want is sales posts.
Q: Can I invite other people to join?
A: Absolutely! Please do! Invite all your product pals!