"Are we there yet? Are we there yet? Wait… Where are we going!?"
When it comes to figuring out how your product will progress, you always need to know where you're going and how you're going to get there.
This means having a high-level plan of action in place, which clearly shows how the product is likely to grow. It can outline future functionality, when features will be released, express where you'll take your product, why it's worthwhile investing in it, provide crucial context for your team's work each day, and more.
We are, of course, referring to a product roadmap.
Product roadmapping is essential to any PM's role. But so is knowing what roadmaps can work best, especially if you want to accurately communicate your short or long-term business goals, and keep your teams heading in the same direction.
Thankfully, there are some amazing product roadmapping tools around for you to take full advantage of and here, we'll be highlighting some of the best.
Hold on, what makes a great roadmapping tool?
Well, it depends...
Before we dive into our list, you need to consider if the roadmap will be managed by an individual or a team of people.
If it's the former, you won't necessarily need to think as much about collaborative tools, if it's the latter then you'll inevitably need software that enables more collaboration.
Roadmapping tools can vary significantly and different organizations will derive different benefits from them. Some tools can be massively detailed, while others provide a more simplified vision of where your product will be heading. This is why deciding on what product roadmapping tool you need is... well… a really big decision!
It all comes down to what you need from the tool. So before making your choice, think about:
Your goal(s).
How it will work for your organization.
Will it just be for your team(s)?
Will it be a way to show stakeholders exactly what to expect?
Will it be for teams and stakeholders?
As soon as you know why you're creating your roadmap, and what your specific needs will be, you can make a much more informed decision.
So, onto the current best of the best tools…
*prices correct at time of writing*
Asana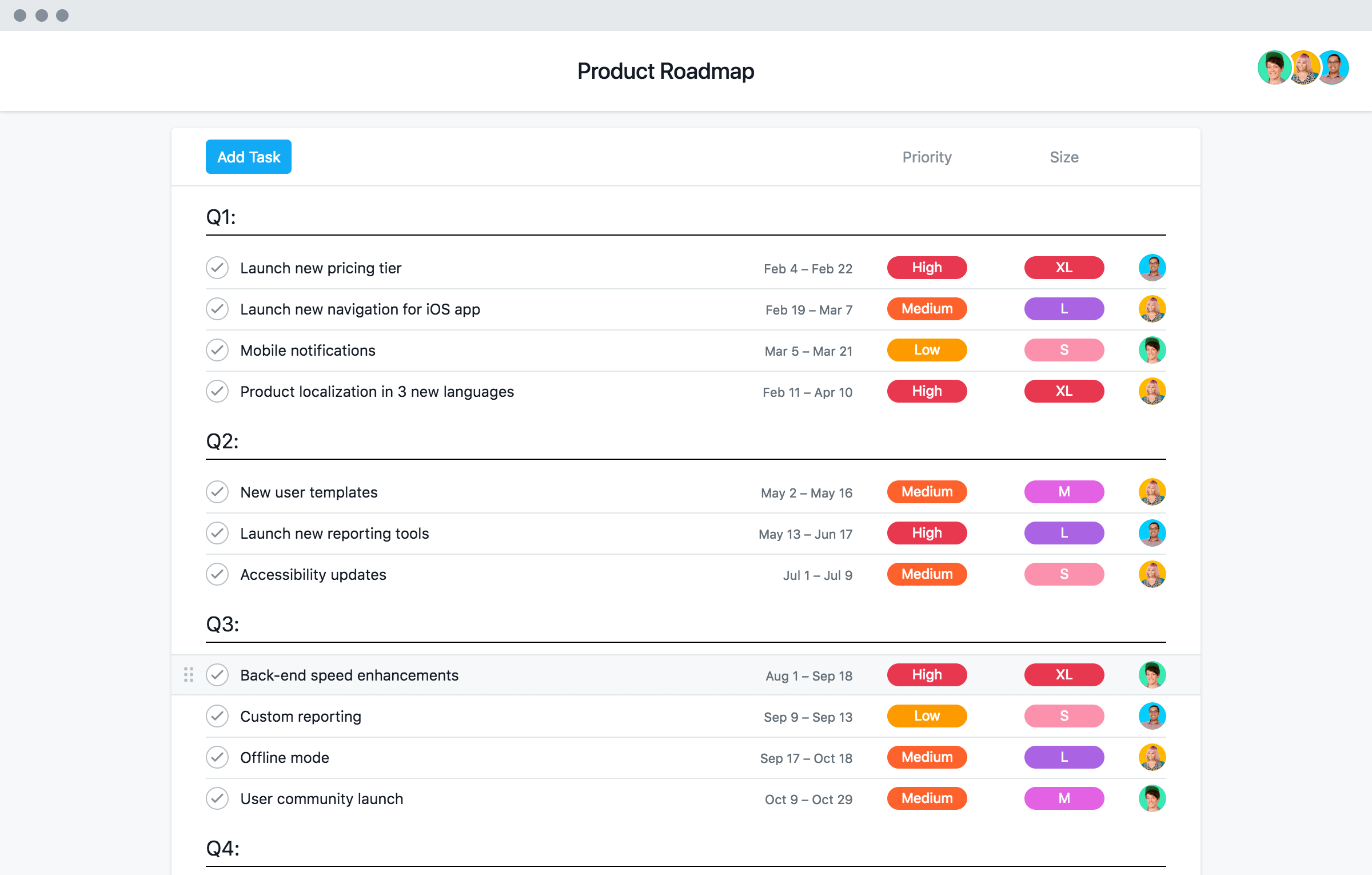 Asana has really come into its own as a highly effective application for organizing, tracking and managing workloads. But it can also be an ideal product roadmapping tool that's simple to use, allows you to easily track work, prioritize tasks, and provide a high-level view of progress.
It's a powerful tool for project management in general and can feel like a nice simple way of keeping teams aligned without overwhelming them with too much detail.
The calendar view feature helps you easily visualize your product roadmap, and you can drag and drop tasks to alter due dates in case launch dates change. Although its capabilities are impressive, it can be argued the application's reporting and exporting gaps perhaps need to be filled by third-party integration.
It does allow you to simply and easily customize your product roadmap once you've created the basic structure of it, though. Such as creating drop-down custom fields that have all objectives or goals, allowing you to select the one that best corresponds to the feature.
Asana's pricing:
Free
Standard: $9.49/month
Advanced: $20.99/month

Productboard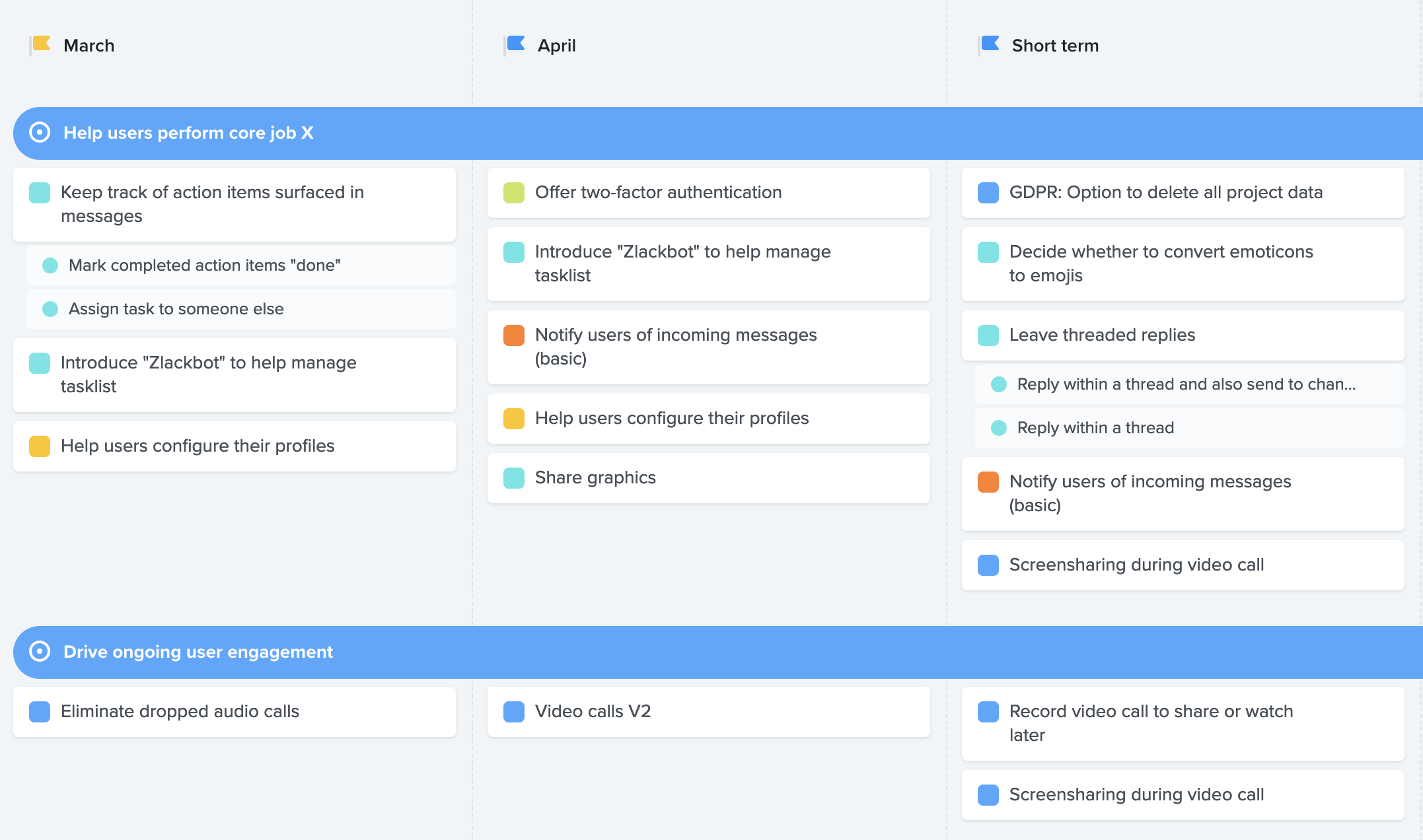 Productboard remains one of the most popular product roadmapping tools of the last year.
It's a highly effective tool for prioritization, and provides a complete overview of the product management cycle. It allows you to easily gather information, from social channels to emails, and bring it all into one place where you can begin prioritizing and deciding on your next steps.
You can start roadmapping with a high-level view, and you're able to click into each item within the roadmap to bring up more detail. Plus, you can take advantage of the other features on offer and gain better transparency and visibility for your teams.
The software allows you to share roadmaps with customers and stakeholders. However, it's limited to one type of view, which may cause certain limitation issues across different teams.
Productboard's pricing:
Essentials: $20/month
Pro: $50/month
Scale: $100/month
airfocus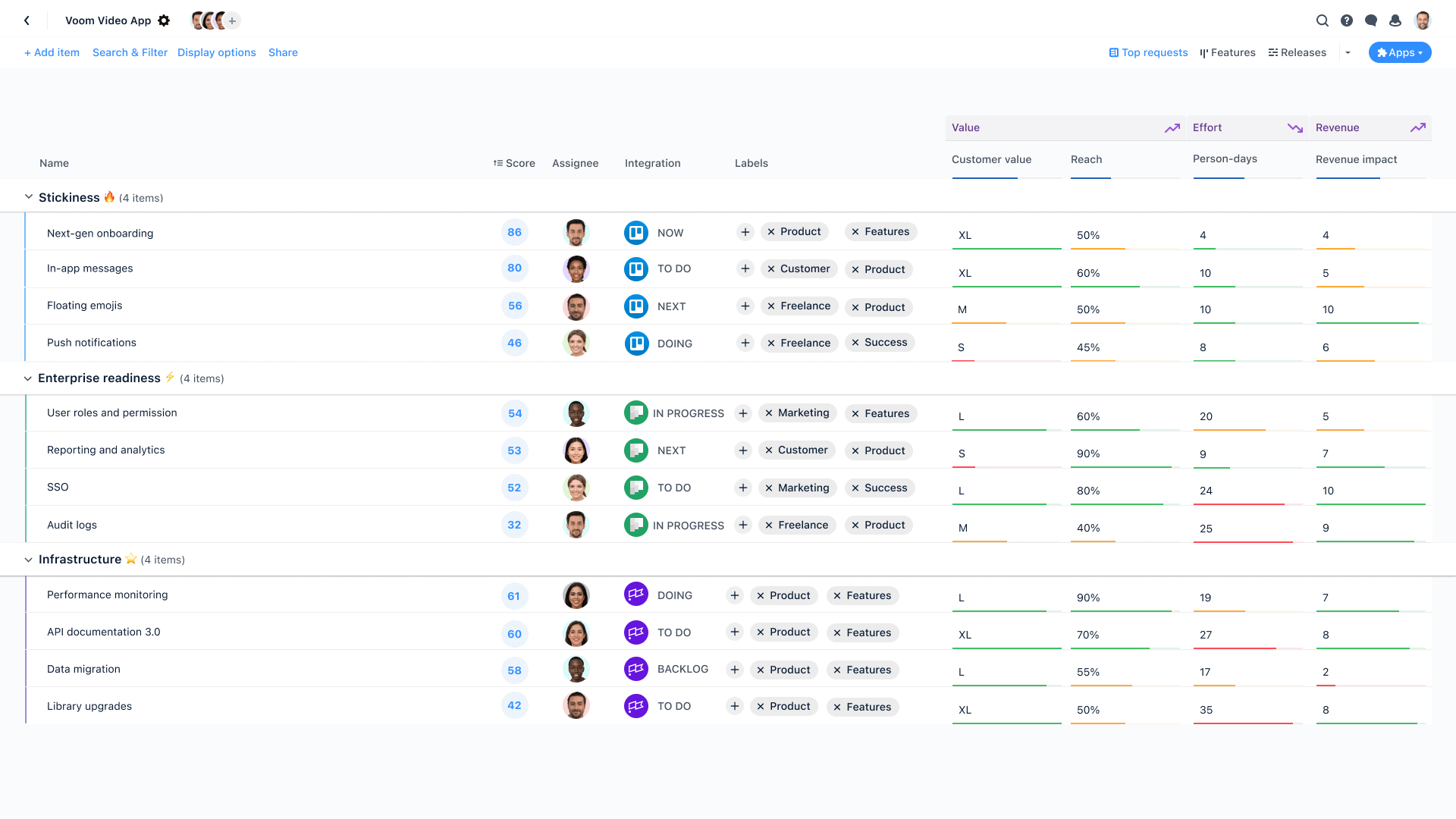 If you're in a position where you need to get your roadmap up and running as fast as possible, airfocus might just be the tool for you.
Quick and easy roadmapping is the name of the game with this software tool, and you can certainly create a roadmap in next to no time due to helpful integrations with other management applications.
It offers a variety of views, along with a drag-and-drop interface for easy construction and a multidimensional chart, for highlighting priorities. You're also able to have unlimited viewers, as well as create custom scoring and weighting for ideas and feature requests.
airfocus's pricing:

Starter: $19/month
Team: $39/month
Pro: $79/month
Roadmunk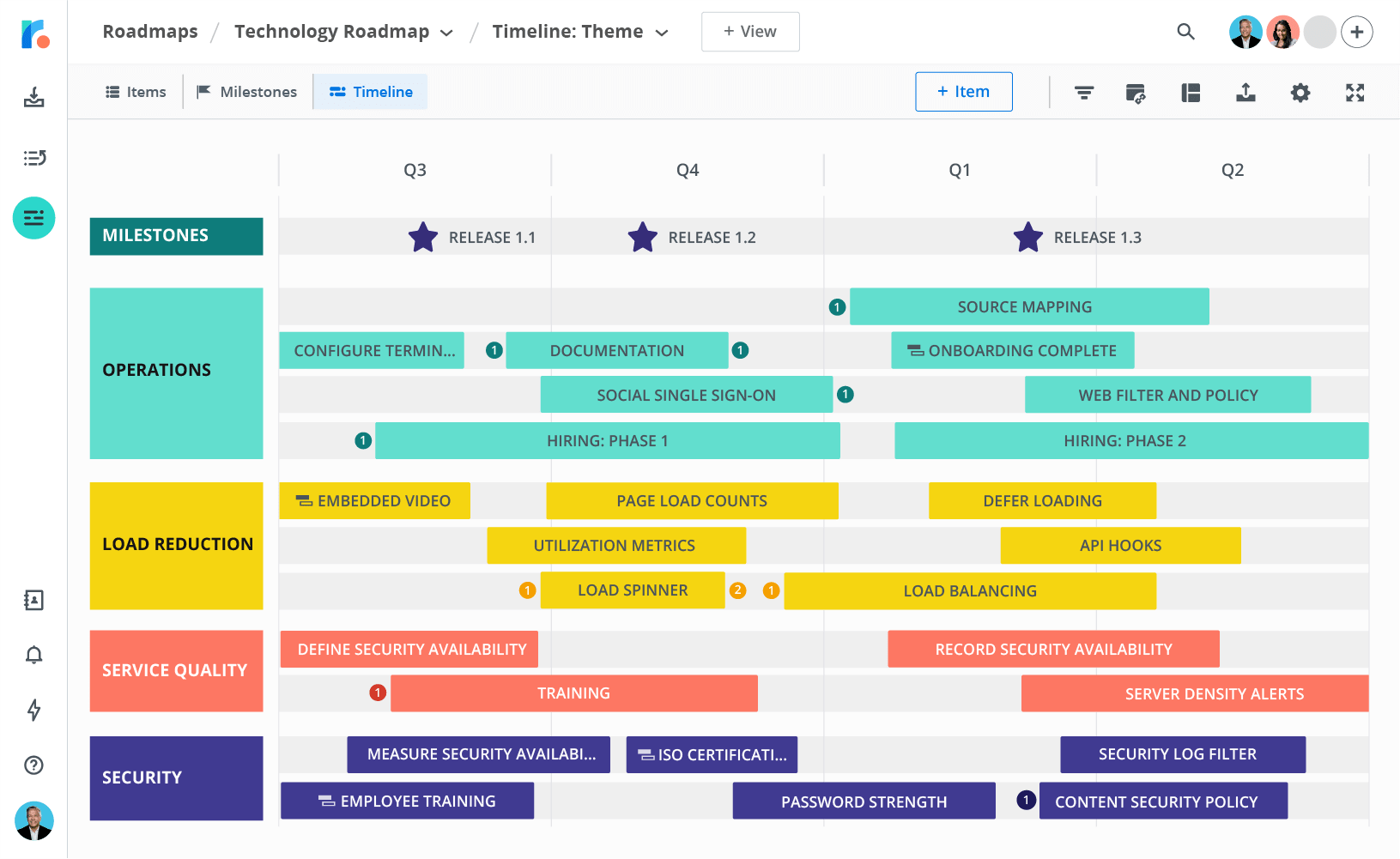 For product managers and product teams searching for completely customizable roadmapping,
Roadmunk will likely be versatile enough to meet your requirements.
It allows multiple teams to build their own roadmaps, then gives them the ability to bring them all together using a master view feature, which is unique to the software tool. And offers an overall high-level view of a product's future.
Teams can also create different views of the same roadmap, and share them with multiple stakeholders and customers.
Users can actually craft customer-specific roadmaps, which can be customized to only show a certain level of detail. However, the exclusive focus on roadmapping does mean you'll need to use other tools for feedback and strategy formation, which could be an issue for early-stage organizations.
Roadmunk's pricing:
Starter: $19/month
Business: $49/month
Professional: $99/month


ProductPlan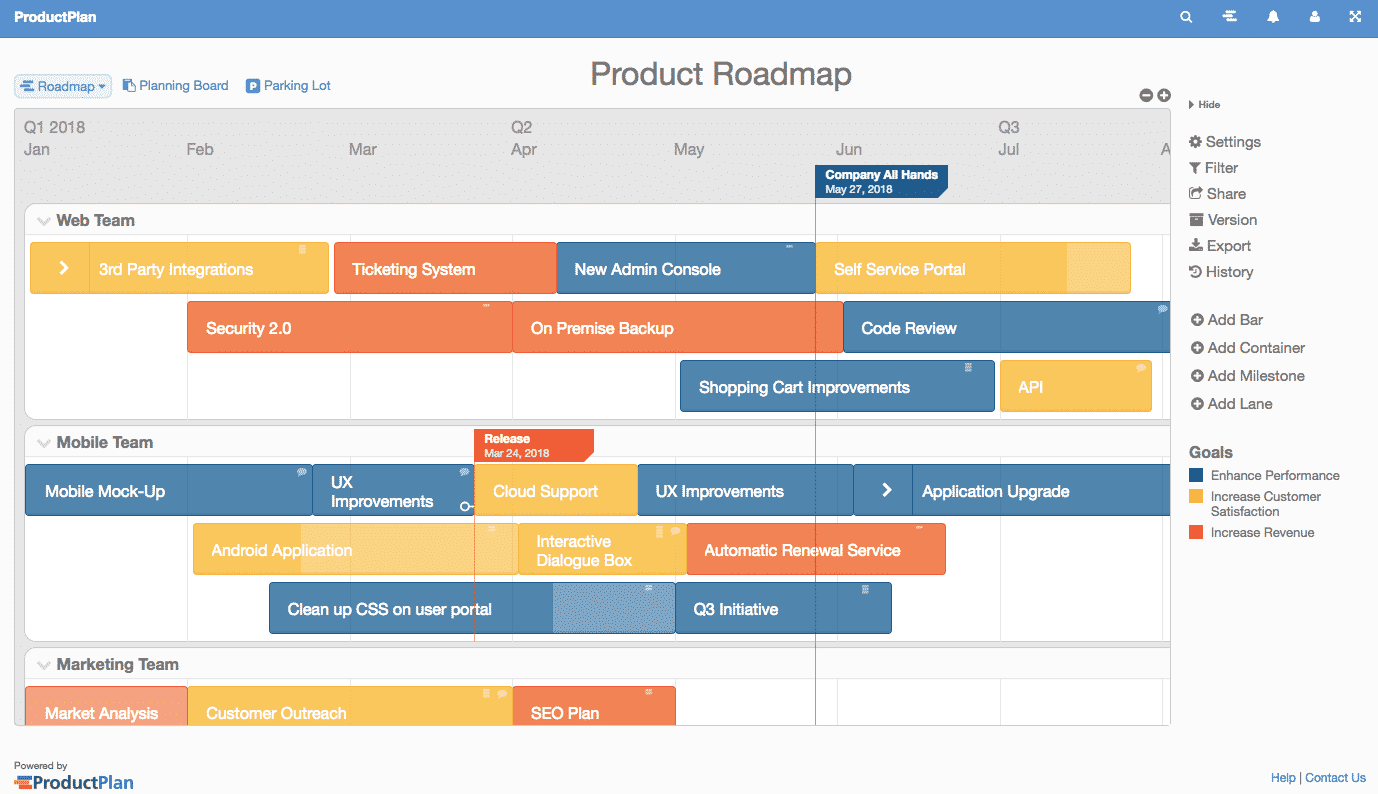 If you want your product roadmapping to look… well… nicer! ProductPlan can offer this.
A basic looking board isn't always going to go over well with customers or stakeholders, and this platform recognizes this. Enabling you to easily build beautiful roadmaps, using a drag-and-drop interface.
It allows for full customization, where you can alter how granular the timeline is, use color-codes, connect related items, and create different versions of the same roadmap with varying levels of detail.
As well as having unlimited viewers, you can share both high-level and more highly detailed maps where necessary, without having to build multiple ones. Also, you'll have the ability to group together roadmaps to create master plans. Keep in mind though, the platform is totally web-based, meaning you can't update a roadmap offline.
ProductPlan's pricing:
Business: $39/month
Enterprise: request consultation
Enterprise Plus: request consultation
Aha!
Aha! positions itself as the world's number one product roadmapping tool, and offers features that go beyond roadmap building.
As well as offering the drag and drop functionality, which allows you to easily drop in any initiatives and goals etc. onto a roadmap, it also offers six different templates to suit your exact requirements.
Sharing is incredibly simple, as created maps can be shared in a variety of ways. As an image, a pdf, or via a web page. Any set goals and initiatives can be woven in, and things like user stories can be created from customer insights and added to projects and features on the roadmap.
Everything can essentially be brought together, which is super useful for those product teams that desire everything to be available in one place. The scope of this platform can mean the learning curve is steep though, and will require time to learn how it all works. For some teams, simpler tools may be preferable.
Aha!'s pricing:
Premium: $59/month
Enterprise: $99/month
Enterprise+: $149/month

These are our top product roadmapping picks, but there are plenty more tools out there. Let us know what other tools you've found useful for prioritizing and aligning your product goals on LinkedIn, Twitter, Facebook, or in our Slack community, and we'll add them in.