The time has come! We asked the product-led community to once again highlight their heroes and nominate those individuals and organizations who are truly leading the way with product-led growth 💪  
Plenty of nominations came flooding in, which made whittling down the five winners a tricky task indeed So, without further ado, let's showcase those superstars and inspiring organizations that are standing out and going above and beyond in the PLG world... 🥇
---
Product Leadership Award Winner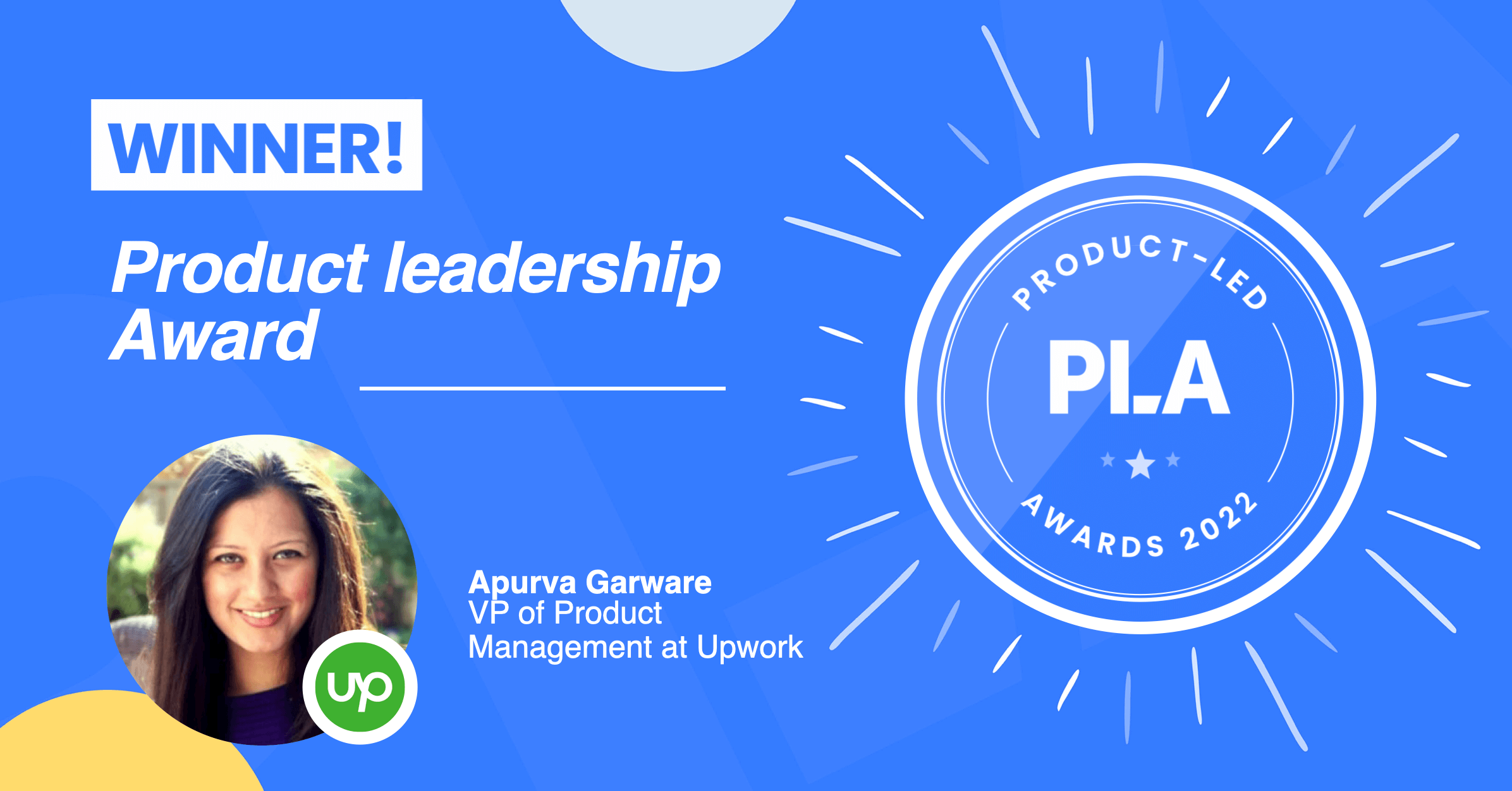 Apurva Garware, Vice President of Product Management at Upwork
Apurva is the VP of Product and GM for Upwork's flagship product, the Talent Marketplace, which generates $1B+ in quarterly Gross Services Volume. The future of work is being written and Apurva's contributions are shaping the tools that both sides use for productive and effective collaborations in the new world.
Previously to Upwork, Apurva led a cross-functional team of 30+ PMs, Designers and Researchers at Chegg, launching the org's first subscription offering that offered a bundle of study tools to college students for help with their coursework. This led to Chegg's subscriber base increasing 3X and a 30% year-on-year in annualized revenue.
At Medium, a platform for readers and writers, Apurva led the revamp of the company's recommendation system which resulted in the acceleration of Medium's subscription base. At Quora, she bolstered the platform's team efforts to build a robust platform with economies of scale that eventually led the company to execute a successful internationalization and monetization strategy. At Amazon, Apurva led the team that built the search and discovery experiences for Amazon's strategic digital media launches: Amazon Music, Prime Video and Kindle unlimited.
"As an immigrant, a woman of color and parent to two children, Apurva is passionate about bringing about a tectonic shift in the representation of minorities in tech. Currently, 3% of tech jobs in the Bay Area are held by women of color from traditionally under-represented backgrounds. Through her work in communities, Apurva is determined to increase that because she truly believes that the more diverse and inclusive our teams are, the more impactful the products and services we build."
"Apurva truly believes in being an advocate for under-represented minorities in technology, particularly women. Through the roles she's held in organizations and the work she has done within the community, she's been a strong and vocal advocate for this cause. She helps shine a light on the problems our industry faces in this area and accelerates the momentum toward solving them."
Apurva also discussed how businesses will need to embrace multi-dimensional identities and nurture the whole employee in inclusive, value-driven environments to thrive. You can listen to the episode right here. 👇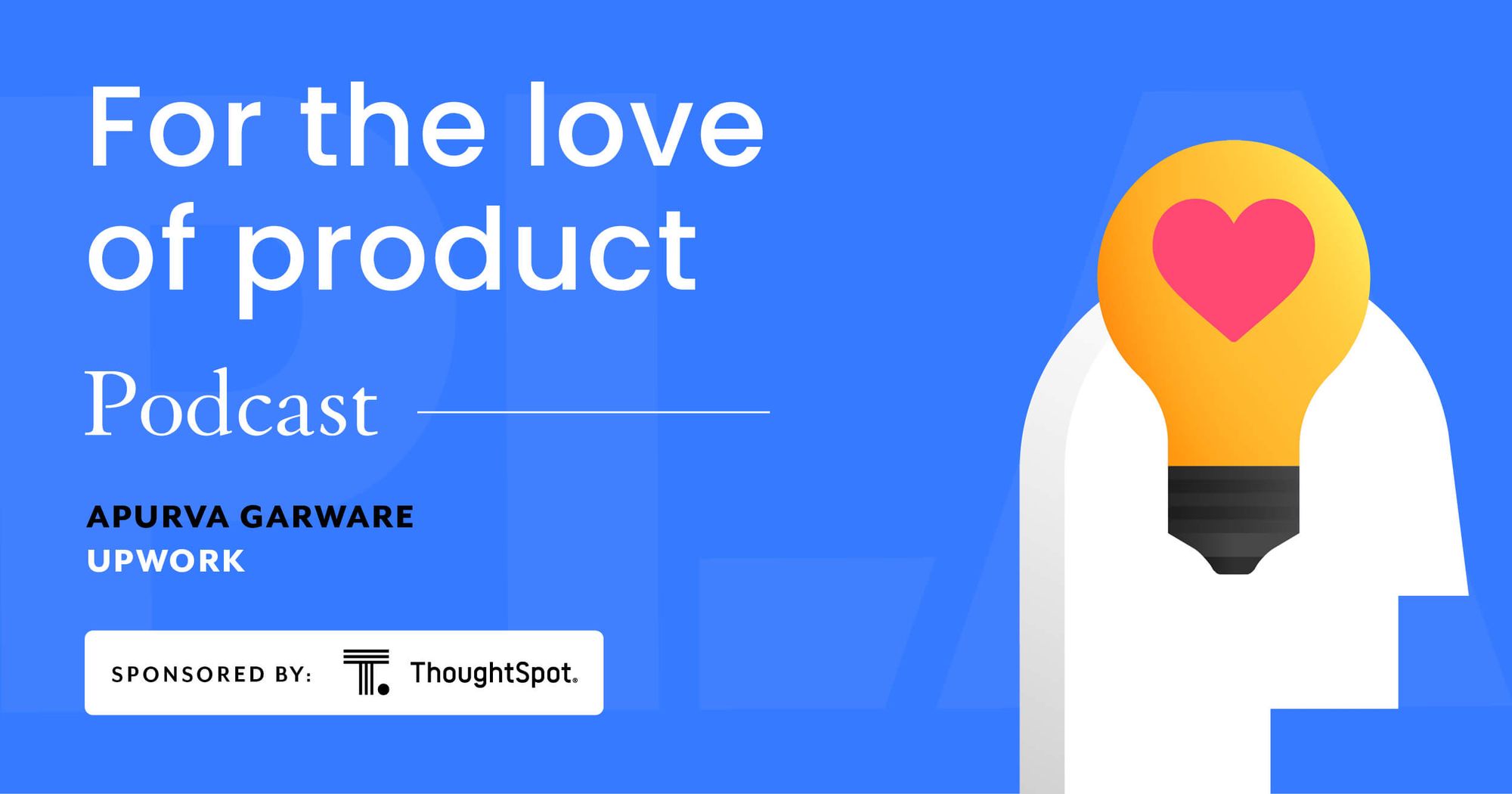 Honorable mentions in this category:
Javier Aldrete, Senior Vice President of Product at ActivTrak
Javier Aldrete leads Product and Design at ActivTrak and has built his career around building business intelligence analytics solutions such as Tableau - not simply leading the teams but getting into the data and using data to drive OKRs, alignment, and detect issues or new trends.
This hands-on approach has allowed the org to iteratively develop successful solutions with minimal risk. In three years under Javier's leadership, ActivTrak's product-led growth accelerated revenue by 4x.
"Javier's focus on PLG principles of adoption, retention, and expansion, our conversion rate from free to paid subscriptions increased by 55% and transformed ActivTrak into an essential tool purchased by over 9,000 customers and leveraged by 550,000 users in over 94 countries."
"In addition to increased revenue, the product strategies Javier led contributed to the company's $50M Series B funding by prominent VC Sapphire Ventures, an over 500% increase in staff, and numerous industry awards."
Kasha Stewart, Director of Growth and Engagement at Adobe
Kasha led the product team for Movies Anywhere within Disney. She led a team of about eight individuals, creating the product development roadmap and helping evolve the digital movie service from a simple linking tool into a destination.
With her processes in place, there was much more alignment and justification for the initiatives Disney were prioritizing. She also went above and beyond mentoring employees, creating opportunities for interns, and advocating for D&I efforts.
"Kasha is more than just a product director, she's a thought leader within the product and tech communities. She helped launch major initiatives within our team, such as a brand new movie curation tool that created a successful differentiator for our product in the market and increased digital movie sales. Her mentorship has left a lasting impact on me, particularly as I have now taken on a leadership role myself."
"She brings creativity and humanity to technical environments, and I appreciate how she always encourages camaraderie and inspiration within the teams she leads."
---
Rising Star Award Winner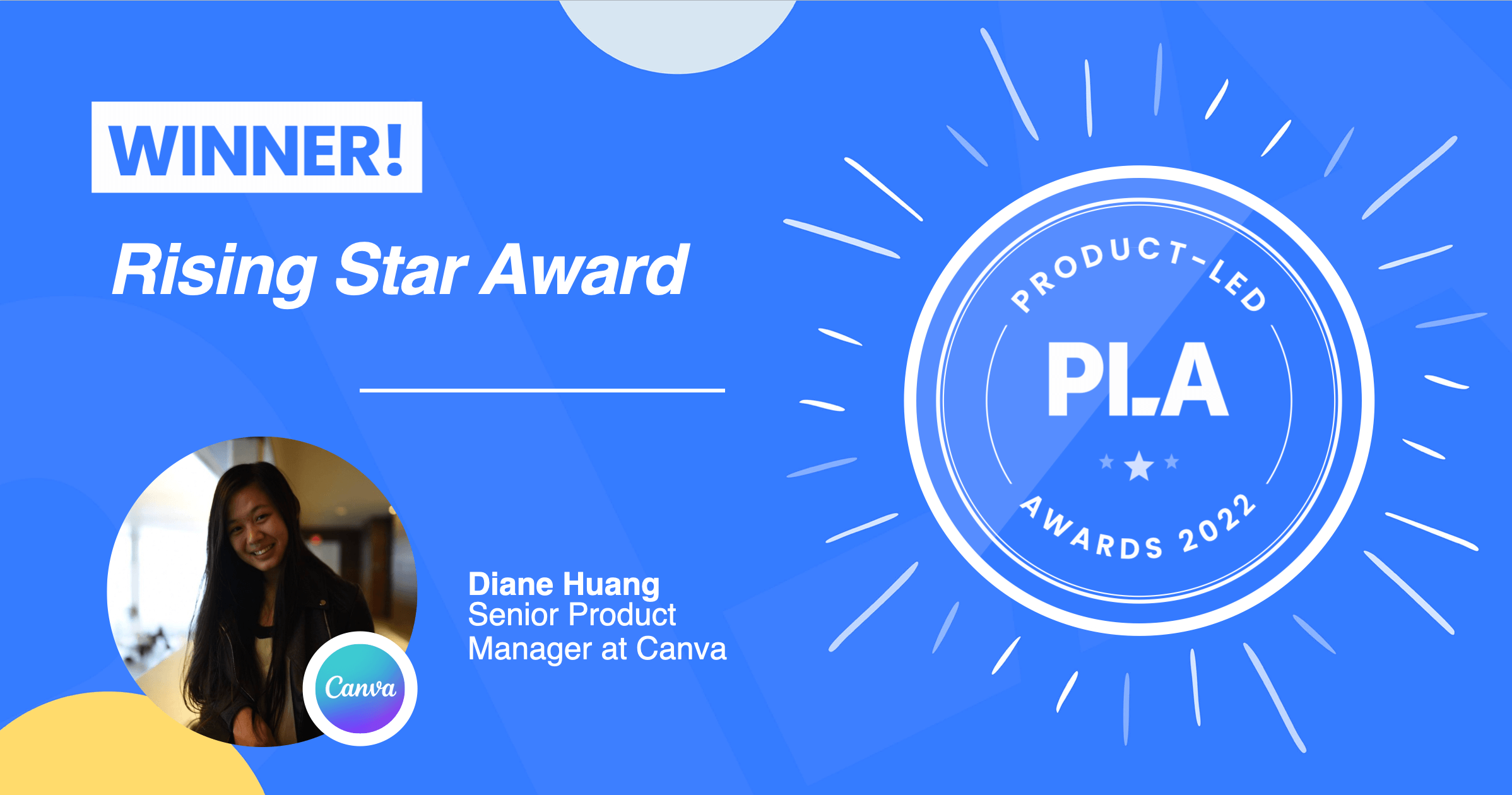 Diane Huang, Senior Product Manager at Canva
Diane is a Senior Product Manager at Canva, developing a brand new product as the first step of the company's expansion into Canva for Work. As the product lead for Whiteboards, she helped to bring this new collaboration product from vision to life. Whiteboards has accumulated millions of active users since launch in August, supporting Canva to its recent 100 million MAUs milestone.
As well as being a passionate product leader, devoted to improving the lives of those in the art, technology and education spaces - she's also a social entrepreneur and rising star in the product space, now carving her own path as a product coach and mentor.
At 16, Diane founded her first non-profit, Creativity Through Arts, as the youngest World Vision ambassador and grew the community from a team of 10 to 11,000 youths across the nation within two years. For her work, she was recognized as an international change-maker and her featured documentary and interview premiered at WeDay.
Her second non-profit, Y2 Labs, partners with the Government of Canada to bring the entrepreneurial curriculum to classrooms. Between 2015 to 2017, three incubated startups founded by high school students went on to raise over $21k in angel investments. During her internships, she single-handedly increased Firefox Account registrations by 20% globally, led Tesla's M3 expansion into China with individual savings in 8 figures, and contributed to the 5th top social media app of the year, YOLO, as their first product hire.
"Diane has mentored many aspiring and emerging product managers, advocating for students or underrepresented groups for breaking into tech."
Diane is a rising star in the product management space, having joined the profession only two years ago and already becoming a leader both in and out of the companies she works at."
"Diane has contributed as much as she has received in order to get to where she is today. She understands that her success has not been a woman's mission and it takes a village to raise a new member of a product organization. She actively contributes back by mentoring younger aspiring product managers through Monday Girl and responding to every and all messages she receives."
"Most importantly, she is a caring and compassionate person who will stop to make sure that the people she works with feel valued."
Honorable mentions in this category:
Nnamdi Azodo, Senior Product Manager at Fairmoney
Nnamdi leads the FairMoney product team and is responsible for their expansion and evident retention of users, while also leading out new product offerings. Aside from his vast product experience, he also has deliberately mentored and encouraged a lot of up-and-coming PMs to find their footing and be does it free of charge.
"He taught product management in one of the simplest ways I've seen.
He is a delight to work with. He brings intentionality and professionalism to the work, and has done great work to simplify and make product management accessible for more people."
Natalia Rebikova, Product Manager at Google
Natalia has been at Google for more than a decade in various roles, and just transferred into product management after making a huge impact in the product operations and strategy team. She works in the Google Wallet team on customer acquisition for the Tap & Pay product.
"Natalia is hard-working, committed to driving value for users and the company, a reliable colleague, and passionate about building products that are accessible and usable by people all around the world. Her career trajectory from support into product operations into PM is a great example of how talented people can get into product management. She's the model for an early-stage PM: hungry to learn, keen to make a difference, and ready to roll up her sleeves and get stuck in."
---
Powering Product Ops Award Winner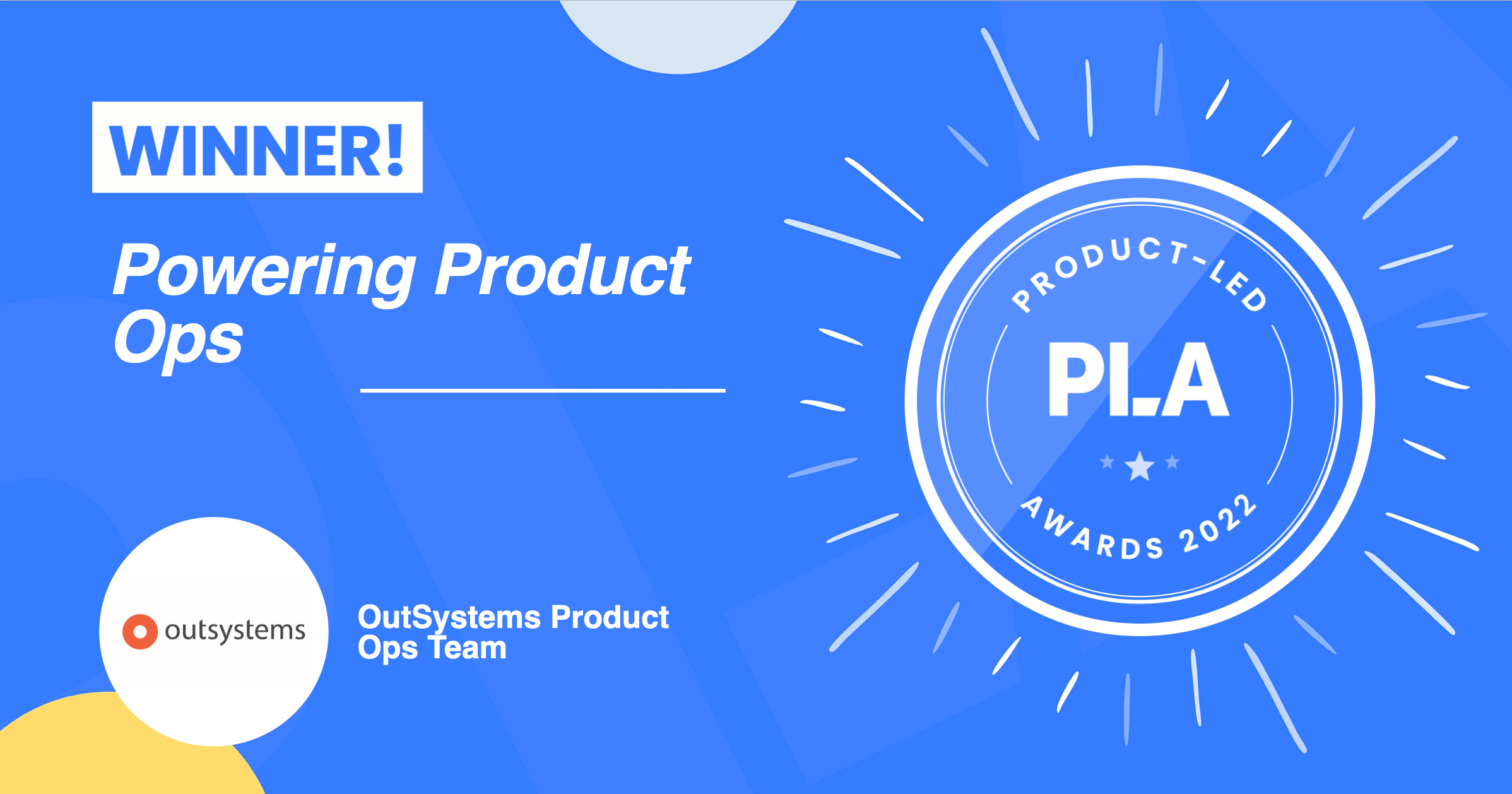 OutSystems Product Ops Team
The OutSystems Product Ops team is composed of eight team members with different focus areas - PM Experience, Product Strategy, Product Delivery, Stakeholder Communication, Program Management, and Tools and Compliance.
This team has created a significant impact on the organization by accelerating the hiring process, putting a discovery process in place to solve the main challenges related to product development, creating a foundation for strategy definition and deployment, and managing critical programs for the organization with success.
The OutSystems Product Ops team is focused on improving the performance of the Product Management team as a whole. They do this through a "health scan", a status update on the key outcomes, focus, and direction they must achieve to perform at a top level on three P's - people, product and progress.
Honorable mentions in this category:
Jaclyn Pritchard, Product Operations Manager at Wayfair
Over the past year, Jaclyn has built a  product operations function for the Enterprise Technology organization from the ground up. She was the first product ops hire for Wayfair and has leveraged her background in the tech start-up world to create the function's mission, strategy, and roadmap.
"Jaclyn has an ownership mindset and consistently demonstrates her ability to drive results and prioritize initiatives that drive long-term value. Jaclyn has a strong reputation for creating and scaling repeatable frameworks that she continuously iterates based on learnings and end-user feedback. She is an inspiring ambassador for our team and we all benefit from working with and learning from her."
Graham Reed, Group Manager for Product Operations at Cobalt
Graham has built and led a team of product operations to define, design and deliver new ways of working for teams that were very ad-hoc & process-less. Now delivering several levels higher at Cobalt to define innovative new ways for product to work with a fast-moving product-lead organization. All of this with empathy and consideration for changes not to disrupt the day-to-day for PMs on the ground.
---
Best Product-Led Company to Work for Winner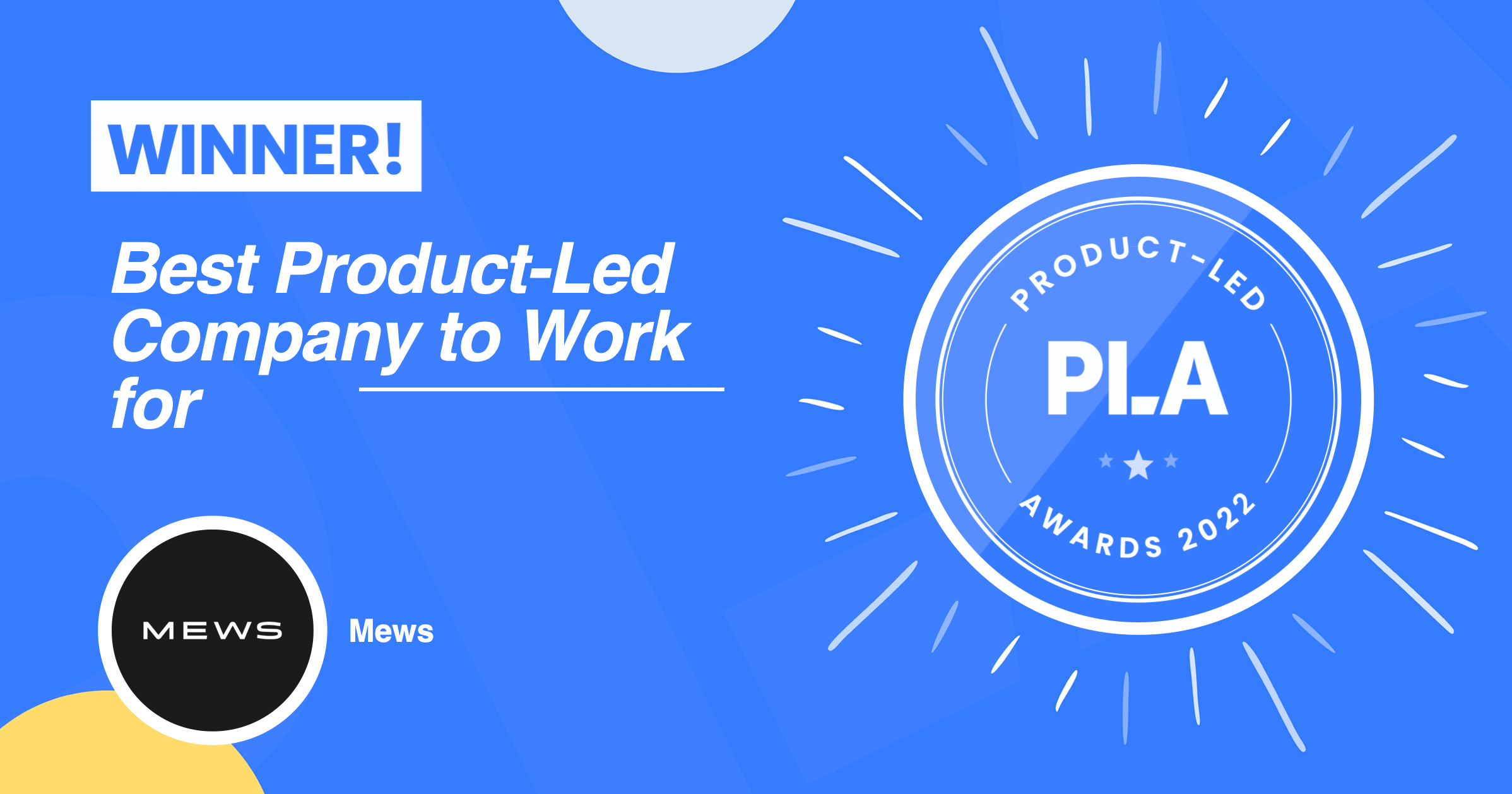 Mews
Mews builds their product in a way that brings value to their customers, users and guests staying in properties. They don't make changes just for the sake of making changes or chasing the next shiny object, and nor do they work in a feature factory model. Mews understands innovations are necessary to change the way their industry works, and they're not afraid of challenging the status quo and finding new ways to bring innovations to the market.
The company gives teams enough autonomy to discover, validate and ultimately produce innovations that bring the biggest impact. There is an organization-wide culture of continuous improvement and openness for all.
"Mews is very open and makes every employee feel comfortable. It is a really great place to work and most importantly to grow. It's full of amazing humans that support each other and that have a great product as a common goal."
"I can speak to any member of leadership and pitch any improvement that I can make a case for. Their commitment to goals and team spirit is truly the best I've ever experienced."
"Mews cares about employees' wellness, and mindful work, and supports growth and development, so we become resilient experts. They're investing in their talent immensely, recognizing their successes, and celebrating them. No matter what you do, you can be sure it will be celebrated and recognized."
Honorable mentions in this category:
Amplitude
Amplitude is the Digital Analytics Platform helping every business optimize the business value of digital product innovation. The company is passionate about diversity, equity and inclusion, and has weaved this into the fabric of the organization's culture. From ERGs and communities to recruiting and training, they walk the walk. The org is 700 Ampliteers strong and is a passionate, proud and empathetic team.
"Ampliteers are a special combination of smart, energized and fun. I'm constantly challenged to do better, whilst having the psychological safety to voice my opinion and try new things."
Productboard
Productboard is building a product for product managers, spending all day, every day in the meta space. The company is constantly learning from their prospects and customers, figuring out how to help address their needs, while applying the same solutions to themselves.  
The company's product teams have a high degree of autonomy and the ability to try new things and experiment to bring new opportunities to market. Team-wide collaboration and contributions allow the teams to build products that matter, together.
"Our dedicated product management system is the first of its kind for product organizations, so our PMs are working to help pioneer a whole new category of software from the ground up."
---
PM Tool of Choice Award Winner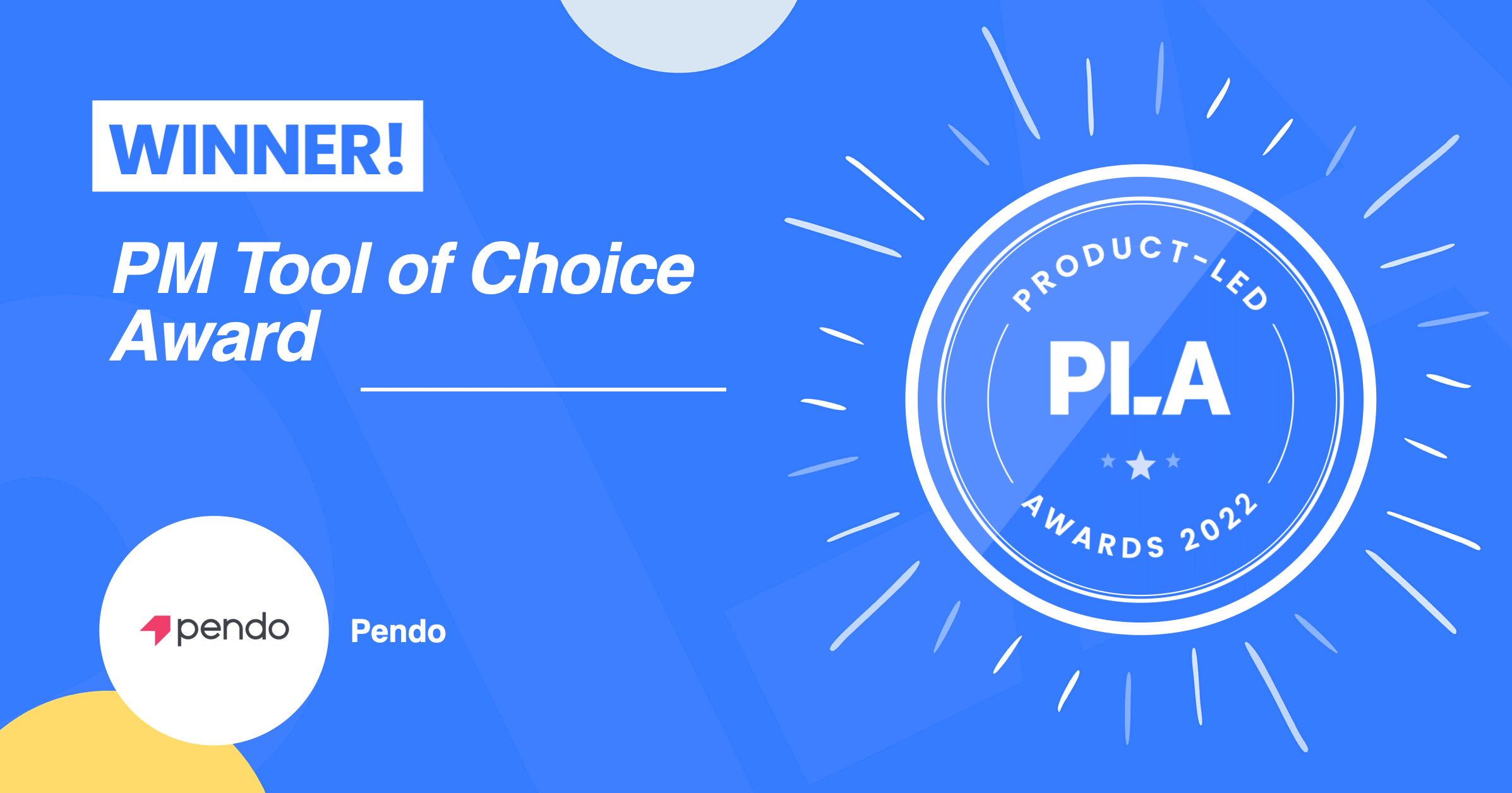 Pendo
Pendo helps companies to meet rising user expectations. As the only platform to combine in-app messaging with robust product analytics and user feedback, Pendo ensures people adopt software quickly and successfully.
Pendo provides the data to allow for the gathering of user feedback, building guides for new features and targeting areas generating lots of support tickets, and refining roadmaps.
"Pendo has supported me enormously in establishing a product-led mindset at Scrive and in ensuring that decisions are data-driven and not gut-driven."
Honorable mentions in this category:  
Sprig
Sprig enables product teams to conduct user research quickly, at the pace of modern product development. By surveying users in-app or using unmoderated concept and usability tests, they can obtain critical insights in just hours or days, helping to de-risk decisions and drive the right outcomes across the product development lifecycle - from idea generation to final iterations.
ClickUp
ClickUp is a powerful productivity tool, built for teams of all sizes across any industry. Teams can plan, track, and collaborate on projects, build perfect workflows, create campaigns, manage development sprints, and more. It provides huge efficiencies in roadmapping, discovery, collation, and metric gathering.
---
It's a pleasure to celebrate these passionate product professionals and organizations. Congratulations to all the nominees, those who got honorable mentions, and of course, to the winners!
Whilst you're here, do check out our free Slack community of over 7500 product pros and pioneers. Plus, get access to stacks of exclusive content, insight-laden presentations, templates, frameworks, and more by becoming a PLA Member. 👇