Last year we has an absolute blast bringing you the very best product events around the world, and this year will be no different, as we prepare to bring you an exciting lineup of in-person and virtual events you won't want to miss.
From sensational summits to fantastic festivals, there will be plenty of opportunities for you to network, learn from industry experts, and stay up-to-date on the latest trends in product.
This year's events promise to be more interactive, innovative, and engaging than ever before, with thought-provoking keynotes, interactive workshops, and panel discussions that explore the challenges and opportunities facing all those in the product-led community.
Whether you're an experienced product leader, a startup founder, or simply interested in learning more about product development, our events offer you the chance to connect with like-minded individuals and expand your knowledge.
All these highly anticipated events will be coming your way, both in-person and virtual, so get ready to mark your calendars, pack your bags (or open your laptop!), and join us for an unforgettable year of product-led events…
---
May
When: May 24 - 25
Where: The Mirage, 3400 Las Vegas Boulevard South, Las Vegas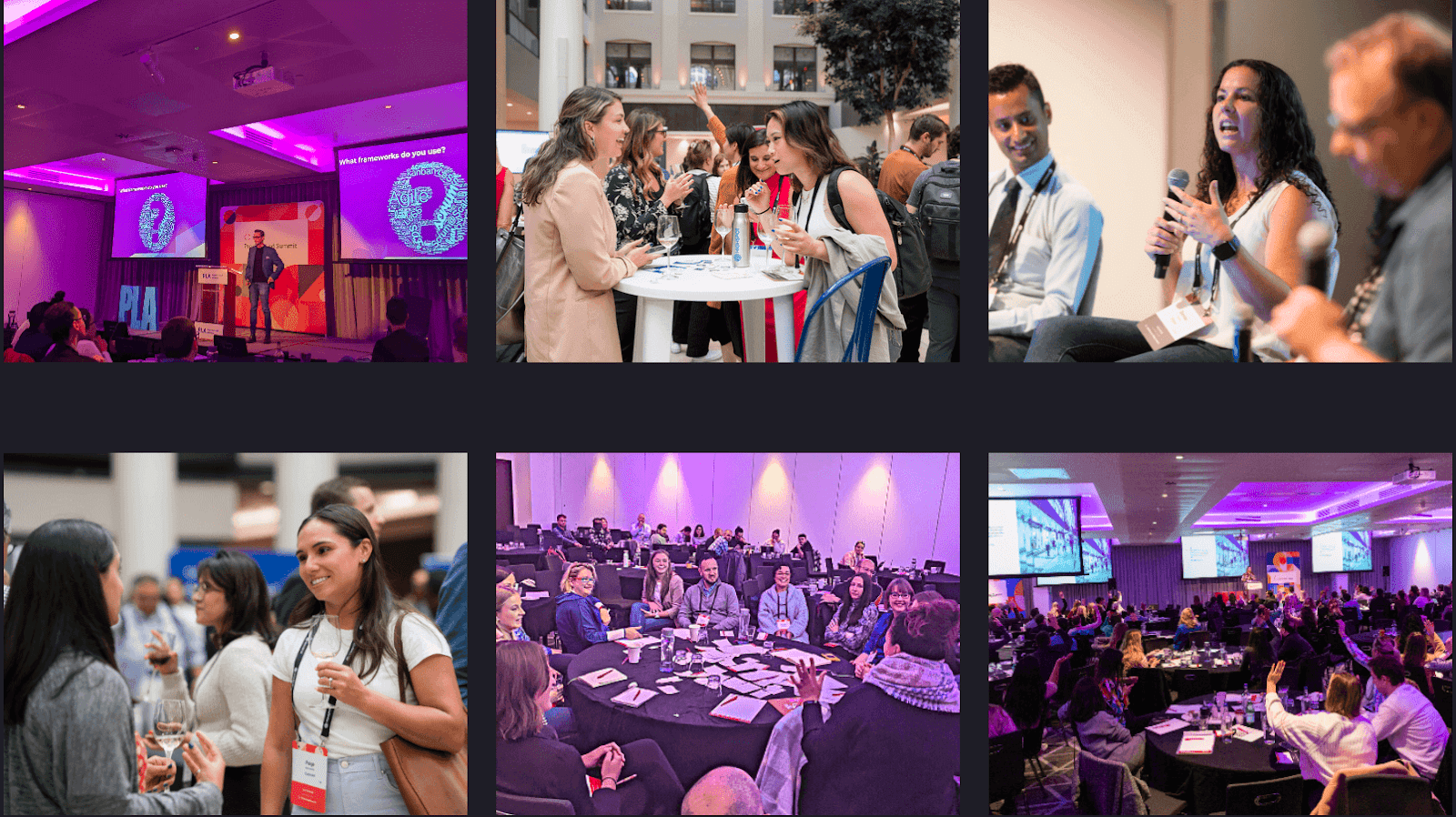 It's time once again to head to Vegas baby - and take your career to new heights by becoming a part of our vibrant community of dynamic product professionals and growth experts who can help you ignite your passion for product and drive success.
Tap into the wisdom of our experienced leaders who have spent decades mastering the art of achieving outstanding results. And rub shoulders with the cream of the crop in Las Vegas and gain access to valuable networking opportunities that could change the course of your career.
Check out what the attendees and speakers of last year's Las Vegas Summit had to say.
---
June
When: June 14
Where: From your desk or couch [Virtual event]
Fancy a festival without the mud that goes with it?
Leave behind the dreary weather, those pesky tents, and the wallet-draining drinks. Instead, why not join us at the virtual CPO Summit? Brace yourself for a stellar lineup of speakers, valuable insights you can apply anywhere, and even exciting networking possibilities.
👉 Gear up for an abundance of practical, game-changing insights from seasoned product leaders.
👉 Wave goodbye to your challenges as our experts lend a helping hand.
👉 Reap the benefits right away and see your efforts pay off in no time.
Oh, and did we say you can do this all from the comfort of your own home? 🤔
Keep an eye out on LinkedIn, Slack, and the PLA site for when more announcements are made! 👀
---
September
When: September 19 - 20
Where: Venue TBC, San Francisco
Mark your calendars for this September as the Sunset City gears up to host the Product-Led Summit, the ultimate gathering of product enthusiasts, growth wizards, visionary founders, and industry titans.
Join us to hear from the best and brightest minds in the business world as they share their insights and strategies for achieving product-led growth. Whether you're a newcomer to the scene or a seasoned pro, our summit promises to deliver an unparalleled experience that caters to all.
Why miss out on this game-changing opportunity? Secure your spot among product's best of the best!
---
When: September 19
Where: Venue TBC, San Francisco
Sunset City is about to be full of CPOs, product leaders and more! All there to offer actionable insights, invaluable learnings, and shared wisdom to help you elevate your career.
Get ready for an epic gathering of top-notch product leaders from the world's biggest companies and most innovative startups at the upcoming Chief Product Officer Summit in San Francisco this September! You'll be able to explore the hottest trends in the industry, from artificial intelligence and machine learning to the latest hiring practices and team building techniques.
You won't want to miss this opportunity to witness firsthand how the landscape of product-led growth is adapting to the ever-changing world of business.
Join us and be a part of this exciting, knowledge-packed event. With the likes of Google, Uber, Meta, Twitter and eBay in attendance, you'll be in very good company.
"PLA is a very resourceful and authentic community. They make it easy for you to connect with and learn from the brightest minds in the industry from around the world. Their topics are always very relevant and applicable in a work setting, and I'm looking forward to hosting, participating, and attending more events through 2021."
Naimeesha Murphy, Founder of Products by Women
---
When: September 19 - 20
Where: Venue TBC, San Francisco
Get ready to ride the wave of Product Operations that's taking the product world by storm!
Discover the game-changing importance of this role for driving growth, and learn how to become a pro surfer in this exciting and evolving function.
Immerse yourself in the latest cutting-edge insights and gain exclusive access to our hand-selected pioneers who are leading the way in product ops. Plus, get your burning questions answered by the best in the business and set yourself up for success, all in sunny San Francisco!
Keep an eye out on LinkedIn, Slack, and the PLA site for when the announcement launches! 👀
Oh by the way, here's what one of our previous speakers, Hugo Froes, Product Operations Lead at OLX Motors Europe had to say:
"I can personally trace many of my connections and ideas around Product Ops to the very first summit and this edition didn't disappoint. Being able to once again share my ideas and learn from others on this platform was incredible and I was left wanting more.."
---
November
When: November 01 - 02
Where: Venue TBC, Sydney
In November, Get ready to join the product revolution Down Under, at the Product-Led Summit | Sydney. Rub shoulders with our dynamic community of product pros and growth gurus in two action-packed days of game-changing content.
Ask the emerging thought leaders your burning questions, attend inspiring keynotes, join engaging panels, and interactive roundtables with real-life takeaways that can supercharge your career growth.
No matter if you're a product newbie or a seasoned OG, our summit is designed to deliver valuable insights to all. Don't miss this incredible opportunity to learn, connect and thrive with the best in the business!
---
When: November 08
Where: Venue TBC, Singapore
With guests including Zoom, Paypal, TikTok, and more, we're going above and beyond to deliver a big APAC experience that can rival the Guoco Tower. 😎
In one jam-packed day, you'll hear about how to:
Engage your community to develop products.
Boost conversion with a product-led strategy.
Power up growth with smart metrics tracking.
Show your value in product and win stakeholder buy-in.
Drive PLG success in an AI world.
Discover your product management superpower and lead fearlessly.
Don't just take our word for it, check out what previous attendees had to say about their experience at our summits.
---
When: November 22
Where: Venue TBC, London
Brace yourselves for an unforgettable end-of-year event on Product-Led Alliance's home turf!
London's Chief Product Officer Summit will be bigger than Big Ben and sweeter than a fresh cup of English tea. The lineup of speakers is so impressive, they could easily teach at Oxford University.
We've gone above and beyond to bring you the cream of the crop in the industry. Get ready to feel like royalty at this extraordinary event in the heart of England's capital city.
But don't just take our word, our previous attendees say it much better than we can! 👇
---
Online events calendar
Keep track of Product-Led Alliance's events with our online calendar, sign-up for talks with product leaders, and improve your knowledge of key product-led growth principles.
And for even more exclusive events info - download the full brochure today.