We're pleased to unveil the remarkable winners of the PLA Awards for 2023!
These awards celebrate the outstanding achievements in the field of product-led growth. Whether you've revolutionized your onboarding process, achieved unparalleled user engagement, or spearheaded a product-led transformation, it's time to shine a spotlight on your extraordinary accomplishments.
Today, we'll reveal the winners in the following categories:
Product Leader of the Year
Product Team of the Year
Product Rising Star
Product Tool of Choice
Product Ops MVP Award
Let's dive right in...
Product Leader of the Year
The Product Leader of the Year award isn't just about being at the helm of a team; it's about having the unique ability to inspire, lead, and transform a vision into a reality. It's a celebration of those who not only set the course but navigate through the challenges, harnessing the full potential of their teams and the products they create.
This award is a testament to the exceptional leadership that propels the world of product-led growth forward. It's an acknowledgment of an individual who exemplifies the very essence of leadership, a beacon of inspiration in the realm of product management.
We're thrilled to announce the award goes to… Michel Hauzeur, Head of Product at Uruit/Nearsure.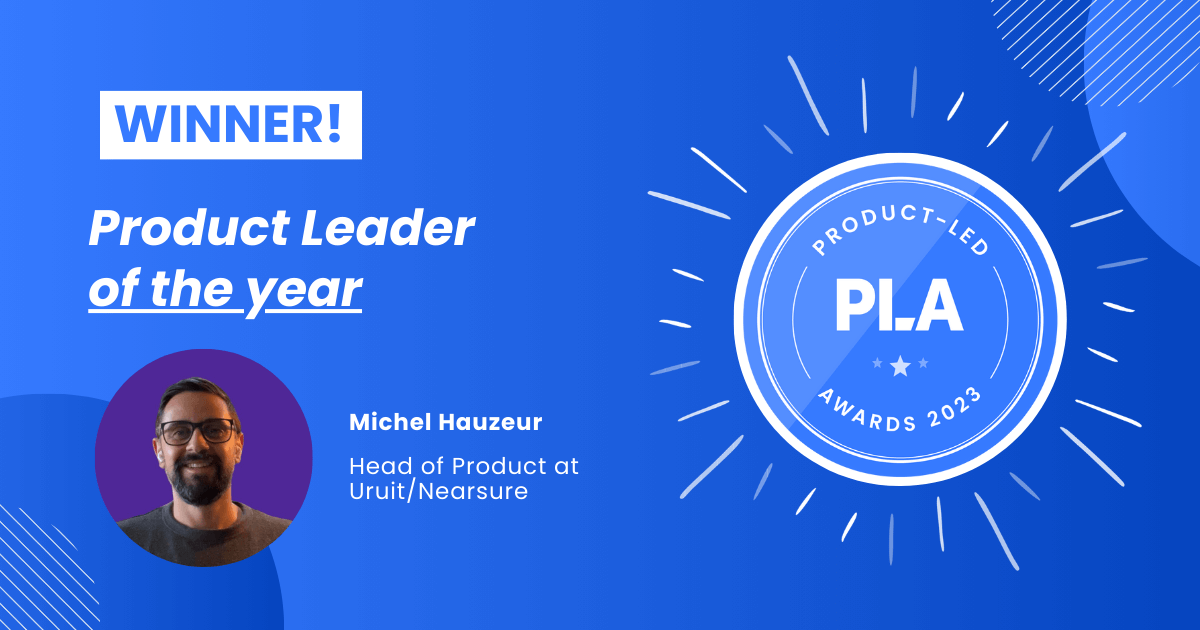 Michael has guided a team of professionals, including product managers, strategists, and product data managers, in achieving significant milestones. His notable accomplishments include the creation of a structured career path framework, integrating hard skills and soft skills to drive the team's growth every six months.
His market and client research leadership within the company has led to a clear and effective growth strategy. His development and expansion of consultancy services have empowered his company's growth strategies to enrich its product portfolio and broaden its audience. These achievements underscore his team's dedication to innovation and excellence, positioning them for continued success in the dynamic realm of product-led growth.
Product Team of the Year
This award shines a spotlight on those high-performing teams that consistently deliver exceptional products and reach significant milestones in their journeys of innovation.
This accolade represents a culmination of hard work, dedication, and a commitment to producing products that not only meet but exceed expectations. It underscores the exceptional synergy and collaborative efforts within the team, where each member's unique skills and expertise contribute to the creation of outstanding products.
And we're delighted to announce the winner… EY.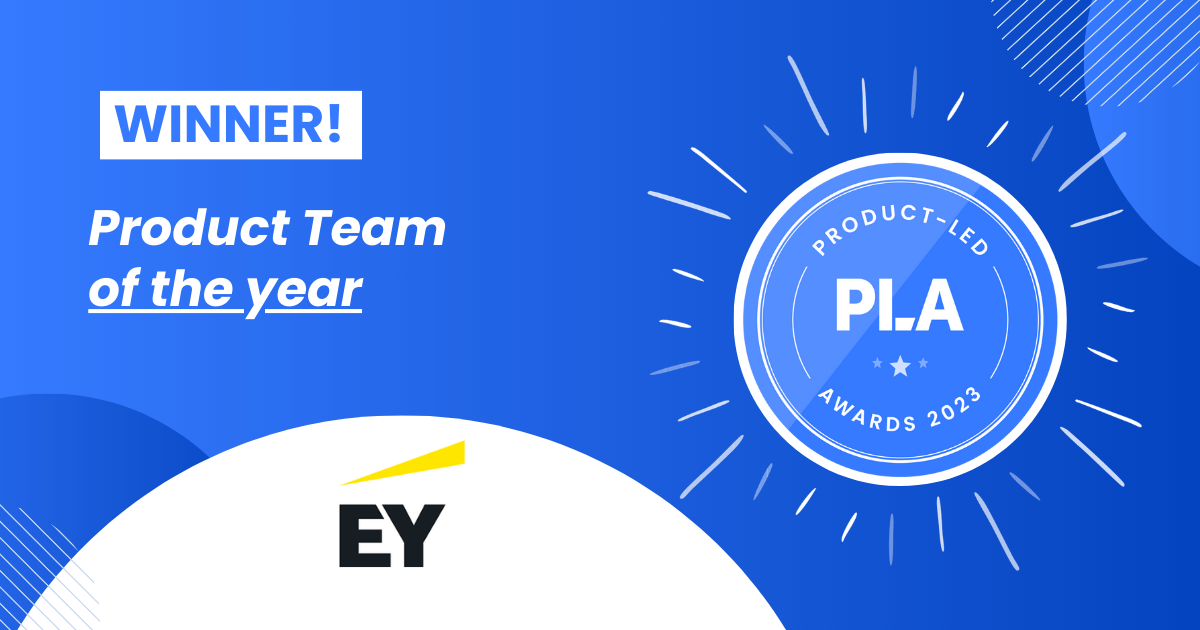 EY Nexus, founded in 2016, made a remarkable transformation in 2020, productizing and introducing a "virtual team" that infused a startup mentality into a 365,000-strong professional services firm. Challenges included cultural change, which required adopting a client-centric product mindset and shifting focus from single-use project assets to modularized products.
Simultaneously, operational change demanded a unified platform for multiple industry verticals, which the product team achieved.
With over 120 professionals, EY Nexus is a testament to its perseverance and is backed by EY's significant investment. Their unique productized approach has helped clients build for growth, expanded to address societal issues like carbon offsets, and introduced preconfigured products.
EY Nexus's global impact is evident in powering over 70 customers, earning recognition as a top insurance service provider, and receiving accolades at the Banking Tech Awards. Their product team's transformation highlights their impressive journey, increasing a global bank's user base by 185% through enhanced digital solutions. EY Nexus is a symbol of innovation and technological transformation, and we're thrilled to honor them.
Rising Star in Product
This award symbolizes the emergence of a promising individual with the potential to become a future product leader star. It celebrates their passion, innovation, and thirst for knowledge – traits vital for navigating the evolving product management landscape.
Beyond recognizing their present accomplishments, this award anticipates their significant role in shaping the future of innovation and product excellence. It signifies our investment in the next generation of product leaders, highlighting the promise and potential within Rising Stars that will lead us toward a brighter future in the realm of product leadership.
And the winner is, drum roll please… Priyanshi Mathur, Product Leader at Minna Technologies.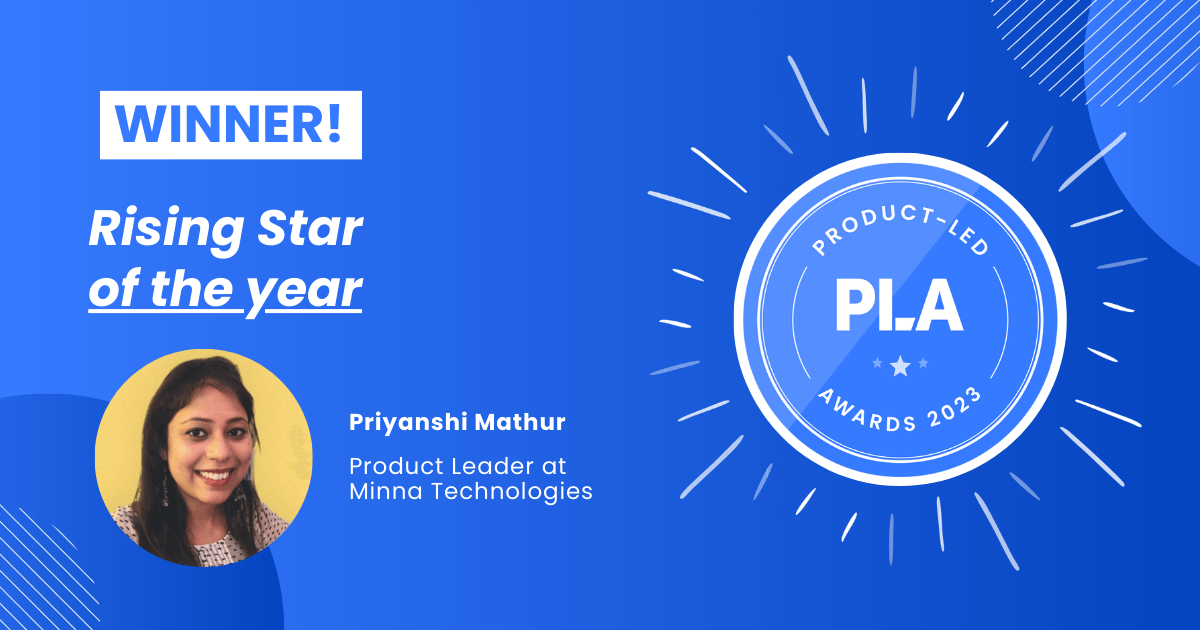 Priya's exceptional attention to detail, outstanding communication skills, and impeccable stakeholder management, both internally and externally, set the standard for excellence. Her ability to exceed expectations is the foundation of her work.
Notably, she conceptualized, meticulously detailed, executed, and spearheaded the successful launch of her company's Subscriber API, driven by invaluable customer feedback regarding the ease of API integration. The positive outcomes of this implementation have already garnered widespread client approval, significantly streamlining interactions with Minna.
Priya's remarkable achievements reflect her high-impact contributions in minimal time, setting an inspiring example for all of us striving for excellence.
Product Tool of Choice
This award celebrates a product management tool that transcends convention, significantly amplifying productivity, efficiency, and overall success in the realm of product management. This recognition embodies the synergy between technology and product management, as these tools simplify complexity, inform decisions, and empower managers to bring innovative ideas to fruition.
By honoring the Product Tool of Choice, we acknowledge its pivotal role in fostering excellence and efficiency, setting a standard for the broader product management community, and establishing itself as a catalyst for success in this dynamic field.
We're excited to announce the winner as… Productboard.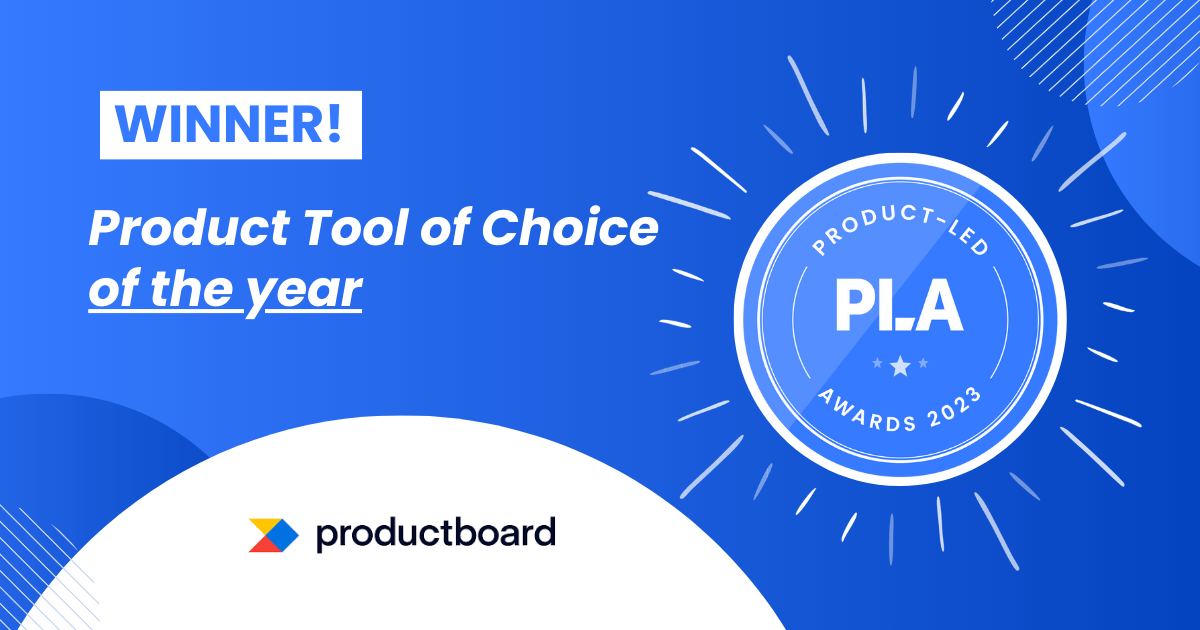 Productboard stands as a robust tool and a trusted ally for product managers, offering an array of advantages that directly bolster their efficiency and effectiveness. Internally, the product serves as a compass for aligning product investments with business objectives, ensuring a laser-focused and impactful approach.
The tool acts as a central hub for gathering and utilizing invaluable customer feedback, harnessing real insights to facilitate efficient prioritization, resulting in significant time savings and a remarkable boost in productivity.
Notably, the impact extends to their 6,000 customers, who have reaped substantial rewards, including a remarkable 30% increase in productivity, a reduction in release planning time from two to three weeks to just a couple of days, and a 20-30% reduction in time to market. All this allows companies to produce 25% more features within a four-to-six-week delivery cycle, a true testament to what this powerful tool can do.
Product Ops MVP
The Product Ops MVP is a true behind-the-scenes hero, adept at identifying bottlenecks and streamlining workflows. Their work is not confined to process improvement; it extends to creating an environment where innovation, collaboration, and operational excellence flourish.
This award is a testament to their ongoing commitment to organizational success, setting a high standard for operational excellence and guiding the way for others in the dynamic realm of product management.
We're thrilled to announce the winner as… Graham Reed, Product Ops Leader at Cobalt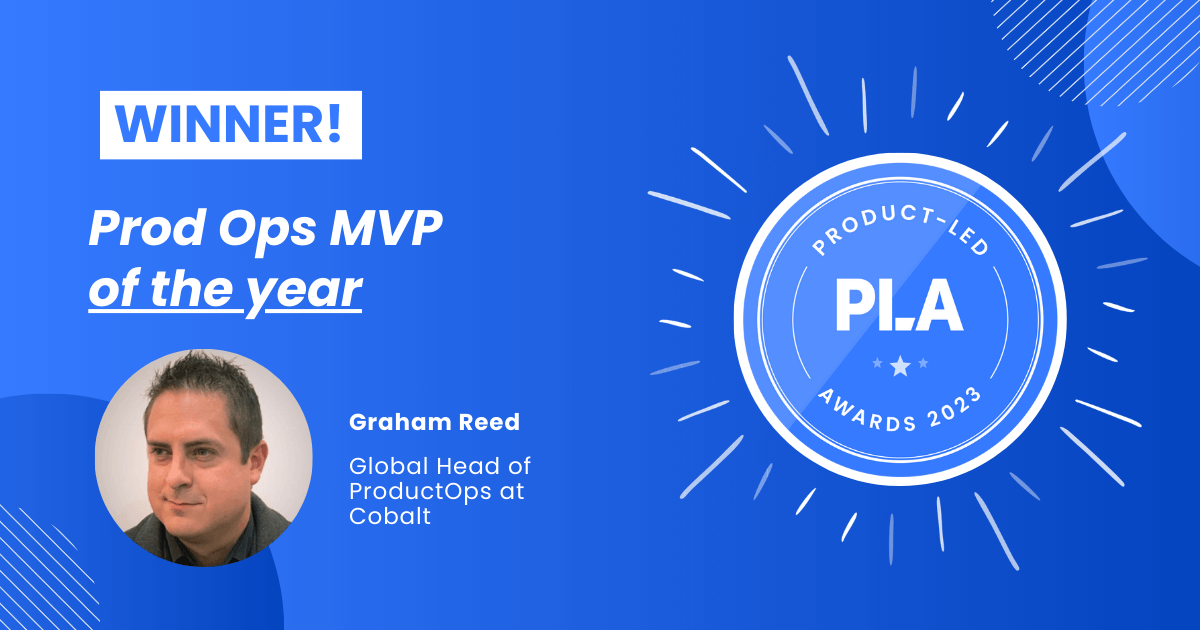 In his primary role, Graham demonstrates exemplary leadership as he navigates the product ops team at Cobalt. Simultaneously, he dedicates his time to supporting fellow product professionals by spearheading the Product Mind Community. This community serves as a valuable platform where he consistently shares insights on crucial aspects like well-being, mental health, career opportunities, and relevant updates.
The Product Mind Community has recently celebrated reaching a remarkable milestone of 300 members, a testament to Graham's dedicated efforts in fostering a supportive and inclusive space for meaningful conversations. Beyond his wealth of knowledge, Graham stands out as a kind, caring, and compassionate leader who prioritizes the well-being of those around him, making a substantial impact in the product management community.
Finally...
These awards are a testament to the incredible innovation and dedication within the product-led growth community. The nominees and winners represent the trailblazers and visionaries who are driving our industry forward, and their achievements inspire us all.
As we embark on this journey to celebrate excellence in PLG, let's remember that it's not just about the awards but also the shared knowledge and continuous pursuit of excellence that makes our community thrive.
Together, we're shaping the future of product-led success, and this is just the beginning of the incredible stories yet to be written in our ever-evolving field.
Here's to the bright future of PLG and the remarkable individuals who make it all possible!