Jimena Almendares, VP Global Expansion at Intuit, tells us not only to plan our goals, but ties them to a framework that sees them accomplished.
This article is adapted from her talk given at Product-Led World, London 2019.
"Product people. All of you have so many superpowers.
Your skills and competencies usually revolve around analytics and strategy. Also, you have to show real creativity and have an empathetic understanding of the customer. Most importantly though, you can plan things.
You are able to envision where a product is heading and manage how to get things done on time.
As I've been evolving in my career, I see that whilst Product Managers often execute those skills flawlessly for their products or their features, sometimes they forget that you can use those skills for your own lives.

The business roadmap
I now work at Intuit. It's the maker of Quickbooks. We have been growing a lot, mostly in Commonwealth English speaking countries. We're the leaders in financial management software, which means that we need to be on top of everything that is fiscal and related to compliance loss. This also means when when we're thinking about moving into a new country, it can get very tricky.
You need to adapt to how people are doing their taxes. You need to be compatible with whatever is the equivalent of the US IRS system.
I'm the VP of global expansion. So, when my manager said, 'Where are we going to launch next and how are we going to do it?' I knew it wasn't going to be a simple task.
I started from scratch. I asked myself, where would be the best place to launch? How do we transform an idea into a fully compliant launch product? What are the rules of this new territory? Who are going to be the new partners that we need to integrate with? What about the offices? What about setting up a legal entity?
So, understanding the complexity of the task, how long do you think that process took us?
Only three months.
And how did we do this?
With a cohesive and targeted plan.
We worked on how we set up a vision and we thought about intermediary milestones that would allow us to advance very quickly.
The Mexico launch
We built QuickBooks in Mexico. I actually grew up there, and I hadn't worked there for about 20 years. So, when I decided that Mexico was the next country, I was really thrilled that I needed to learn about all of the fiscal laws that I hadn't thought about when I was growing up.
At Intuit, we do a lot of customer empathy. The first task was to go to Mexico in order to understand the unique problems of the country's customer base. We did more than 100 interviews before we even thought about nailing down the strategy and building the roadmap.
Then, we set a clear vision and created a roadmap.
It was a six pager. Companies like Amazon and Intuit use these short roadmaps. We said, in a very succinct document:
'What is going to be the strategy?'
'What are the different milestones we need to hit?'
'What are our 'leap of faith' assumptions?'
What do we need to believe so that something happens?'
'How do we actually go about putting together all the different teams to execute this?
We honed in on the most narrow number of features that we were feasibly able to launch but that would also keep the customers happy.
We also set a bunch of milestones that said, 'if this is true, then we can invest further.' This allowed faster decision making. We could start with simple features and later on, start growing that.
The next step was about launching, iterating and learning.
Fortunately, things in Mexico are going really well. We just finished our first quarter. We're actually the country that is doing the best in terms of forecasts.
This was a business example of overcoming a large task. Taking a public company and launching in unfamiliar territory.  
You have to think about the product. You have to think about sales and marketing. You have to think about then launching a team.
How to do that for your life
The same time as I was launching this in Mexico, a lot of people would come to my office and they would say, 'I'm thinking about my next role, but at the same time, I'm also thinking about how to take care of my aging parents.' Or,  'When is the best time to have children?' 'In which country should I settle?'
It seemed that all these questions were so big and so complex. They had many different variables. These people wanted to be happy at work, but were also thinking about maintaining a balanced life and having a family. All these ideas about the future can be overwhelming. It makes it difficult for people to compartmentalise and to tackle the problems at hand.
We've never really stopped growing up. But we have stopped asking ourselves the question, 'What do I want to be when I grow up?'
When I was younger, I thought I wanted to work at a cash register or an elevator operator, because I really liked buttons. And I liked machines. At the time, they seemed like good ideas.
Then, I thought that I was going to be an ice skater. And, I did actually become one. But then I had to make an important decision. Was I going to quit high school so that I could continue skating? Or was I going to quit my sport?
And I chose the latter, which led to me learning different languages. That's how I came to study in France, and carry out the first 10 years of my career in Europe
We're always reframing how we think about our life and the next things that we want to do.

Draw your life like a product roadmap

Step One: Just start brainstorming
People are reluctant to think about the bigger questions because they seem so complex. But, when we start with a format or a template, it allows them to start narrowing down their ideas.
We start by writing goals. ''What do I think that I care about in life and what would this look like?' You don't necessarily need to have the right words.
In my case, a goal was: 'I want to visit 50 countries'.
For others, it might be more about reaching professional goals, like sitting on the board of a public company. It could be learning a new language, or helping parents with financial support.
Step Two: Categorize
Some of your goals might be related to your career. Some of them could revolve around learning. Some of them could be about your impact on the world, or your family.  Then, arrange that to a timeline. When does that goal need to be achieved by? Some of them could be in the next year.  But, there may be others, like supporting my parents as they're aging in Mexico, that I need to think about a decade from now.
Step Three: Separate into phases
Similarly to a product roadmap, consider a goal's potential impact. Building a family is a high impact goal. Visiting a certain number of countries in a number of years, not as much.
You can then see, by decade, what your most important milestones will be. Which ones will prove the most complex to achieve?
Now, you can actually start separating your life into phases.
My 20s, at least for me, were about building the right business skills. I worked in strategy consulting in Europe. That provided the building blocks for my career. My 30s have revolved around tech. My 40s are going to be about my impact on boards.
You can be someone very different in different stages in your life.
My Roadmap
I was a consultant in Paris, I already had a pretty good career. But I really wanted to be in Silicon Valley, because I was working with a lot of tech companies at the time. I knew that innovation was really happening on the other side of the world. How was I going to get there? That's really where I wanted my career to go.
There were a couple of important milestones that I needed to achieve. Without them, it was going to be impossible for me to actually accomplish that goal.  I needed a VISA so that I could work in the US. I needed to think about getting a Product Manager role.
Leap of faith assumptions.
These are the things you have to believe will happen. In my case, it was that companies would hire a PM even though I didn't have a CS degree.  A company would also have to be willing to sponsor my visa.
Now you have to brainstorm reasons to believe you can overcome these obstacles. Why do you think something is going to be possible?
In my case, it was because a lot of the tools that I had learned in my 10 years of career experience were going to be helpful in terms of strategy and analytics. I also knew that there were other foreigners that had been able to get jobs in Silicon Valley.  
So, how does my roadmap pan out?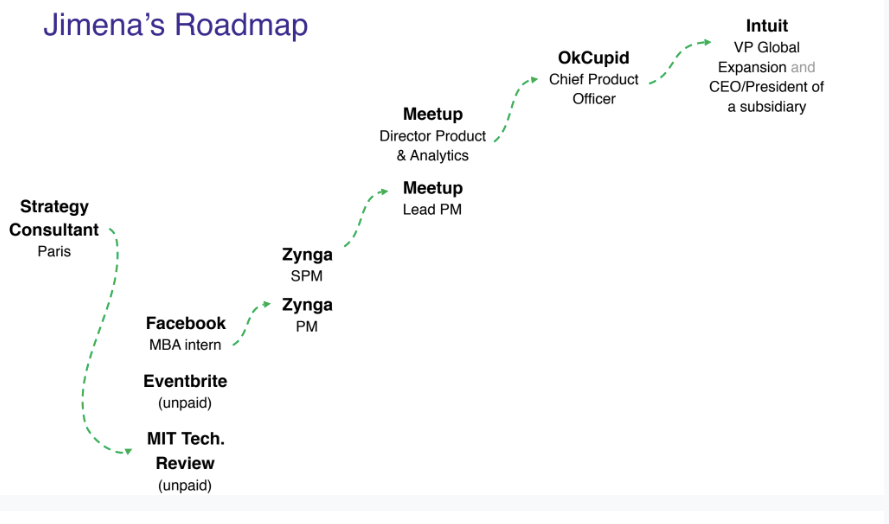 As I mentioned, I was a strategy consultant in France. I then went to MIT, for Business School, which allowed me to have a student VISA. Then I started from scratch doing internships for free, because I really needed the experience.
We think about careers as linear, and as always going up. In my case, I had to trade how much I was getting paid and the level at which I started because I needed the experience. So, when I was a student again, I took free internships. At that point, it was at Facebook, which at the time was a startup.
That allowed me to have that Silicon Valley Tech experience.
Do you remember Farmville? I was one of the first product managers in that company, Zynga.
That experience led me to joining Meetup. I became director of product there, which then led me to be Becoming the Chief Product Officer of OkCupid, the dating app.
What threads all of this was the sum of experiences that I was accumulating from strategy, analytics, building products and building teams. They enabled me to get to the place where I am now.
Don't think straight
There's this notion that careers are just linear, but it's never really the case.
You can move up within the same company (getting a promotion). Or, you often find yourself moving laterally. You're might even still be in that same company, but just doing something different.
Imagine a PM. They might shift within the same company to become a PMM. They explore something new. And then, if they're good at it, they could become a Senior Product Marketing Manager.
At that point, they could change to a startup, where people really like that combination of analytics, Product Management and Product Marketing.
They grow in that sense, but later on might need to take a career title cut, so that they can have an even bigger role. What if they wanted to become a Head of Marketing as a whole? They might not be able to be director. But, could be the head of a startup. This might lead to becoming VP of Marketing and then a Chief Marketing Officer.
Your career isn't always the straight line you imagine it might be.
Three takeaways
1) Life's roadmaps don't follow linear development.
There are trade offs. There are many different iterations of who we can be.
2) Just like in business, it's your true and most impactful direction that matters.
What is that overriding idea for your decade.
3) It's okay to launch. You might fail, but you will learn.
Sometimes we're scared about our next job. But, it doesn't need to be scary because the worst thing that can happen is that you take that job, it doesn't work out, you quit the job and you take the next one.
We know that in product it would be impossible to launch something without testing. It works with life. too
I'm going to leave you with one of my favorite quotes.
'20 years from now you will be more disappointed by the things that you did not do than the ones that you did do.'
Mark Twain
So, what's stopping you? Get planning! Here's the template to get you started."