State of Product Ops 2022
Key responsibilities. Impact and value. The future of the function. We've got it all.


Last year we opened the product ops box and took a deep dive into the emerging function - from exploring its definitions, to establishing how it was making an impact.

12 months on, we're unpacking exactly where product ops stands now. Is the function even necessary? Is it pivotal to product orgs or just a fresh way of painting over old problems?
Let's find out. Welcome to the State of Product Ops Report 2022.👇

From the Heads and Directors of Product Operations to Assistant Product Ops Managers and TechOps specialists, over a hundred people took part in our survey, all hailing from a variety of companies varying in size and scale.
Check out a selection of those we surveyed:

Why did we do this report?

Of all the new product management roles, one of the most critical that emerged last year was undoubtedly the product operations manager - a role aimed at overseeing and enhancing how the entire product team works, from alignment to communication, to processes.
There's been a huge amount of discussion on product ops, from the likes of Marty Cagan, Becky Flint, Melissa Perri, and more - seemingly everyone's talking about it.
Our State of Product Ops 2022 Report will provide you with everything you need to know to gain insight into where the function is, how it's evolved, and where it's going…

Ultimately, you'll discover the answer to the question: "What's the current state of product operations in 2022?"
In the report, you'll find:

💡 How the function is being redefined in 2022.
🔑 The evolving key skills and responsibilities.
🤔 Whether product ops is even necessary.
⬆️ How prod ops teams are functioning.
⚒️ The product ops tech stack.
🔮 Expert insights on the future of the function.
And more…
And here's a little taster of some of the findings:

91% of the people in product we surveyed confirmed they already had a product ops function in place at their org. Compared to just 9% that stated they didn't currently have a dedicated role.
48% of all respondents rated helping cross-functional product teams discover, build and communicate better, as the top responsibility for all product ops managers.
91% of those we surveyed agreed that product operations is currently fulfilling its purpose to make life easier for PMs, especially at larger organizations.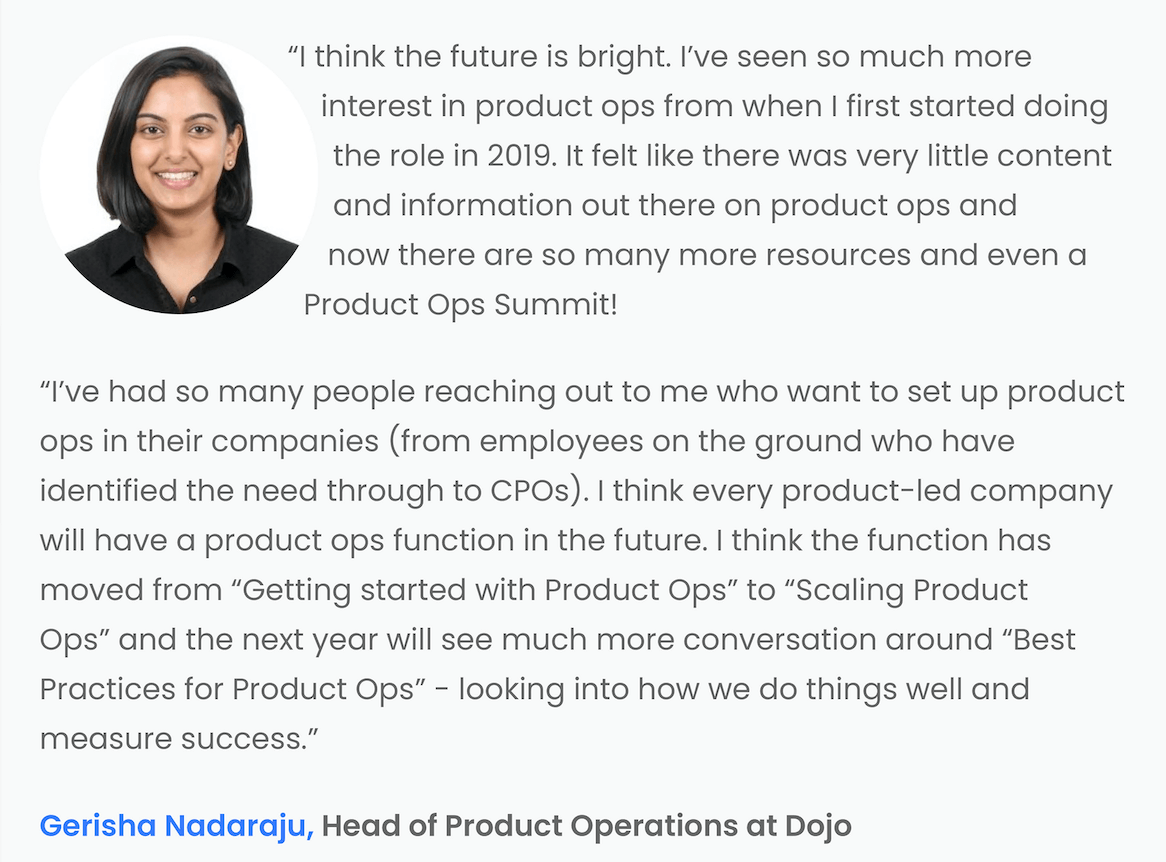 Hungry for more? What are you waiting for?
Explore everything we've uncovered on the role of product operations in 2022.👇