How to scale an established product operations team using specializations.
If you're already in an active product operations role but still relatively new to the concept of product operations overall, you're destined to reach a tipping point. Perhaps you're a team of one (like me). Or perhaps you're already a small team of 1–2. Eventually, though, you're going to need to consider how to scale as the Product org around you grows and expands.
This article is meant to build off of my previous article about starting from Zero to One and building a product operations function as a team of one. Eventually, though, you'll need to consider how to scale up to a larger team to better support your product colleagues and the product function overall.
The problem is, where do you start?

Recognize the need to scale is inevitable
Over the past few months, I've observed many of my fellow product ops peers beginning to reach this point. While attending conferences or just scanning the various Product Ops slack groups, the following questions are becoming more frequent:
"Does anyone have any resources on a possible product ops career path?"
"Can anyone share how they've defined the roles within their product operations team?"
"Does anyone have advice for optimal ratios of product ops to product teams?"
"Does anyone know of any career path progression examples for product operations?"
I hope to answer a few of these questions with this article. Here's what we'll cover:
Where product ops fits within a basic Product team structure
Typical product ops roles & responsibilities
How to think about hiring for different roles within product ops
Firefighting vs. building the fire station
In my last article, I referenced this tweet thread by Will Lawrence. I love this analogy because it illustrates something all Product teams can relate to: the need to be strategic about how and where we spend our time.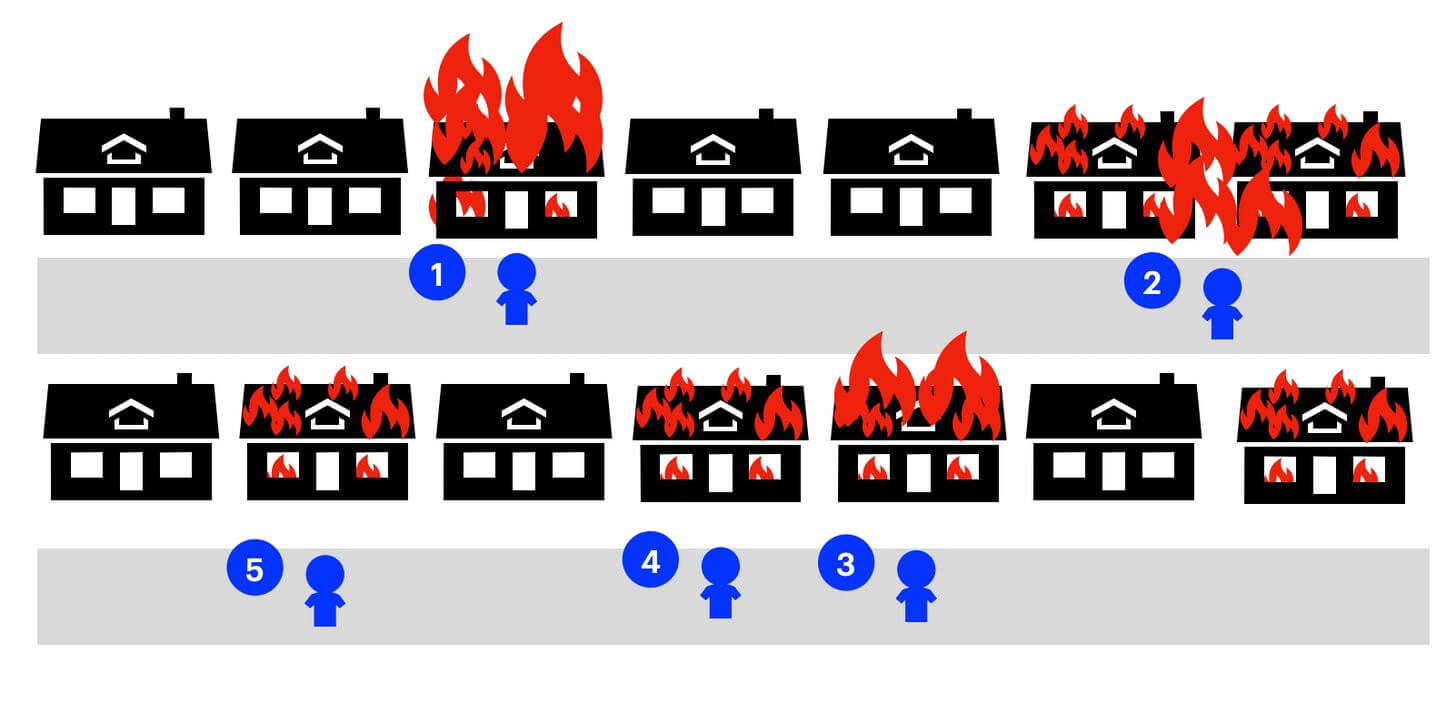 If you're a team of one in product ops, you'll eventually reach a breaking point; a point where you can no longer think about fighting fires without some help. When you get here, you need to start thinking about building a fire station that can support a scalable firefighting effort over the long term with a larger team.
Product org design
To begin thinking about how to build the fire station, you'll need to have an understanding of your product org's operating model. This is essentially the village your fire station needs to service. It helps you understand where to place fire hydrants and how many firefighters you'll need for adequate coverage. Consider a basic product org structure such as the one below: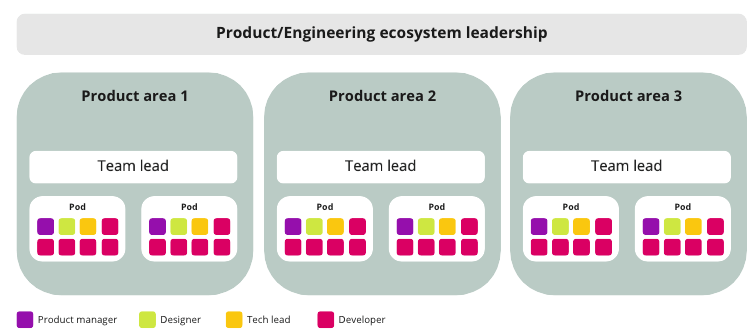 In this structure, there are three distinct product areas. Each with a team lead and one or more product pods. All of this is governed and overseen by the product, design, and engineering leadership.
It's important to grasp how this model exists in your company because it's how you'll begin to understand how & where product ops can integrate with the teams and support them.
Product ops career path & roles
Now, with that model in the back of our minds, let's think back to the questions above regarding career planning within product ops. Similar to the product management discipline, I believe there can be distinctions between individual contributor (IC) and manager paths within the function of Product Ops.
It might look something like this…
Entry-level: Product Coordinators
Low-mid level: Product Ops Managers
Mid-high level: Director of Product Ops
Highest level: Head of Product
To illustrate this further the table shows the responsibilities breakdown across each role: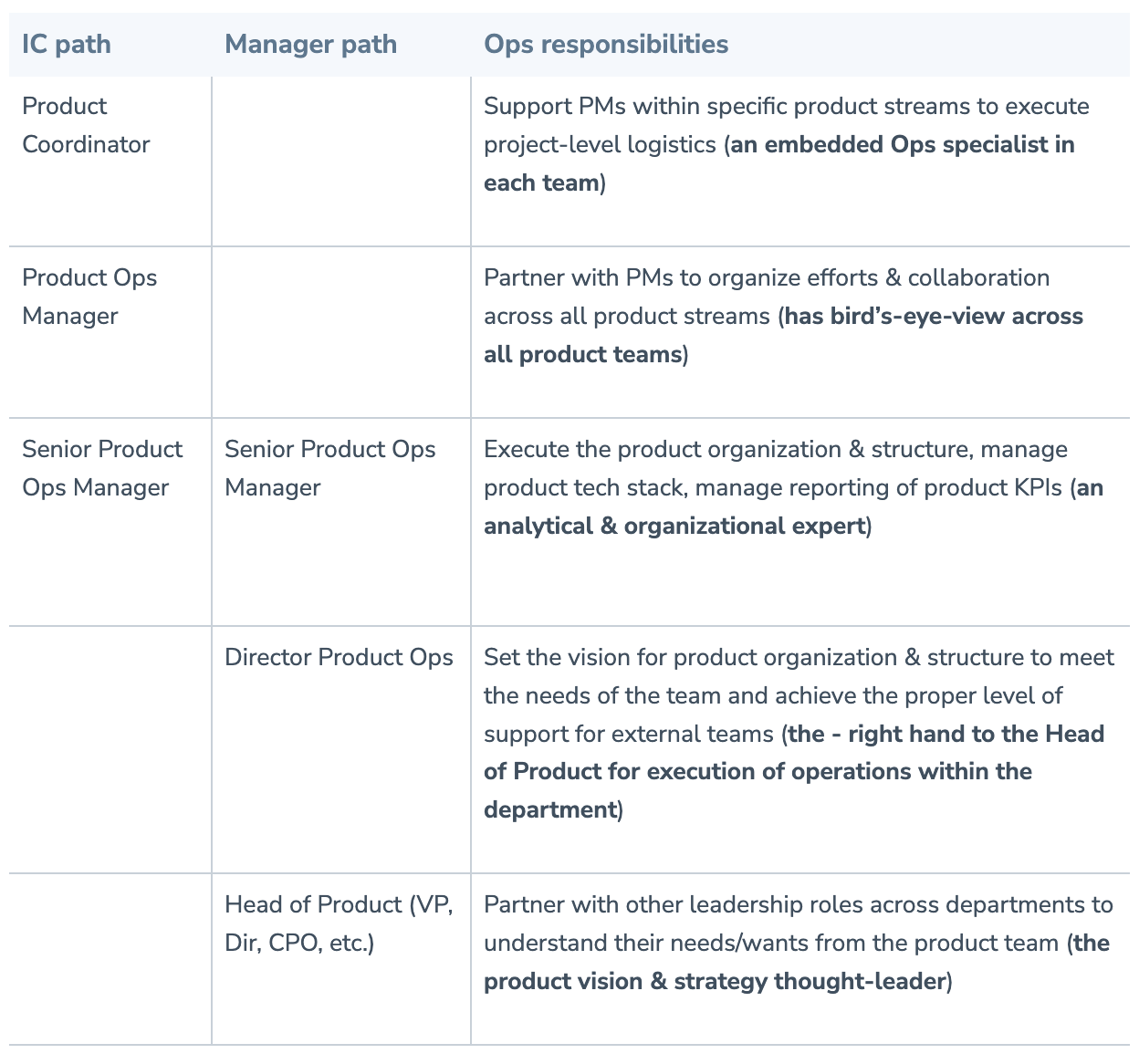 Product ops org design (overlay on prod org)
From here, we can overlay the product ops framework on the product team org structure we used earlier.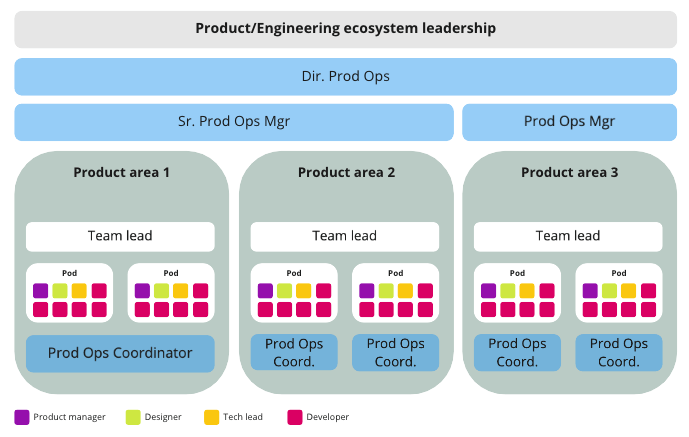 Depending on the needs and size of your teams, you can be flexible with how the roles are distributed.
For example, a single product ops coordinator could support multiple pods within a given product area or they could be dedicated to a single pod. Same goes for the higher-ranking tiers. A product operations manager role can work alongside a senior product operations manager and doesn't need to exist as a manager/direct-report relationship, although it certainly could be.
Disparity across product ops roles
Recognizing not all Product Ops roles are created equal is another trend I've observed. I called this out in my previous article.
The fact is there are many different "flavors" of product ops when it comes to the different types of roles being filled. This is true across each of the product ops tiers I've outlined above (keep reading for some real-life examples).
Some are more focused on data (access to, working with, etc.). Others are more focused on process & governance. And still, others are more focused on program management and cross-cutting relationships spanning across the company in general.
This reminded me of an excellent article by Reforge about the emerging need for specialization within the Product Management discipline. In the article, the authors map the different types of PM work to 4 distinct PM archetypes. These archetypes are akin to specialty roles in other areas such as "Backend" vs. "Frontend" vs. "Mobile" vs. "Payments" within the Engineering function.
If we agree with the authors' argument in the Reforge article that not all PM roles are created equal, we can probably expand that thinking to the function of Product Ops. And when we view the product ops function through this lens, we can begin to develop a mental model of which product ops archetypes to hire (and at which seniority). We can view our needs more accurately given the maturity of the Product team, maturity of the company, and the gaps within our product ops coverage.
The pillars of product ops
So we just need to define these product ops archetypes and start hiring, right?
Not so fast. We're not quite done yet…
We can take the concept of product ops archetypes a step further.
Becky Flint (CEO, Dragonboat) has helped scale product ops functions at several notable tech companies. In her recent presentation at the Product Ops Summit, she outlined the 3 pillars of Product Ops: Enabling teams, Vertical alignment, and Cross-functional collaboration. And within each pillar are the skills/tasks to focus on when scaling a Product Ops function through the Starting, Growing, and Mastering phases.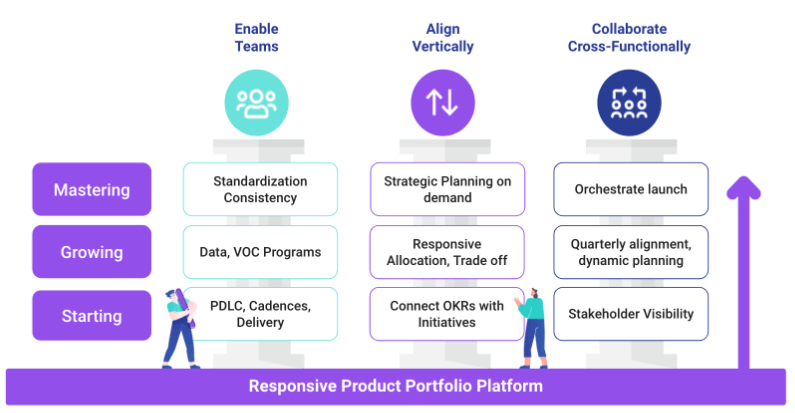 I believe this framework can be the foundation for defining the product ops archetypes. It can also inform us where to hire in order to best diversify our team. As a result, we can maintain balance across product ops as we scale within a growing product ecosystem.
Product ops archetypes
I reached out to Becky Flint and asked her opinion of the product ops archetypes concept. She replied by saying there are probably three archetypes that exist in product ops today: the data-focused (e.g. product analytics), the operational excellence-focused (process), and holistic (organizational).

Becky went on to say "The starting, growing, and mastering is more around varying degrees of coverage across these 3 archetypes."
After speaking with her about it a bit further, I came away wanting to flesh out each archetype to the same degree of detail as the Reforge article did for the PM archetypes. Armed with the types of product ops work, my next step was to deep-dive the job boards looking at product ops job postings to map examples back to each archetype.
Real-world examples of each archetype
You can see from the job descriptions below, each role carries the vague "Product Operations" title. But upon closer review, each one can be unpacked and categorized into one of the three archetypes.
Real job descriptions for holistic product ops roles
Google | Product Operations Lead, Cloud AI and Industry Solutions
Ability to drive complex projects with multiple executive stakeholders
Product and business strategy leaders bring together teams across Google's functions to help products execute optimally
Our team partners with senior leadership to run important functions that cross-cut our existing organizations and deliver high impact projects
Copied from LinkedIn's job boards (October 2021)
Opendoor | Director of Product Operations
Work cross-functionally with pricing, product management, operations, engineering, and learning & development teams to guarantee product readiness, communication, training, and support for launches
Plan, coordinate, and manage launch and adoption activities for feature and platform changes
Be a product expert and serve as a consultant for the sales & support operations teams, and be responsible for product knowledge dissemination in the organization as products evolve
Copied from LinkedIn's job boards (October 2021)
Netflix | Product Operations Lead — Studio XD
Establish engagement models and cross-functional collaboration channels with key partners and stakeholders, balancing multiple priorities and needs
Successfully collaborate with product managers, engineers, data scientists, designers, researchers, and legal and policy teams, as well as communications and internal/external stakeholders
Provide platform or cross-team alignment between product teams
Be a strategic partner with a view across verticals/biz domains and can connect the dots across multiple programs
Communicate effectively with senior leadership
Copied from LinkedIn's job boards (October 2021)
Real job descriptions for data-focused product ops roles
TaskRabbit | Manager, Product Operations
Collect, quantify & prioritize product-related challenges to be considered by product and engineering in future development. Uplevel the understanding of how the product is being used in the real world.
Own and manage the yearly OKR product process including timelines, coordination, and cross-team dependencies
Copied from LinkedIn's job boards (October 2021)
Instacart | Manager, Product Operations — Product Specialists
Leverage data to track and regularly monitor progress on success measures and goals, and identify opportunities for improvement
Analyze bug reports to understand trends and regressions, and develop action plans that allow us to diagnose, escalate and resolve issues quickly
Actively monitor work in process to meet our SLA's, and ensure we take any operational steps necessary to ensure we are meeting our goals
Copied from LinkedIn's job boards (October 2021)
Wonder | Director, Product Operations
We are seeking a data-driven professional with experience analyzing and optimizing predictions
The ideal candidate will have experience problem solving, performing in-depth analytics, prioritizing efforts, and deconstructing sophisticated problems at the intersection of technology and human processes
You have prior experience performing cost/benefit analysis, analyzing risk/reward trade-offs. and driving decisions through data, utilizing tools such as SQL, Looker, and Excel
Copied from LinkedIn's job boards (October 2021)
Real job descriptions for Operational Excellence Product Ops roles
Oscar Health | Product Operations Associate
Designing and implementing key processes that help us scale our products
Creating and maintaining documentation to make processes sustainable and scalable
Facilitating internal and external communications around feature launches, training materials, and onboarding plans
Copied from LinkedIn's job boards (October 2021)
Virgin Pulse | Product Operations Manager
Help manage the product roadmap and risks
Maintain team knowledge bases in Confluence
Assist with new team member onboarding and education
Help to run our overall agile sprint process in collaboration with engineering
Copied from LinkedIn's job boards (October 2021)
Everlane | Director of Product Operations
Create and maintain our global product development calendar, keeping innovation, sustainability, and speed top of mind
Research new tools to enhance the product teams productivity
Create and maintain standard operating procedures within the product team
Create and maintain cross-functional process mapping
Onboard new team members on product systems and cross-functional processes
Copied from LinkedIn's job boards (October 2021)
Product ops specializations
The last step in defining the product ops (aka "POPs") archetypes was to package everything together.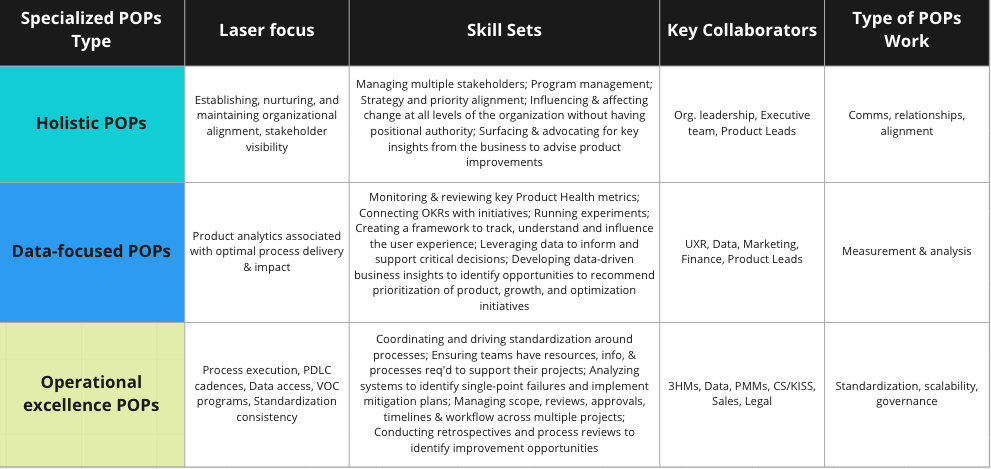 From here, we can begin to better articulate our needs as we scale and write more accurate job descriptions when hiring for various roles.
And because the archetypes can span all seniority levels, we can begin to understand the nuanced needs at each step in the product ops career path.
Using the archetypes to fill org charts & scale our team
Now that we have an archetype framework that's grounded in the pillars of product ops and the key types of product ops work, we can begin to fill out our org chart.
Using the archetypes to define the types of individuals we hire into product ops (and at which seniority) helps us balance out our team evenly. No more one-size-fits-all, spray-and-pray, recruiting efforts. We can now fill our talent pipelines with the types of candidates who help us grow more deliberately.
Each team's needs are different. Who you need to hire next probably looks much different than who I need to hire next. For example, our company is blessed with an embedded data team, so our need for data-focused product ops specialization may be greater/less than your team's need for the same archetype.
What's nice about this model though, is that it's flexible enough to work with your team's uniqueness because you get to decide which archetype to lean into with each incremental hire.
Closing thoughts
Hopefully, this approach helps answer the following types of questions when identifying and articulating your needs as a product ops function:
How to think about building & scaling a product ops team
How to think about establishing career progression within product ops
How to think about evaluating your team's skills to bring diversity & balance into your function
As we've seen, not all product ops roles are created equal. But by breaking down Product Ops into archetypes and mapping those back to the pillars of product ops excellence, we are able to better define who we need to hire and the skills needed to evolve within each specialty.
If you're a product ops team of one and you're data-savvy, maybe look for candidates with process improvement or stakeholder management experience to help round out your team across the 3 pillars at the starting stage.
Or perhaps you're a team of 1–2 and savvy with process & cross-functional communications. In this case, maybe look for someone with more experience using data analysis to help you inform which processes to optimize when enabling teams at the growing stage.
The key is to start with an awareness and understanding of your strengths and hire as needed to augment your weaknesses as you scale.
---
Get Product Ops Certified👇