What's the best way for a product ops leader to set their company and team up for success? If you missed my Product Ops Summit talk, Learnings from Leading Product Ops at Four Unicorns, I shared the 3 pillars and a roadmap to success for product operations, whether you're just getting started or scaling a mature organization.
Product operations is the chief enabler of the organization - in place to help CPOs and their teams accelerate portfolio outcomes. You are the product manager of the product portfolio process. Your company is your customer. You thrive off efficiency, alignment and collaboration.
As such, product operations can be broken into three primary pillars:
Enabling teams through efficiency and consistency.
Facilitating vertical alignment with top-down goals and bottom-up innovation.
Orchestrating cross-team collaboration with product teams and stakeholders.
For these three product operations pillars to stand strong, it's important that they be built upon a solid foundation where an outcome-driven culture and a product portfolio management platform and framework tie everything together. With all of these key elements in place, the organization is in a much more powerful position to achieve even its most ambitious goals.
For more information on the three pillars of product operations, tune into the recording of my Product Ops Summit session. For this post, I'm going to dive into the roadmap to success.

Product operations roadmap to success
When getting started with product ops, aim to create an "MVPI" aka a minimum viable process improvement, and roll out incrementally. It's important to begin building the three pillars simultaneously, as your product ops function will collapse if you only focus on one. However, you can start with some basic building blocks for each and continue adding more over time as your product organization matures.
The roadmap to product operations success below breaks down into 3 levels: starting, growing, and mastering, and reveals what to focus on in each level for your company.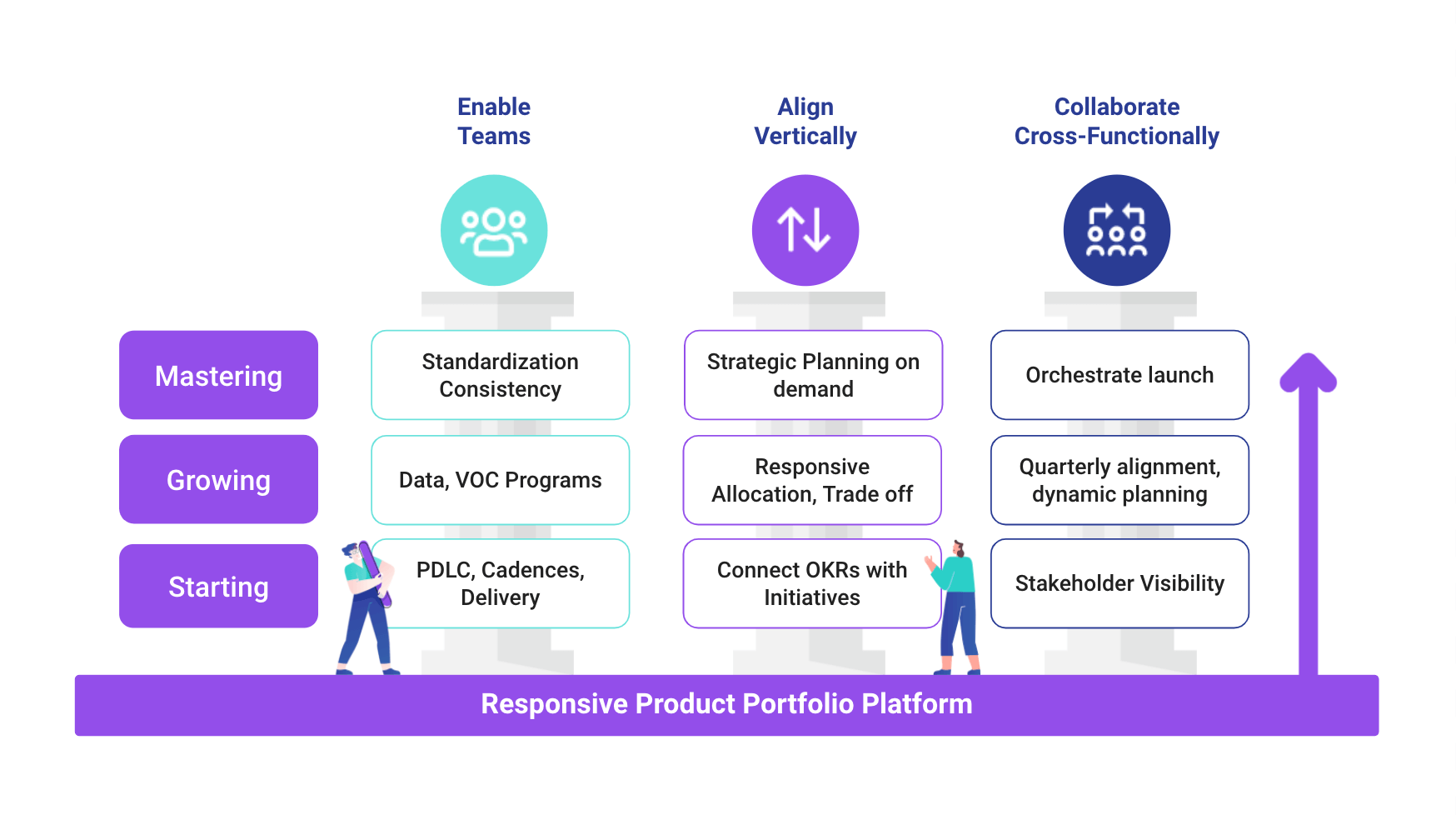 Starting

At this level, it's all about building the base of each pillar.
To enable your team, focus on standardizing the PDLC (product development life cycle) and establish a basic set of cadences to ensure team delivery for both roadmaps and outcomes.
Without a solid ability to deliver, strategy won't count for much. To empower vertically, start with connecting goals or OKRs with initiatives. Lastly, enable stakeholder visibility not through meetings or slide decks, but through a single source of truth with a platform.
Growing

Once you pass the starting level, the next focuses on growing your product ops organization to make more informed and effective decisions.
This can take the form of standardized product analytics, data access and definition, and voice of customer programs. In terms of vertical empowerment, product operations needs to guide responsive allocation and trade-offs.
Most product teams have no problem prioritizing their own product focus, but it becomes harder across the portfolio, so this is where product operations shines. Lastly, product operations should help guide quarterly alignment and dynamic planning to connect vision and long-term goals with mid-range milestones.
Mastering

At this point, everything should be functioning quite well in terms of cadence, data, allocation, and connecting OKRs to initiatives.
In the final level, product operations moves into optimization mode and needs to tweak and improve previous setups around standardization and consistency. It's also necessary to make sure that readily available data, nimble processes and effective cross-team collaboration (including managing dependencies) now enable strategic planning on demand, instead of annual strategic planning.
This empowers the product teams and company to adjust to the market needs quickly. At this level, orchestrating product launches also becomes a primary focus as the speed of change that the organization can manage is far greater now.
As the discipline of product management matures, product operations will only continue to grow in importance to help fast-growing organizations scale smoothly and accelerate portfolio outcomes. While getting a product ops function off the ground may seem daunting, the impact product operations can have on the entire business can be felt vertically, horizontally and cross-functionally.
Interested in mastering your product operations? Dragonboat is a product portfolio management tool that helps product ops steer data-driven product management by connecting goals, customers, initiatives, resources and execution in one integrated platform.