Nailing down a definition for the product ops function can be challenging. That's why we asked product ops professionals globally how they would define product operations in 2022.
Here are some of the insights we received:
4 pillars
"We have 10 players on the product operations team now. Our role is to orchestrate the department to full efficiency and impact. When I say department, I'm including project managers, product designers and engineers. We're not only working with product managers, we're working with four main pillars.
"The first one is about strategy, making sure that all departments are walking in the same direction and they're all unified under the company's mission. The second pillar is about intelligence, making sure that the teams have access to all the right insights to make the best decisions.
"The last pillar is about excellence, making sure that we share our knowledge and that everyone can have access to all the tools and knowledge that they need to do their job."
"I think one year ago we were still in the firefighter age. That's where you're just continually putting out fires within the organization. During that year we evolved our team, we went from five people to 10. A year ago we were more like a task force, but with the same general competencies across the team.
"Within the team right now, we have more people around data. We have more productive scenarios, mainly focused on processes and tooling. One thing that did change for us was the principles driving us. We've always been focused on broader organizational problems, everything starts with that.
"It's just that we're trying to put more of a structure around it now. Before, we were simply tackling problems as they cropped up. Fires, fires and more fires. Now we have more of an organized strategy for dealing with them. We have a long-term vision for our organization."
Marie Gaumont, Director of Product Operations at PayFit
Moving away from firefighting
"In my organization, we have three pillars within product ops. Firstly, how do we capture the voice of the customer? Secondly, how do we make sure that we're listening to the voices of our customers? Thirdly, how do we bring the right insights from a data product usage perspective?
"And there are other factors to consider, how do we measure success? When we first started product ops, we were focused mostly on processes. Now we're looking at maturing the team. We're a small team, but we're very mighty. We're positioned in the product team to work across all departments.
"We work with everyone from product managers, to engineers, to designers and researchers. Everything that we do is closely tied to the rest of the business."
"Yeah, we also did a lot of firefighting at the beginning. There was a lot of trial and error for us and a lot of discussion of who we were and what we were trying to achieve. I think we've evolved our core competencies from last year.
"The reason and the vision for product ops hasn't changed much, but the maturity of our operation has evolved. Last year was very much about how to create the foundation for the future: how do we measure our success, understand whether we're creating the right roadmaps and planning to go to market in the right way?
"How do we build that foundation, not just within a product, but with the rest of the business? How do we make sure that, in the following years, we have the core ability to do that? I think not much has changed, but we're just more laser-focused now on specific targets. We're really concerned with how we gain key insights into the market.
"How do we create that perfect feedback loop with our customers? How do we get the sense that we're building the right thing, and we're on the right path to achieving our goals?
"We're now in a position of maintaining the excellence that we've achieved rather than building from scratch."
Sharmin Abdo, Director of Product Operations at PayFit
Incentives, pricing and matching
"At our product operations marketplace team in Uber, we focus on three areas of product: incentives, pricing, and matching. Within the product operations team, we try to do two things: we make sure that we are gathering insights. We also make sure that we have our finger on the pulse of what's happening on the ground.
"We operate in multiple countries across the globe with local nuances taken into account. We want to make sure that we have strong alignment with what's happening with teams on the ground. We also ensure that launches are happening efficiently across the globe.
"That entails what we are coordinating with legal teams, ops teams, and customer support teams. We make sure that our launches are going smoothly across the globe. I'm excited to see how other companies have evolved their product app functions."
"Our principles haven't changed much. But given how the market has become a little bit more tech-oriented, we've had to become a little more flexible across different functions. In terms of measuring success, the one key metric we try to make sure we are progressing with is coverage of our products globally.
"When we're not making progress, we need to look to see what the potential gaps are. Are there any potential missed opportunities that we should be working on to make sure that the product serves all our customers globally?
"We still focus on similar areas within the team. We try to remain focused and make sure that we're keeping our finger on the pulse of what's going on. We're seeing good alignment with local teams in what we are working on and what we're delivering. We're making sure that all local teams are working together to make sure those launches are successful."
Alfonso Amaya, Director Product Operations at Marketplace at Uber
---
Psst... Looking for more insights into product operations? Take a deep dive with our Product Ops ebook. 👇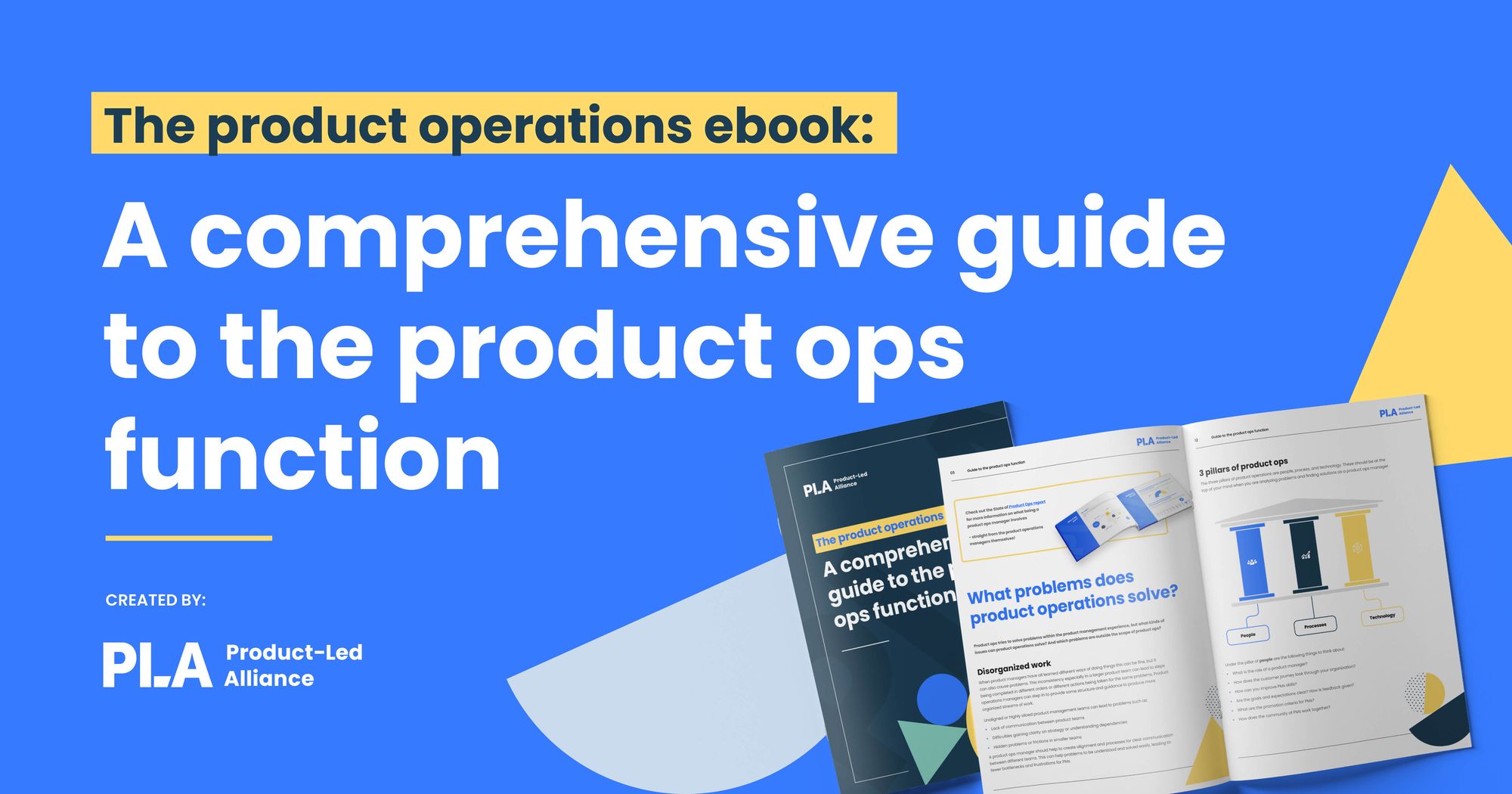 Adapting to maturity
"At OLX motors, we focus on three main pillars: people, practices and systems. With people, we're focused on how the team is maturing the capabilities of the team and building that out.
"With practices, it's obviously about focusing on employee rituals for working and trying to optimize that. "Finally, with systems, we're looking at underlying structures and frameworks. We're focusing on the toolkit that is available for the product organization. We're looking at how we connect local markets to the central product organization."
"Our base principles haven't changed completely, but I think the maturity of how we look at product operations has evolved. We're focused on adapting to the evolving maturity of the organization. I think maturity is all about becoming more adaptable. I think maybe your approach has to change rather than your actual baseline principles."
Hugo Froes, Product Operations Lead at OLX Motors
No one-size-fits-all definition
"I've concluded that there is no one-size-fits-all explanation of product ops. By definition, product ops is there to remove barriers for product people so that they can focus on doing their best work, but what those barriers are and what kind of expertise you need to remove those barriers is different at every company. I think broadly you can say that Product Ops acts as an enabler for product teams to reach their full potential, but the specifics will look different in each organization."
Antonia Landi, Senior Product Manager in Product Operations at AVIV Group
PMs of the PM department
"I define product operations as the product managers of the product department product (very meta, I know). We build and optimize the internal tools and systems that product managers use to do their job well and communicate, amongst themselves and/or across/with the rest of the organization. My definition has not necessarily changed but instead evolved to include more components of being a strategic partner to product leadership.
Camila Gargantini, Senior Product Operations Manager at Oyster®
Intersection between product and other departments
"I think of product ops as the intersection between the product organization and all of our other cross-functional partners within the organization. And also the connective tissue within product teams. Really playing that role of connecting the various organizations to product processes and the product team. I think in my particular case, our definitions changed over the last 12 months since we've introduced an analytics function within product operations.
"We're now a product operations and analytics team. That was interesting because Amplitude is an analytics product, so what ended up happening was that a lot of our product managers were just incredibly analytical and would dogfood our own product. But we got to a point of scale where we needed to have a function that could see these analytical problems across all of our product areas, and be able to dive deep into certain areas, as opposed to just having product managers do some of that work on the side of their desk.
"That has been a big change over the last 12 months. But it's been a welcomed change. I think it's great to have the analytical perspective, work hand-in-hand with some of the operations managers, and you really get to see them operationalize metrics tracking, and how they can drive those outcomes with our various product teams. So that's been the biggest change over the last 12 months for me."
Shintaro Matsui, Head of Product Operations at Amplitude
---