Growth loops are a self-sustaining strategy that reinvests the output of one stage as input to the next. Thus achieving a compounding effect that doesn't require splurging on acquisition channels to grow users and revenue.
Amazon's flywheel is THE example to understand a growth loop's effectiveness.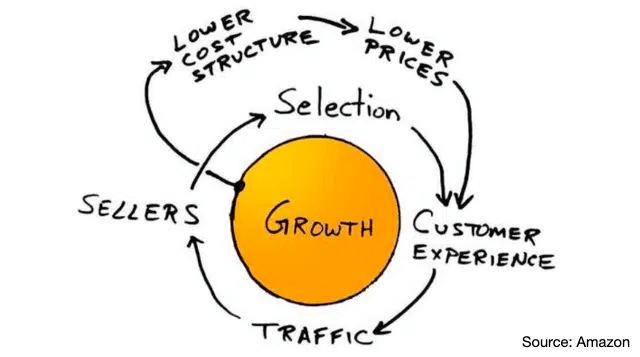 Amazon offered products at low prices for a better customer experience and this attracted a lot of traffic to their site. As the customers grew, Amazon's third-party sellers also increased. So, alongside their own brand product, Amazon offered a wider selection of products at competitive prices and faster delivery. Thus creating their own 'virtuous cycle' of growth.
Each stage of the flywheel aids activation and mobilization to the next stage and eventually builds a self-sustainable growth momentum. We were so inspired, we created a B2B version of this flywheel. Inflection's product-led growth loop.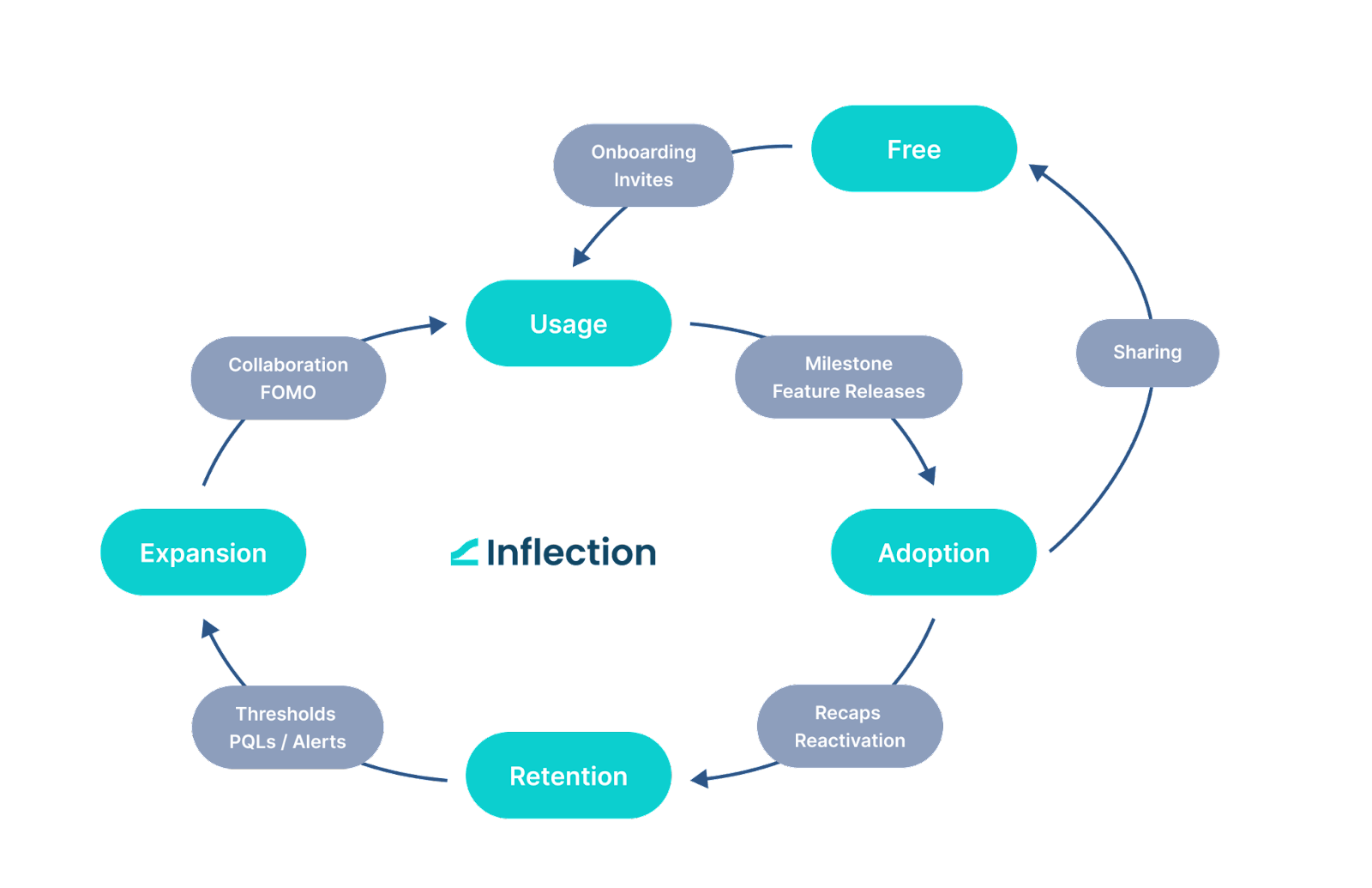 In a product-led growth loop, businesses succeed by delivering value at each stage to engage and delight customers. There are several ways to boost the initial usage, adoption, retention, and expansion stages of growth. More on this in a minute.
Why growth loops?
If you are not convinced by the Amazon example, here's more on the 'why'.
Most successful product-led growth companies are using growth loops instead of a funnel framework primarily for these reasons:
Adding more investment to the top to get more paying customers is how funnels operate. This is not a sustainable growth strategy because:
Your CAC increases if the channel decides to bump up its ad prices or update their algorithm.
You hit saturation levels quickly.
You'll see higher churn if the quality of your sign-ups goes down, i.e., when the non-ICP sign-ups increase.
2.  The funnel strategy runs on the constant influx of new users on the top. Figuring out the optimal marketing strategy and implementing it to acquire new users can often take a long time, making the funnel a slower strategy.
3.  Funnels are more suitable for linear growth whereas growth loops bring a compounding effect with the PLG companies investing in every stage of the customer journey.
4.  The funnel framework creates more siloes with individual teams chasing their goals and passing the baton to the next team accountable for growth in the next stage. In a loop framework, all GTM teams collaborate towards common goals in each stage with the product being the primary and common channel for growth.
5.  In a growth loop, there is value for customers at every stage, which means there is a revenue opportunity at every stage for the business.
How to build a high-performing product-led growth loop?
By mixing good old marketing, automation, and PLG!
At each stage, you need to make sure the output of the stage fuels movement to the next. Let me break it down with examples.
Marketing raises awareness about your product and acquires new users. In the PLG world, that's not the only way to do so. Your product experience contributes to user acquisition through invites and referrals.
The Slack Connect feature lets users invite anyone to try the product. This creates a viral loop of users inviting more users to experience value from the product.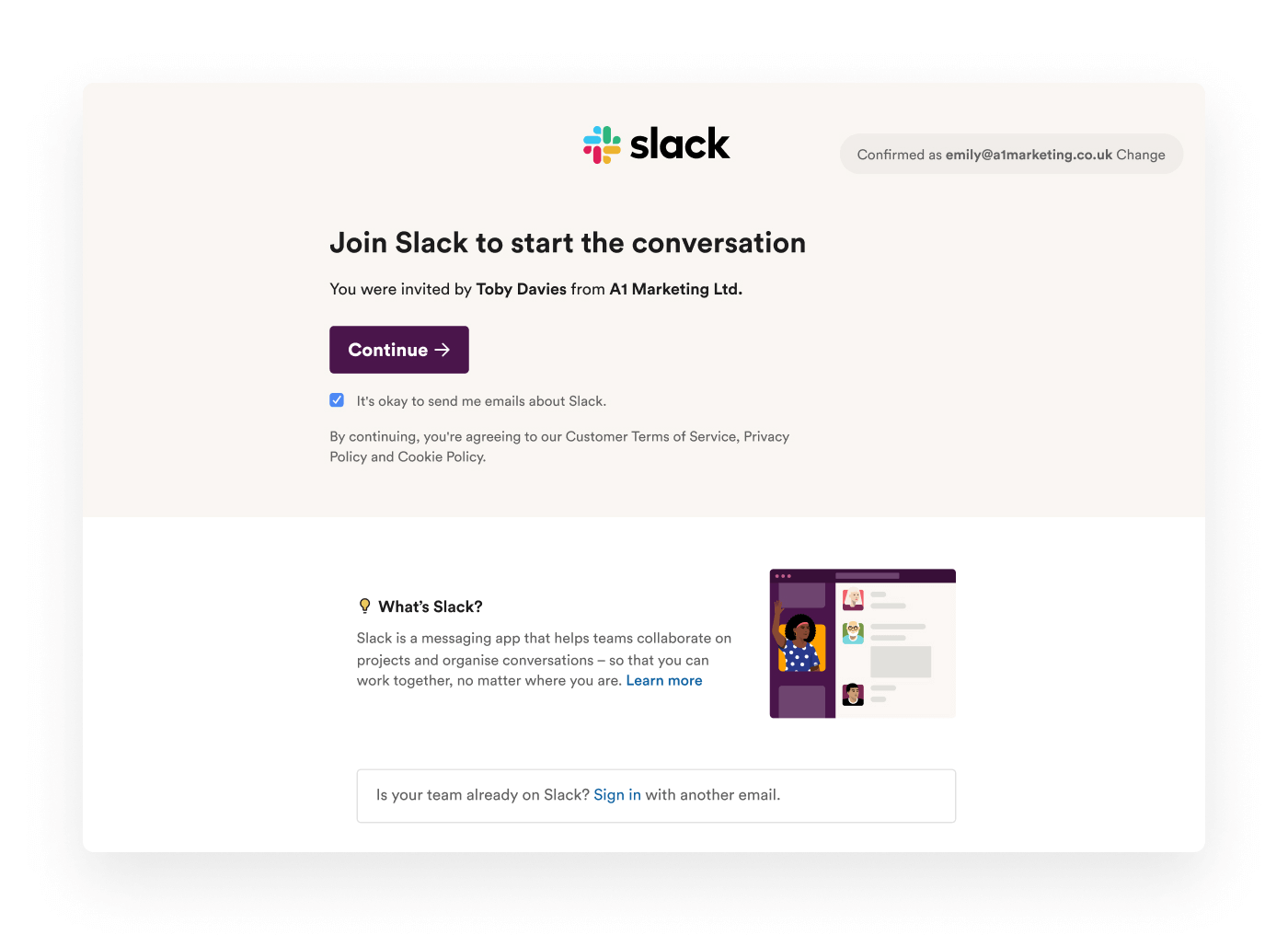 Free: You need to move past the one-size-fits-all approach to create an effective onboarding.
Having more information about your customers and their goals helps you tailor the experience for example, based on the user's role (admin, manager, individual contributor).
Typeform does a great job of finding out about the user and their use cases with a series of short questions to tailor their product experience.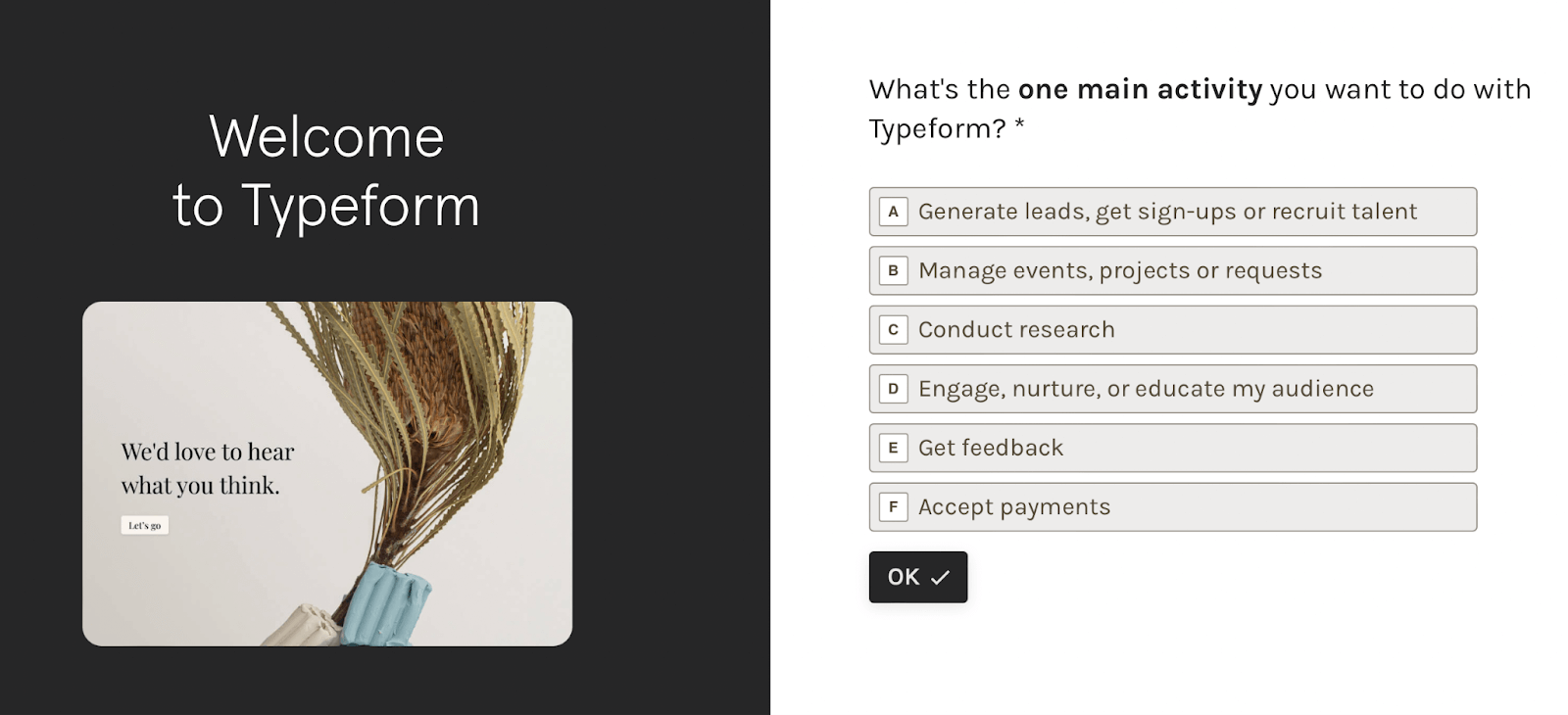 Usage: An amazing onboarding experience or an invitation from a coworker led the user to start using your product. Being fairly new to the product, at this stage, they need to see some value quickly to continue engaging with the product.
Measure and take steps to improve product engagement at this stage. Like triggering campaigns celebrating the user's first milestone and following up with the next best steps in the product.
At Inflection, we love celebrating campaign launches with our customers.


You can also build shareability into campaigns to simplify sharing the users' achievements with the world. This gets the word of mouth about your product going.
Adoption: After the initial wins and aha! moments, users and customers are trying to do more with the product. They want to test the product for specific use cases.
You have their interest piqued by the newly added or unlocked features. Provide access to help documentation and support in using these features. Reactivate dormant users with the announcements of what they are missing out on.
A recap of product usage and the value metrics hyper-personalized to the user will definitely show the value than tell. Earn customer loyalty, boost product usage, and mobilize them to the next stage.
Stack Moxie runs their Weekly Metrics campaigns to do exactly this and their customers are loving it!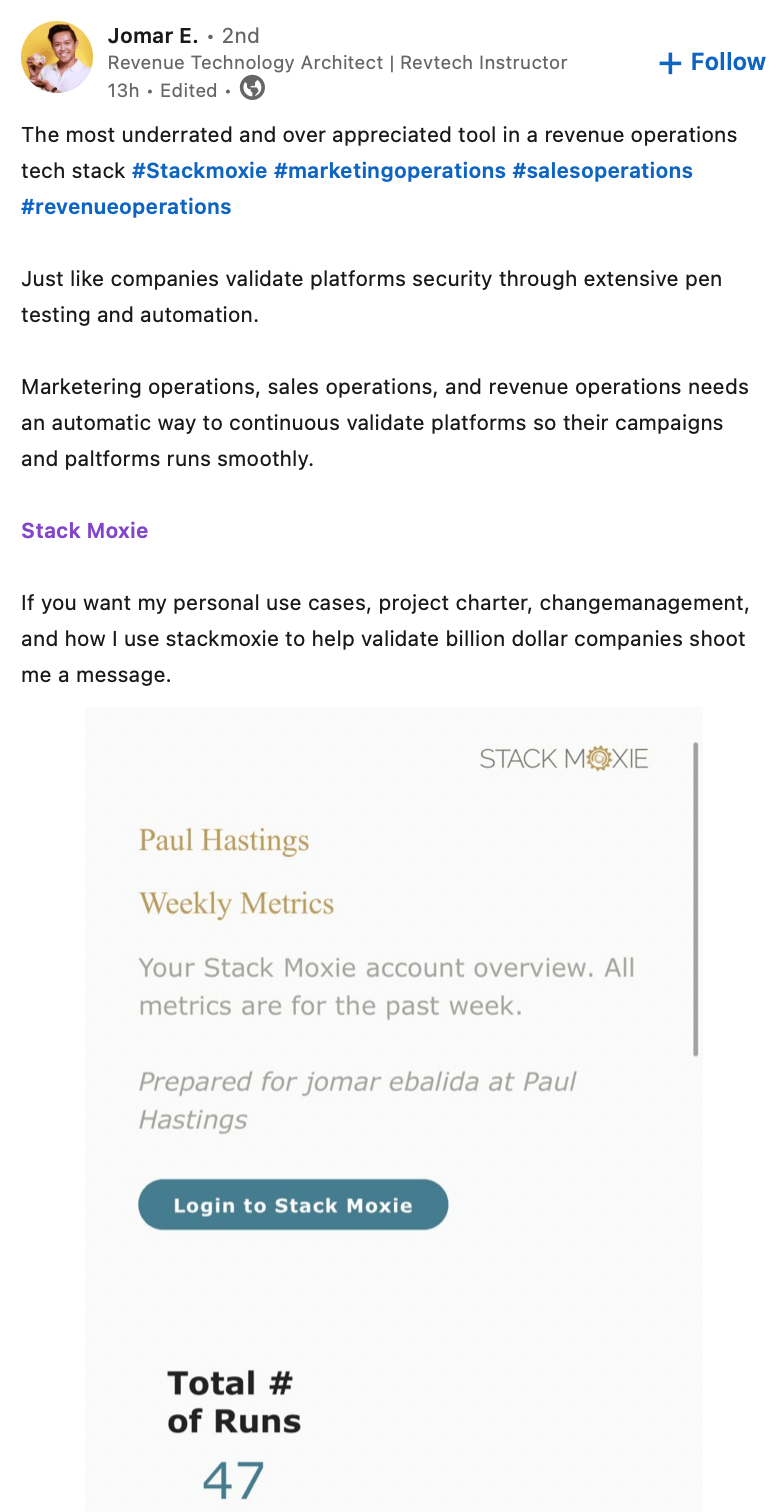 Retention: Customers at this stage are sticky users already. Show them the benefits of your paid and advanced features. Automate triggered campaigns based on product activity and simplify upgrading to a paid account.
Smartsheet is a great example of this. Their email reminds users of the free trial expiry and lists the steps to upgrade.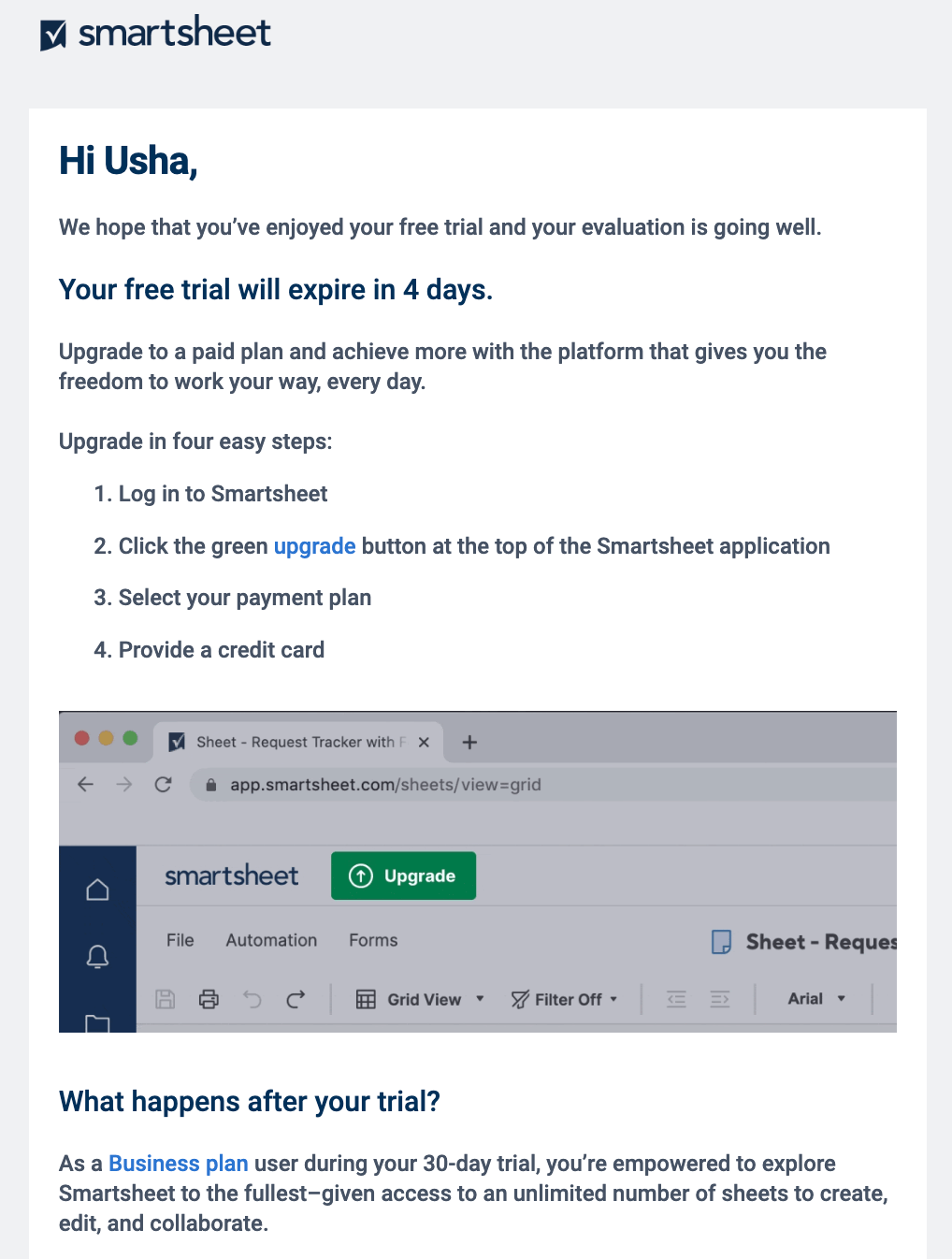 Set up internal alerts for product-qualified leads (PQLs) and product-qualified accounts (PQAs) to notify Sales of attempts to cross a usage/seat threshold or to access a feature behind the paywall. The sales team can reach out to high-value accounts armed with intelligence on their product usage.
Expansion: Recognize your power users a.k.a your best product advocates. Include them in your product roadmap and in creating more helpful content. They are your success story for the next beginner user.
Expand your revenue and users from existing accounts. Automate your campaigns with direct links to upgrade or rope in your Success team for cross-selling and upselling opportunities. Use the internal alerts to notify the Success team of PQLs and PQAs to reach out to, armed with the users' product activity summary.
Dropbox nudges their users to experience the benefits of a team account and sweetens the pot with a free trial.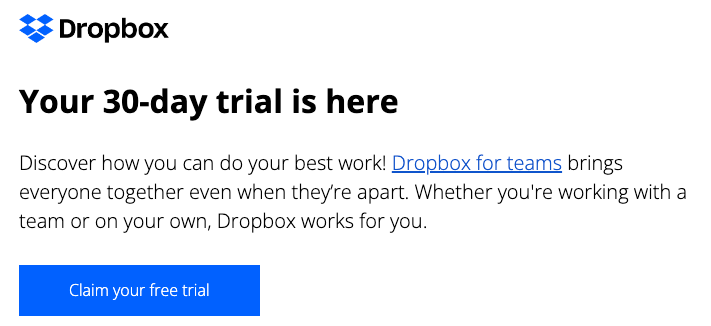 At each stage, take measures that aid conversion and the user's progress to the next stage. And, the product-led growth loop goes on to pick up momentum.
In summary

Growth loops are ideal frameworks to grow fast and exponentially. PLG companies leverage the product as their primary channel to accelerate growth at each stage of their customer lifecycle.
Building high-performing product-led growth loops require cross-functional collaboration unlike the siloed stages of a funnel approach. And, optimizing it to achieve self-sustainable momentum accelerates product engagement and compounds growth.
Anybody who is a fan of growth at scale at a faster pace needs to employ a growth loop strategy.