What skills are essential to PMs right now? What does the ideal product org look like? Will more and more companies adopt a product-led growth strategy?
It's an awesome time for product-led growth, and we celebrated by highlighting those who are championing the methodology in our Ones to Watch in PLG 2022. We were fortunate enough to ask these game-changing product professionals for their insight and advice on a number of key questions.
These superstars are ahead of the curve so their answers should give you some food for thought. But this is just a handful of the expert insights we gathered, if you want to absorb everything - get the full report here.👇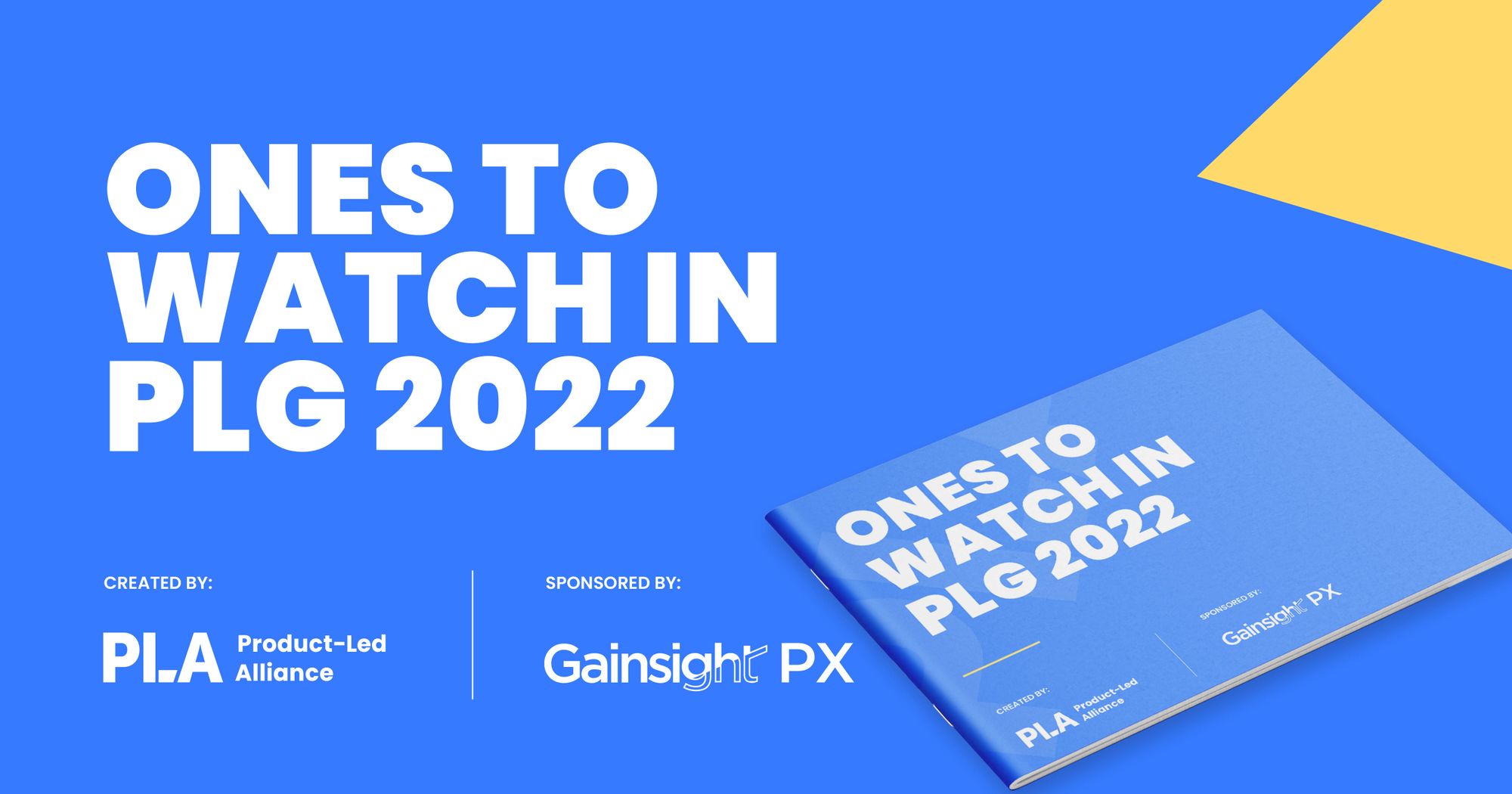 Discover insights from:
Mickey Alon, CTO and Founder of Gainsight PX
Teresa Torres, Speaker, Author, and Product Discovery Coach
Noah Brier, Co-Founder at Variance
Becky Flint, Founder, and CEO of Dragonboat
Tiama Hanson-Drury, Chief Product Officer at Minna Technologies
Elizabeth Tweedale, Founder and CEO at Cypher Coders
Scott Baldwin, Community Lead & Product Evangelist at Productboard
Fred Melanson, CEO of Bliinx
Vindhya Chandrasekharan, Senior Product Manager at Pexels
Clement Kao, Founder and Product Teacher
John Cutler, Product Evangelist & Coach at Amplitude
Marc Abraham, Senior Group Product Manager at Intercom
Sam Crowell Richard, Director of Growth at OpenView
Kieran Flanagan, SVP Marketing at HubSpot
Jason Knight, Product Director at DueDil, Podcaster at One Knight in Product
Christine Dupuis, VP of Product Management at heyday.ai
---
Product-Led Summit returns in Las Vegas! 🎪
Join us on June 23-24, 2022 at the Bellagio Hotel & Casino. Bring your team, collaborate and share ideas with the largest gathering of leaders championing PLG. Register now.
---
What skills do you see as key to product management in 2022?
---
"Become data-savvy. Great product leaders share a quantitative set of KPIs with the team that indicates product success and use qualitative data points by spending time with users and creating feedback loops. Product managers should focus on building hands-on skills to analyze data and insights about their product adoption. Using adoption & growth data to drive more informed roadmap decisions about what features to prioritize and to set measurable results.
"Make sure you learn about product-led growth. Product decisions have a ripple effect on a company's bottom line results. According to Product School's recent report, 85% describe their company as product-led, with products inherently driving user value to fuel revenue generation.
"Learning about key business metrics and how you can integrate product-led growth to your product strategy will allow the product org to impact key business metrics such as gross revenue retention (GRR) and net revenue retention (NRR). The role of product management is to partner with marketing, sales, and success in driving users towards the desired outcome by designing immersive product experiences."
Mickey Alon
---
"I think most of the key skills of product managers are pretty universal traits like the ability to work with and motivate teams, empathy and understanding of customers, and focus on getting things done. With that said, I do think product managers need to continue to become more data literate. That doesn't just mean being able to build a chart or run some SQL, but understanding how to use data to find real answers, not just as a way to show progress or value."
Noah Brier
---
"Continuous discovery - interviewing well and knowing how to identify and test key assumptions."
Teresa Torres
---
"Product managers should seek to understand and balance the customer, business and product needs in a responsive way. To make product and prioritization decisions for these competing needs, manage your product as a portfolio to maximize outcomes.
"Equally important is the ability to collaborate across functions and levels within the organization; with execs, teams, and all stakeholders. It's important to work well within your team but also consider what your extended team looks like and how to best work with those other areas. No team works in a vacuum!
"Data, organization, tech, and go-to-market skills are great hard skills a product manager should work to embody."
Becky Flint
---
"Empathy for users in a constantly changing world. The ability to uncover new patterns with little (or noisy) data. And having the humility to seek feedback and challenge one's perceptions."
Christine Dupuis
---
"The ability to set a clear vision, apply a coaching mindset, bring a collaborative approach and strong leadership to how you work, and apply smart supporting tools — like Productboard — to help you get there."
Scott Baldwin
---

---
What does the ideal product organization consist of?
---
"My ideal product organization would be one where there's alignment across all business functions towards putting the product first. We see more overlap between marketing, sales, customer success and product at PLG companies. Let the product speak first, and then move insights from the product to all functions, so they make decisions with the customer's whole experience in mind. That to me is the best way to build a product-first company ready for hyper-growth."
Fred Melanson
---
"I'm a big fan of product-focused autonomous teams, made up of a product manager, a small group of engineers and a designer. They should be given clear problems to solve and as much independence as possible to find and implement solutions. That gives a sense of empowerment and leads to more creative and effective products.
"Product managers should be part of a product team too, to manage an overall product strategy, and keep all of the engineering teams aligned and moving in the right direction to achieve the company's goals.
"It's a great environment to brainstorm, collaborate and get advice from your peers, which makes having experience less vital in how effective a product manager is in their role because they're supported by a team."
Elizabeth Tweedale
---
"First, a product I can be inspired and energized by. Nothing worse than working on a product that doesn't want to make you get up in the morning.
"What I love about Productboard is we're helping teams make products that matter.
"Second, I'll try to inspire my inner Marty Cagan here and share some bullets on the attributes I look out for:
Outcome-driven
Empowered, as Marty says, "to solve hard problems in ways that their customers love, yet work for their business".
Diverse - as people, in their opinions, in their skills, in their expertise, and their experiences.
Customer-centric - everything starts and stops here. If you don't have a solid understanding of user needs, you're just guessing at what to build.
Supported - with the business context from leadership, the support of management (be that coaching or a willingness to fight alongside you), and growth opportunities to simply become better.
Recognition. A simple thanks goes a long way.
Space to figure out the right way to solve the problems they have in front of them
Collaborative."
Scott Baldwin
---
"An ideal product organization (amongst great PMs & Engineering) consists of an exceptional
"UX team that can help design the optimal user experience. Time to value and product adoption is tied to a good UX that allows you to deliver a delightful experience your users want without sanctifying the powerful functionality your users need.
"Product growth team that is focused on the end-to-end user journey and delivering product experiences, user outcomes & revenue. The team is responsible for partnering with marketing and sales to drive trial/onboarding motion for optimized customer acquisition as well as partner with success to unlock retention and expansion at scale.
"The product growth team would leverage usage data, user feedback, and in-app experimentation tools to measure, learn and iterate on usability enhancements that maximize customer outcomes.
"Data analyst & product ops teams would help collect, understand and democratize product and customer insights to help inform the product organization on areas of challenges and opportunities by analyzing & identifying friction points throughout the customer journey."
Mickey Alon
---
What would your advice be to a junior product manager just starting?
---
"Product management requires multidisciplinary skills, investing time in learning about the specific space you're interested in building solutions for will help you build innovative products. Use your own product and apply real use cases. It will allow you to gain more insights on usability and friction that won't surface on UX designs or scripted demos.
"Work with design partners and customers that pay and use your product to solve their pain points. Watch how users use your product, and see where they get confused. Perfect our product, iterate, measure, and learn what works and how can you make it better. The tendency to build the next feature vs investing in existing features that no longer deliver an optimal experience will lead to poor user adoption and technical debt.
"Focus on specific persona and objectives when building a roadmap, and reduce the number of use cases you're trying to solve so you can be really great in solving the one you're focusing on. Get the engineering team excited about what they're building, and invest time in design and requirements."
Mickey Alon
---
"I believe that the best product managers have a good understanding of software engineering. They don't need to know how to write code (though it helps), but at least be deep in the tools and techniques used by the developers you work with. The more literate you are in that world, the easier it will be to work with teams."
Noah Brier
---
"Take one step at a time, join a community and learn with them. Don't try to consume all the content on product out there, it will overwhelm you. Start slow, understand core concepts deeply and execute them! No rush to excel on day 1, give yourself time!"
Vindhya Chandrasekharan
---
"Learn as much tech knowledge as you can. The more you understand what engineers do, the easiest it is to do your job well. Also, work on your EQ to be able to make the bridge between product designers and engineers, which are completely opposite personality types!"
Fred Melanson
---
"First of all, learn as much as you can from as many different people as you can. The more data the better when seeking to understand customer, business and product outcomes.
"Secondly, by doing things that add value, even if they're not in your job description, you can grow much faster in your career. If you have a good eye for seeing problems and then set out to solve them, you can create new opportunities for yourself.
"There are a number of great online communities to connect with other product managers and leaders and stay up-to-date on the latest content. But, remember to take any advice, blog post, or book with a grain of salt - what is true for some might not be true for everyone!"
Becky Flint
---
"Working as a product manager is quite different from other roles - after all, as a PM you're responsible for setting your objectives and for determining the direction that other teammates should take. It's a lot of responsibility, but you don't have to do it alone!
"To succeed on the job, make sure to draw from the experiences of others, such as using self-serve resources like video courses and blogs, or finding 1:1 time to talk with your peers. Product management is an experience-driven role, so the fastest way to knock out obstacles is to learn how others tackled those same obstacles.
"Also, don't feel bad about making mistakes as a junior PM! The best time to make mistakes is early in your career because that's how you can maximize learning while minimizing the negative impact on your company and your customers.
"As long as you commit to continuously improving yourself and learning from your experiences, you will naturally grow and thrive with your newfound responsibilities."
Clement Kao
---
"Get in the reps! The real learning as a product manager comes when you "go through the loop", and reflect on the outcomes and impact of your work. It is easy to get bogged down with frameworks and tools, and miss opportunities to move through the build-measure-learn loop early and often."
John Cutler
---
"Be curious! Always try to learn (from customers, colleagues) and ask questions. This is a great place to start in developing your product mindset."
Marc Abraham
---

---
Will we see more companies change to a product-led strategy in 2022 and beyond?
---
"The massive investments in tech during 2020-21 drove high valuations and significantly increased the number of software companies out there.
"Disproportionate investments tend to lead to high burn rates due to rising salaries as well as creating growing costs of acquiring and retaining customers. The market expectation for profitability will push companies to find ways to better compete while optimizing their cost of doing business.
"The reason we'll see more companies change to product-led strategy in 2022 is that product-led also brings superior units of economics such as optimized customer acquisition cost, better growth revenue retention, and net dollar retention. Product-led companies are more likely to reach profitability sooner and are better equipped to deal with market volatility.
"Companies that won't change to product-led are at risk of being disrupted by companies that will, or by new companies that implement product-led from day one."
Mickey Alon
---
"Yes and no. Overall, I believe more companies will find that a hybrid product- and sales-led approach works best on the go-to-market side. The challenge is that for companies that were built in a top-down enterprise sales world, it's easier to change your go-to-market motion than it is to change the fundamental philosophy of the company around being product-led.
"In the end, I think it's this latter advantage—being fundamentally organized around a product-led approach - that will be the most lasting advantage for PLG companies."
Noah Brier
---
"Yes, but it may look different from simply adding a free trial or freemium product. Instead, we'll see more usage-based pricing implemented alongside sidecar products for larger enterprise tools."
Sam Crowell Richard
---
"Absolutely. The lower CAC and faster ability to scale, combined with such a long string of recent successes, mean PLG is reaching the buzz-worthy status. It means there will be lots of failed attempts, but as anyone who's done PLG knows, there is no one-size-fits-all.
"This is great because it means that with the right strategic thinking and understanding of PLG, it can be a game-changing growth lever for most businesses."
Tiama Hanson-Drury
---
"Absolutely yes. People are realizing that the fastest-growing software companies are product-led because going product-led can deliver growth without relying on always increasing hires, which is highly scalable. I'm excited about merging product-led growth with sales, which is one of the secrets behind Miro's recent exponential growth."
Fred Melanson
---
"Product-led growth exists because how consumers learn and buy software has changed.
"When companies ask me if they should invest in product-led growth, my first questions are always about their customers. Will they use your free product, can they get started quickly, and will they want to buy on their own?
"The more companies who answer yes to the above questions, the more will see the adoption of product-led growth increase."
Kieran Flanagan
---
"It's on-trend and there are a lot of great resources out there to help companies take that first step. I think PMs will be pushing for it where it fits. Where the fit is less strong, for example with big-ticket enterprise sales, I'd like to hope that teams can take some of the PLG principles and apply them to reduce friction as much as possible. This will allow sales teams to spend time with the customers who need it."
Jason Knight
---
"Yes, we'll see more companies shift towards a product-led strategy. To be clear, it's not a binary change from "never using product-led strategies" to "always using product-led strategies." Rather, it's a shift on the spectrum towards becoming more product-led.
"One of the key drivers in this shift comes from rising user expectations. Today's customers expect to be able to self-serve software demos, trial periods, or free tiers of product functionality because more and more software products are offering these capabilities.
"This rise in expectations is analogous to changes in consumer expectations. Free shipping for e-commerce used to be rare, and therefore free shipping delighted users. But, now that so many e-commerce companies offer free shipping, it's become table stakes.
"Today's customers are more likely to balk at traditional sales processes, where they're blocked from accessing the product to evaluate it until they first speak with a sales rep. They expect a modern self-serve option to explore the product and identify its value on their own terms.
"Product-led growth enables customers to discover the value for themselves firsthand, rather than getting pitched at by an external party. In turn, self-serve discovery for deeply satisfying products drives word-of-mouth referrals, leading to both virality and retention.
"Product-led growth eliminates customer concerns about being pitched vaporware, because they have tangible proof the product does what it says it does. To reap the many benefits of implementing product-led strategies, enlightened organizations will continue to shift towards product-led growth."
Clement Kao
---
"This is a clear trend, and one that seems likely to continue, especially as larger companies begin to adopt it. For startups, it's increasingly important as - thanks to a boom during the Covid pandemic - there is a huge surge in the number of new small businesses. When there's a lot of noise in a sector, it's the great products that will rise to the top, rather than the most exciting brand or the loudest sales team."
Elizabeth Tweedale
---
"With more and more companies becoming digital-first, I expect more companies to become product-led, investing significantly in their digital products and customer experiences."
Marc Abraham
---
After even more inspiring insights delivered by pioneering growth leaders? Want to become a certified Product-Led leader?
Check out the Product-Led Leadership Fellowship. 👇