A new kind of product manager has ridden into town, strolled into the product-led growth saloon, and is saddling business strategy and product management...
...The growth product manager is here.
In fact, this variant of the product management discipline has already become increasingly prevalent in organizations that follow a product-led growth strategy.
The role still lacks a precise definition. But its demand is undoubtedly on the rise: startups and tech companies continue to demonstrate a huge interest in hiring growth PMs. Leading tech orgs, including big names like Facebook and Uber, have successfully implemented their growth-oriented strategies with growth PMs at the head of dedicated teams.
But what kind of skills does a growth PM need in their holster? Let's break them down right here...
What's a growth PM and why are they needed?
Hold your horses. Before we break down the essential skills needed for the role, let's take a quick look at what a growth product manager is, and how this differs from a more traditional PM.
"Growth PMs grow and optimize products rather than build them. We are typically not involved in product development, and we often work on more than one product at a time. Growth PMs are usually brought in once a product has been built, launched, and already has some traction. Then, the Growth PM will come in and speed the adoption of it..."
Cassie Peretore, Growth Product Manager at Momentive

Essentially, the function serves to remove barriers and enable users to quickly find value with an existing product, which hasn't yet been optimized for growth.
Traditional PMs are focused on enabling new use cases in the product. They are geared towards unlocking new opportunities for users to solve problems. Whereas growth PMs accelerate the rate at which users can solve problems.
In general, the need for growth product managers can vary, as this depends on the goals that the organization is looking to achieve.
"The specific role of a Growth PM totally depends on their scope and what product(s) they are working to grow, but at least in my case, my role is to facilitate customer acquisition on our website. In a nutshell, our website is my product, and I run experiments to reduce friction and improve conversion."
Cassie Peretore

Here's a neat little table that nicely showcases the core distinctions between the two roles: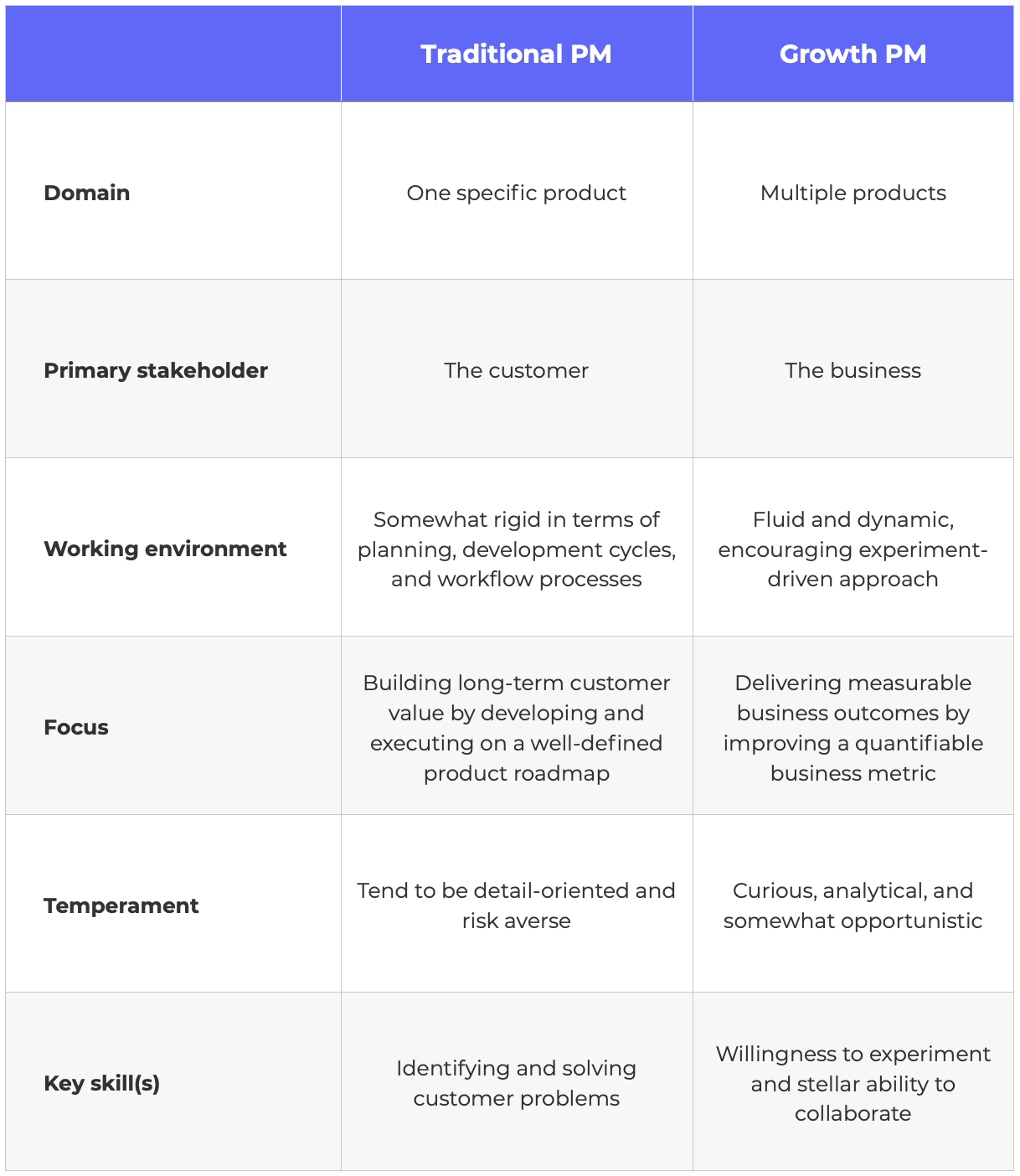 The most valued growth product manager skills

Now let's dive into the essential growth PM skills...
We'll be focusing on the following and breaking them down in more detail:
Data-driven and experimental.
Flexible and creative.
User obsessed and empathetic.
Highly collaborative and diplomatic.
Strong marketing and research know-how.

Data-driven and experimental

Growth PMs must have a strong data-driven mindset. If you're not being data-driven about your initiatives, you won't be able to prove you're driving growth and the entire product could be at risk.
To really make a lasting impact, you need to have the ability to dig deeper, get analytical, test all possibilities and obtain clear, measurable results. A great growth product manager is super focused on numbers. You need to measure what you're trying to improve, which means having a fluent understanding of pirate metrics is key:
Acquisition - getting users connected with the product.

Activation - ensuring users can use the product and see its value.

Retention - getting users to stick with the product.

Referral - creating the viral loop of having users introduce new users to the product.

Revenue - monetizing of the product from the user base.

You need to be able to determine how every single one of your experiments is faring, and what the benchmarks look like in related industries and competitors. Having mastery over experimental design is pivotal.
This means having the ability to carefully craft experiments; run them in parallel, isolate the impact of each, and determine how long it takes for test groups to reset to baseline behavior so that you can reuse them for another test.
"Growth PM or growth hacking is about understanding consumer science as applied to the sales funnel. As a growth PM, you need to understand digital marketing with a good understanding of product analytics: CAC, LTV, Retention rates, Cohort analytics, NPS to name a few."
"The PM must be fluent in running experiments to see customer journey pathway impacts. This can become complex when we are looking at a two-sided marketplace, as you need to understand analytics for both sides."
"The most important skill is to be data-driven. The data can be both qualitative and quantitative. Analysis of this data using a number of techniques including Cohort analysis, Machine Learning, SQL is key."
Murad Baig, Chief Product Officer at NETSOL Technologies
Flexible and creative

Even with a thorough knowledge of the key metrics, you won't be able to discover novel ways to improve them without a good amount of creativity. There are always going to be levels of uncertainty with experiments and tests, so it's important to be flexible.
Once a growth PM has been with an org for a little while and acted on the opportunities that won't typically alter the core product, such as setting up new drip campaigns and A/B testing layout, they'll need to get more creative and innovative in their approaches to problem-solving.
This means having the ability to create new product functionality that's instrumental to driving business growth.
User obsessed and empathetic

The role requires a great understanding of what it takes for users to succeed, and what problems they're currently facing. A growth PM needs to be empathetic to drive a customer-centric approach and help users truly understand the value of the product and in turn stick around for much longer.
The more empathetic you can be, the easier it will be to determine the key activation threshold for new users, which can be crucial for success. If you're not obsessive over your users, you could easily focus on steering them towards the wrong actions as part of onboarding.
Focusing heavily on what users want and need from your product requires the ability to listen. You need to really listen to users and understand how they're making decisions. The ability to pay attention to user behavior and be empathetic will also go a long way to increasing retention rates.
"In terms of qualities, empathy ranks high as they need to be customer-centric and understand what problems the customer has with the current jobs. They should know how to work with empathy maps and JTBD frameworks."
Murad Baig
Highly collaborative and diplomatic

A growth PM needs to be able to bridge the gap between business, product & strategy. This means having effective collaboration qualities is essential.
Being highly collaborative is a must, as you'll be working on features that are owned by other teams. You'll be collaborating with engineers, designers, analysts, etc. This will require strong negotiation skills to convince them of the positive impact you're making together.
Growth PMs need to bridge varying opinions and get buy-in for growth experiments on a constant basis. Having the ability to establish rapport with core PMs, persuasively translate ideas, and keep teams aligned will help avoid significant challenges in getting ideas over the line.
Gaining the trust of product teams is crucial for success in the role. This will help to keep things moving forward in the right direction and lead to the best results that are most valuable to the organization.
Strong marketing and research know-how

You need to be able to demonstrate strong marketing and research knowledge as a growth PM. The role requires you to solve problems and deliver satisfaction to existing users and the users they'll be referring the product to.
For example, if a user refers the product to a friend, it's important they both see a benefit to doing so. The referral won't feel awkward or unwanted and the existing user will feel as though they're making things better for others.
Growth PMs needs to understand exactly why users need the product and what's potentially stopping them from unlocking its full value and recommending it to others. Having strong user research and marketing skills will provide the foundations for this understanding, and pave the way for success.
In summary

If you have the essential skills above in your arsenal, and you're passionate about enabling users to get more value, optimizing existing functionality, and moving the numbers upwards, then the function might be for you.
For aspiring growth PMs, and the organizations that are looking to hire, consider dedicating some serious thought to the kinds of skills you want to hone. It might already be time to make the transition.


Want to contribute to the topic of growth product management? Contact us here: adam@productledalliance.com
Continue the conversation and connect with thousands of product pros all over the world in our Slack community.👇